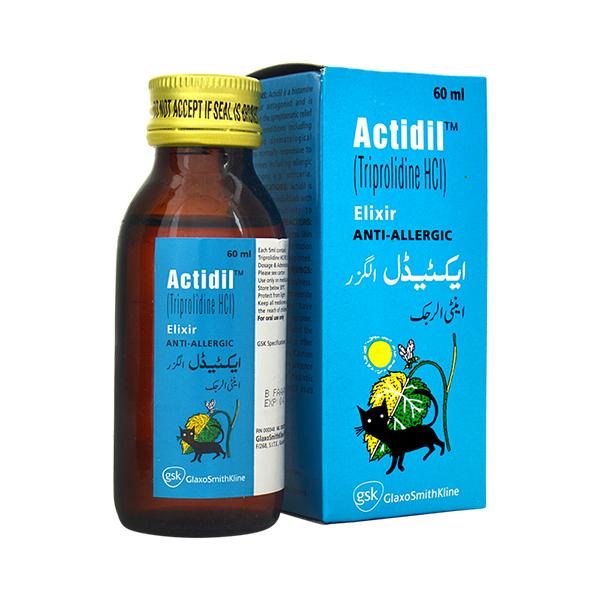 Actidil Elixir 60Ml
How it works
Triprolidine belongs to a group of medicines called 'sedating antihistamines' which help reduce allergic symptoms by preventing the effects of a substance called histamine. Histamine is produced by the body in response to foreign substances that the body is allergic to. It also works directly on the brain to help you feel more relaxed
Description
ACTIDIL ELIXIR 60 ML
Requires Prescription (YES/NO)
Yes
Indication
It is used in allergic conditions.
Side Effects
Drowsiness or sleepiness , Dry mouth, nose and throat , Constipation , Nervousness and irritability , Anxiety , Hallucinations , Twitching or jerking muscles .
When not to Use
Do not use triprolidine: If you are allergic to any of the component ; if you have or have had glaucoma (high pressure in the eyes) ; if you have or have had a stomach or duodenal ulcer, or other stomach problems.
Dosage
Adults : 1.25-2.5mg three times daily . Children : Under 1 yr , 2.5ml ; 1-6 yr , 5ml ; 6-12 yr , 7.5ml . All three times daily or as directed by your physician.
Storage yes or /no
Store this medicine at room temperature, away from direct light and heat.
Precautions
Talk to your doctor or pharmacist before taking this medicine if you have allergies to any other medicines, foods, preservatives or dyes.
Warning 1
Use caution when driving, operating machinery or performing other hazardous activities. Triprolidine may cause dizziness or drowsiness. If you experience dizziness or drowsiness avoid these activities. Avoid alcohol.
Warning 2
It is not known if triprolidine passes into the breast milk. Your pharmacist or doctor will discuss the potential benefits and risks of taking the medicine if you are breastfeeding.
Warning 3
Talk to your doctor or pharmacist before taking this medicine if you are taking medicines to help you relax or sleep (sedatives).
Pregnancy category
Always consult your physician before using any medicine.
Drug Interactions
Some medicines and triprolidine may interfere with each other. These include: Monoamine oxidase inhibitor medicines (used for depression and Parkinson's disease) or have taken them within the last 14 days. These include moclobemide, phenlzine and tranylcypromine, Medicines used to treat depression such as tricyclic antidepressants, Medicines used to help you sleep or relax (sedatives and hypnotics), Strong pain killers (opioid analgesics), Phenytoin ( a medicine used to treat epilepsy) , Alcohol.
Suggestions