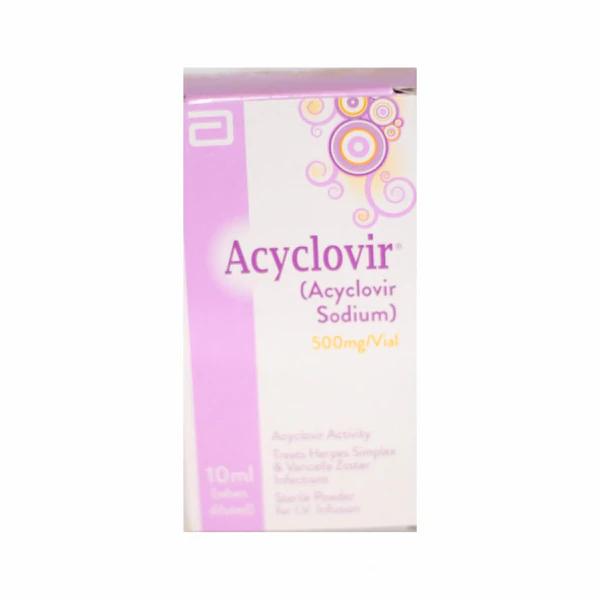 Acyclovir 500Mg Injection 1Vialx10ml
How it works
The inhibitory activity of acyclovir is highly selective due to its affinity for the enzyme thymidinen kinase (TK) encoded by HSV and VZV. This viral enzyme converts acyclovir into acyclovir monophosphate, a nucleotide analogue. The monophosphate is further converted into diphosphate by cellular guanylate kinase and into triphosphate by a number of cellular enzymes. In vitro, acyclovir triphosphate stops replication of herpes viral DNA. This is accomplished in three ways: 1) competitive inhibition of viral DNA polymerase, 2) incorporation into and termination of the growing viral DNA chain, and 3) inactivation of the viral DNA polymerase. The greater antiviral activity of acyclovir against HSV compared to VZV is due to its more efficient phosphorylation by the viral TK.
Description
ACYCLOVIR INF 500 MG 1 AMP
Requires Prescription (YES/NO)
Yes
Indication
It is used to treat : Herpes Simplex Infections in Immunocompromised Patients , Initial Episodes of Herpes Genitalis , Herpes Simplex Encephalitis , Neonatal Herpes Simplex Virus Infection , Varicella-Zoster Infections in Immunocompromised Patients.
Side Effects
Anaphylaxis, fever, headache, pain, peripheral edema; Diarrhea, elevated liver function tests, gastrointestinal distress, nausea , Hypotension, disseminated intravascular coagulation, hemolysis, leukopenia, lymphadenopathy , Myalgia , Agitation, coma, confusion, delerium, dizziness, hallucinations, obtundation, psychosis, seizures, somnolence (these symptoms may be marked, particularly in older adults , alopecia, erythema multiforme, pruritis, rash, Stevens-Johnson syndrome, toxic epidermal necrolysis, urticaria.
When not to Use
Acyclovir sodium sterile powder for solution for injection is contraindicated for patients who develop hypersensitivity to acyclovir or valacyclovir.
Dosage
Infusion over 1 hr. Herpes simplex or recurrent varicella-zoster : Adults : 5mg/kg every 8 hr; doubled in primary and recurrent varicella-zoster in the immunocompromised and in simplex encephalitis ( for which it should be continued for atleast 10 days. Children : Upto 3 mnth, 10mg/kg every 8hr; 3mnth-12yr, 250mg/m2 every 8 hr, dose doubled in the immunocompromised and in simplex encephalitis ( for which it should be continued for at least 10 days). OR As directed by your physician.
Storage yes or /no
Store this medicine at room temperature, away from direct light and heat.
Precautions
Administration of acyclovir by intravenous infusion must be accompanied by adequate hydration. Since maximum urine concentration occurs within the first two hours following infusion, particular attention should be given to establishing sufficient urine flow during that period in order to prevent precipitation in renal tubules. Recommended urine output is greater than or equal to 500 mL per gram of drug infused. In patients with encephalitis, the recommended hydration should be balanced by the risk of cerebral edema.
Warning 1
Acyclovir sodium sterile powder for solution for injection is intended for intravenous infusion only, and should not be administered topically, intramuscularly, orally, subcutaneously, or in the eye .
Warning 2
Intravenous infusions must be given over a period of at least one hour to reduce the risk of renal tubular damage. Renal failure, in some cases resulting in death has been observed.
Warning 3
Thrombotic thrombocytopenic purpura/hemolytic uremic syndrome (TTP/HUS), which has resulted in death, has occurred in immunocompromised patients receiving high exposures to acyclovir.
Pregnancy category
Always consult your physician before using any medicine.
Drug Interactions
Probenecid , Cimetidine , Mycophenolate mofetil , Cyclosporin , Tacrolimus , Theophylline
Suggestions