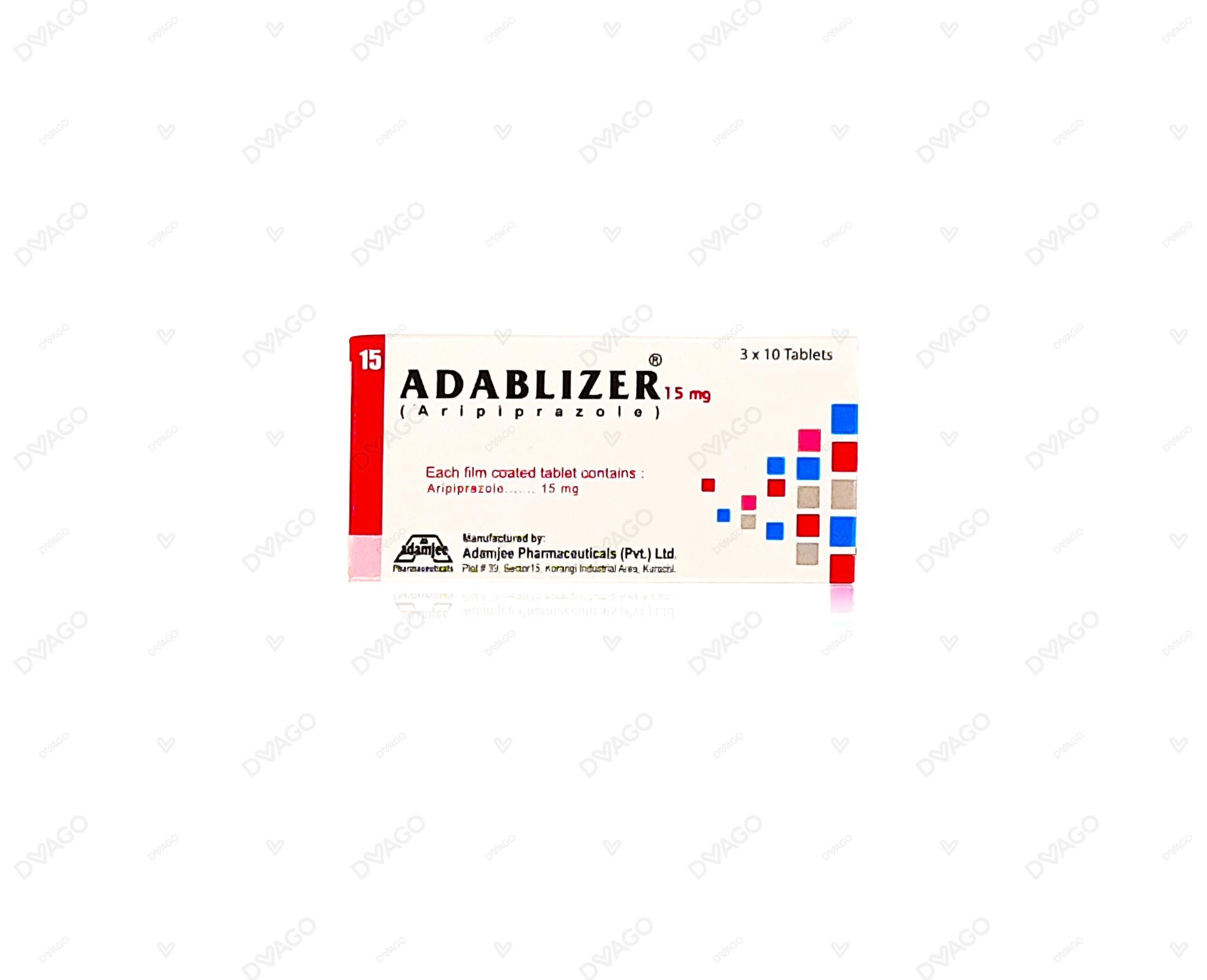 Adablizer 15Mg Tablets 30S (Pack Size 3 X 10S)
SPECIFICATION
Requires Prescription (YES/NO)
Yes
How it works
The mechanism of action of aripiprazole in schizophrenia or bipolar mania, is unknown. However, the efficacy of aripiprazole could be mediated through a combination of partial agonist activity at D2 and 5-HT1A receptors and antagonist activity at 5-HT2A receptors. Actions at receptors other than D2, 5-HT1A, and 5-HT2A may explain some of the other clinical effects of aripiprazole (e.g., the orthostatic hypotension observed with aripiprazole may be explained by its antagonist activity at adrenergic alpha1 receptors).
USAGE AND SAFETY
Side Effects
Insomnia , restlessness , headache , dizziness , akathisia , somnolence , tremor , blurred vision , GI upset , asthaenia , Stroke , TIA in elderly demented patients , diabetes , anxiety , sedation , cardiac rhythm disorders , dysphagia.
Drug Interactions
Potent inhibitors of CYP3A4 or 2D6 . Potent inducers of CYP3A4 . Alpha blockers , alcohol , CNS drugs. Drugs that prolong QT interval , other antihypertensives , serotonergic agents , stimulants.
Indication
It is used to treat Schizophrenia .
When not to Use
It is contraindicated in patients with a history of a hypersensitivity reaction to aripiprazole .
PRECAUTIONS
Precaution
All patients being treated with antidepressants for any indication should be monitored appropriately and observed closely for clinical worsening, suicidality, and unusual changes in behavior, especially during the initial few months of a course of drug therapy, or at times of dose changes, either increases or decreases.
WARNINGS
Warning 1
It should be noted that this medicine is not approved for use in treating depression in the pediatric population.
Warning 2
If signs and symptoms of tardive dyskinesia appear in a patient on this medicine, drug discontinuation should be considered. However, some patients may require treatment with this medicine despite the presence of the syndrome.
Warning 3
Atypical antipsychotic drugs have been associated with metabolic changes that include hyperglycemia/diabetes mellitus, dyslipidemia, and body weight gain. While all drugs in the class have been shown to produce some metabolic changes, each drug has its own specific risk profile.
ADDITIONAL INFORMATION
Pregnancy category
Always consult your physician before using any medicine.
Storage (YES/NO)
Store this medicine at room temperature, away from direct light and heat.
Related Products