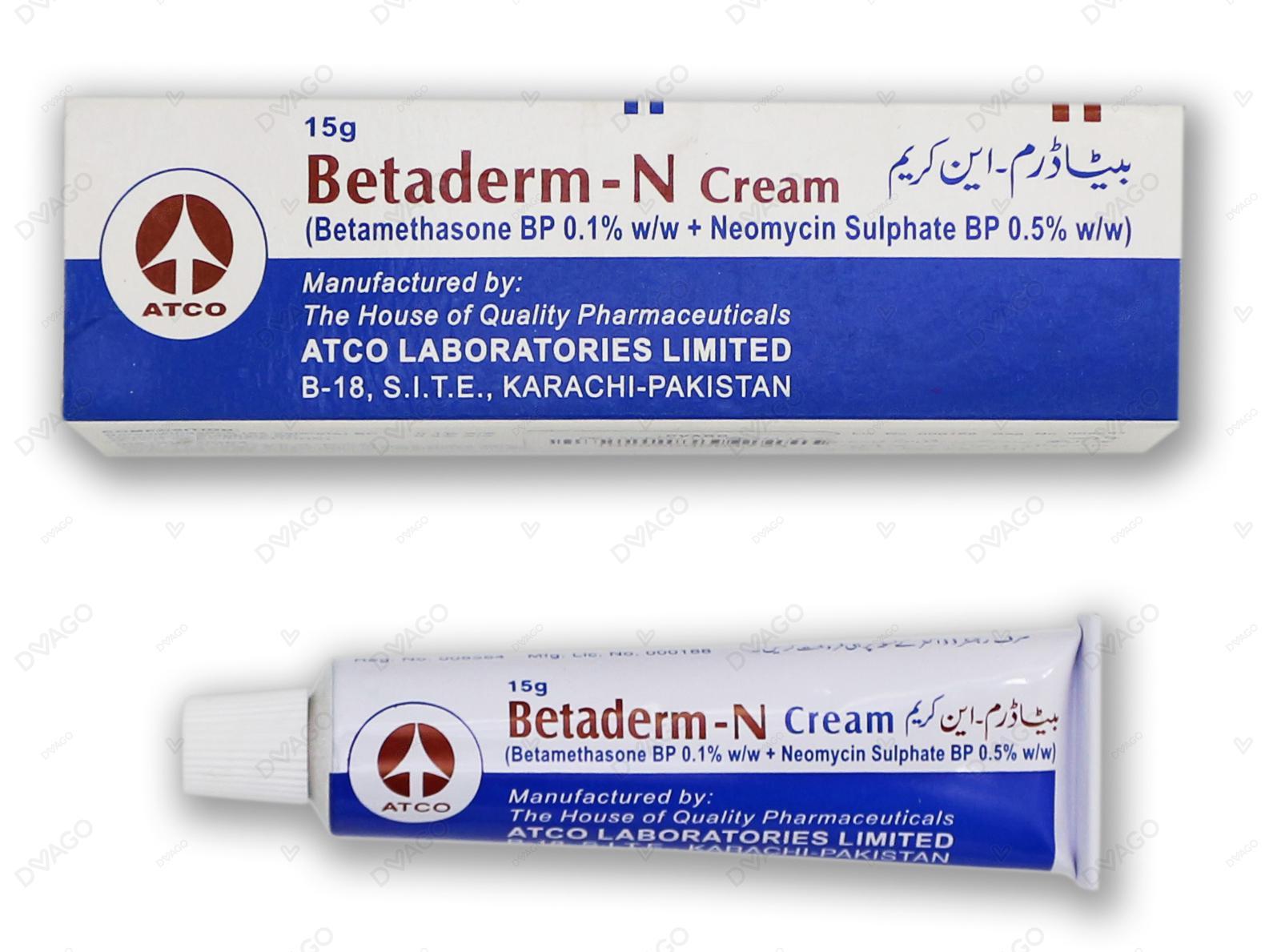 Betaderm-N Cream 15G
How it works
Betamethasone valerate is an active topical corticosteroid which produces a rapid response in those inflammatory dermatoses that are normally responsive to topical corticosteroid therapy and is often effective in the less responsive conditions such as psoriasis. Neomycin sulfate is a broad-spectrum bactericidal antibiotic effective against the majority of bacteria commonly associated with skin infections.
Description
BETADERM-N CREAM 15 GM
Generics
 Betamethasone Valerate, Neomycin Sulphate
Requires Prescription (YES/NO)
Yes
Indication
Betamethasone valerate is a potent topical corticosteroid indicated for the relief of the inflammatory and pruritic manifestations of steroid responsive dermatoses.
Side Effects
Local hypersensitivity , Hypothalamic-pituitary adrenal (HPA) axis suppression , Cushingoid features (e.g. moon face, central obesity), delayed weight gain/growth retardation in children, osteoporosis, glaucoma,hyperglycaemia/glucosuria, cataract, hypertension, increased weight/obesity, decreased endogenous cortisol levels .
When not to Use
Betamethasone valerate-neomycin sulphate is contraindicated in children under 2 years of age. Due to the known ototoxic and nephrotoxic potential of neomycin sulphate, the use of betamethasone valerate-neomycin sulphate in large quantities or on large areas for prolonged periods of time is contraindicated in circumstances where significant systemic absorption may occur.
Dosage
Apply thinly and gently rub in using only enough to cover the entire affected area once or twice daily for up to seven days . Always take this medicine exactly as your doctor has told you.
Storage yes or /no
Store this medicine at room temperature, away from direct light and heat.
Precautions
Bacterial infection is encouraged by the warm, moist conditions within skin folds or caused by occlusive dressings. When using occlusive dressings, the skin should be cleansed before a fresh dressing is applied.
Warning 1
Betamethasone valerate-neomycin sulphate should be used with caution in patients with a history of local hypersensitivity to betamethasone, neomycin or to any of the excipients in the preparation.
Warning 2
If prolonged or significant diarrhoea occurs or the patient experiences abdominal cramps, treatment should be discontinued immediately and the patient investigated further.
Warning 3
In comparison with adults, children may absorb proportionally larger amounts of topical corticosteroids and thus be more susceptible to systemic adverse effects.
Pregnancy category
Always consult your physician before using any medicine.
Drug Interactions
CYP3A4 inhibitors (e.g. ritonavir, itraconazole) , neomycin sulphate.
Suggestions