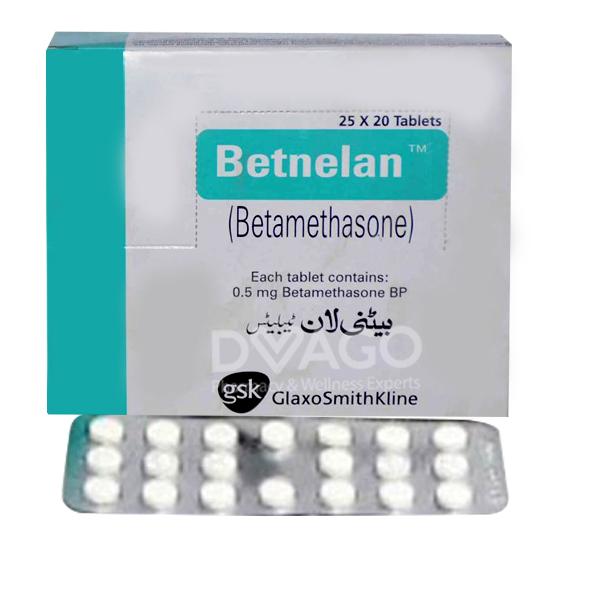 Betnelan 0.5Mg Tablets 500S (Pack Size 25 X 20S)
How it works
Corticosteroids have multiple actions which produce antiinflammatory effects and result in their widespread use for treating diseases such as asthma. Historically, glucocorticoids were thought to decrease inflammation by stabilizing the lysosomes in neutrophils which prevented degranulation and the resulting inflammatory response .
Description
BETNELAN TAB 50X10'S
used for
Pain & Inflammation
Requires Prescription (YES/NO)
Yes
Indication
A wide variety of diseases may sometimes require corticosteroid therapy. Some of the principalindications are: • Bronchial asthma. • Severe hypersensitivity reactions - Anaphylaxis. • Rheumatoid arthritis. • Systemic lupus erythematosus. • Dermatomyositis. • Mixed connective tissue disease (excluding systemic sclerosis). • Polyarteritis nodosa. • Inflammatory skin disorders including pemphigus vulgaris, bullous pemphigoid, and Pyoderma gangrenosum. • Minimal change nephrotic syndrome
Side Effects
Prolonged treatment with corticosteroids in high dosage is occasionally associated with subcapsular cataract, skin thinning, osteoporosis, and glaucoma. In addition, any of the features of hypercortisolism, such as suppression of the HPA axis, may occur. Aseptic osteonecrosis, particularly of the femoral head, may occur after prolonged corticosteroid therapy or after repeated short courses involving high dosage.
When not to Use
• Systemic infections, unless specific anti-infective therapy is employed. • Live virus immunisation. • Hypersensitivity to any component .
Dosage
Adults : Oral : 0.5-5mg daily; reduce for maintenance to minimum effective dose ; Adults : INJECTION : 4-20mg IV repeated three or four times daily if required ; Children : INJECTION : Supression of inflammatory and allergic disorders ; congenital adrenal hyperplasia : IV injection or infusion . 1 mnth-1yr , initially 1mg repeated upto 4 times in 24 hr according to response ; 1-6 yr , initially 2mg repeated upto 4 times in 24 hr according to response ; 12-18 yr , initially 4-20 mg repeated upto 4 times in 24 hr according to response . OR As directed by your physician.
Storage yes or /no
Store this medicine at room temperature, away from direct light and heat.
Precautions
Care should be taken when there is a history of severe affective disorders (especially a previous history of steroid psychosis), previous steroid myopathy or peptic ulceration.
Warning 1
Administration of corticosteroids may impair the ability to resist and counteract infection e.g. where there is a previous history of tuberculosis; in addition, clinical signs and symptoms of infection are suppressed.
Warning 2
Corticosteroid treatment is likely to reduce the response of the pituitary-adrenal axis to stress, and relative insufficiency may persist for up to a year after withdrawal of prolonged therapy.
Warning 3
Treatment of elderly patients, particularly if long term, should be planned bearing in mind the more serious consequences of the common side effects of corticosteroids in old age, especially osteoporosis, diabetes, hypertension, susceptibility to infection and thinning of the skin.
Pregnancy category
Always consult your physician before using any medicine.
Drug Interactions
Live vaccines or other vaccines , anticoagulants , hypoglycaemia agents , antihypertensives , diuretics , erythromycin , rifamycin , amphotericin , azole antifungals , ritonavir , cyclosporin , cardiac glycosides . Oestrogens including oral contraceptives , somatropin . Carbamazepine , phenytoin , primidone , barbiturates . Muscle relaxants , NSAIDs, salicylates , sympathomimetics , mifepristone , methotrexate , theophylline , aprepitant .
Suggestions