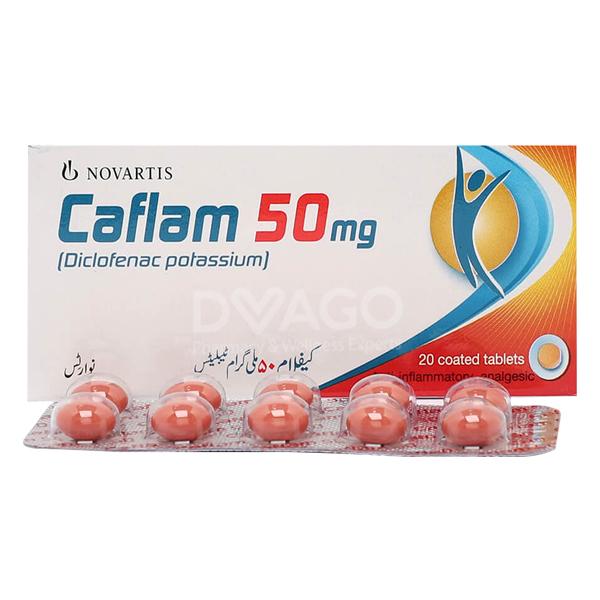 Caflam 50 Mg Tablets
How it works
Diclofenac has analgesic, anti-inflammatory, and antipyretic properties.The mechanism of action of diclofenac , like that of other NSAIDs, is not completely understood but involves inhibition of cyclooxygenase (COX-1 and COX-2).Diclofenac is a potent inhibitor of prostaglandin synthesis in vitro. Diclofenac concentrations reached during therapy have produced in vivo effects. Prostaglandins sensitize afferent nerves and potentiate the action of bradykinin in inducing pain in animal models. Prostaglandins are mediators of inflammation. Because diclofenac is an inhibitor of prostaglandin synthesis, its mode of action may be due to a decrease of prostaglandins in peripheral tissues.
Description
CAFLAM TAB 50 MG 2X10'S
Generics
Diclofenac potassium
Requires Prescription (YES/NO)
No
Indication
It is used to treat pain and inflammation.
Side Effects
These uncommon side effects may affect between 1 and 10 in every 1000 patients, especially when taking a high daily dose (150 mg) for a long period of time : Sudden and oppressive chest pain (signs of myocardial infarction or heart attack) , Breathlessness, difficulty of breathing when lying down, swelling of the feet or legs (signs of cardiac failure).These rare or very rare side effects may affect from less than 1 to 10 in every 10,000 patients : Spontaneous bleeding or bruising (signs of thrombocytopenia) , High fever, frequent infections, persistent sore throat (signs of agranulocytosis) , Difficulty of breathing or swallowing, rash, itching, hives, dizziness (signs of hypersensitivity, anaphylactic and anaphylactoid reactions) , Swelling mainly of the face and throat (signs of angioedema ) , Disturbing thoughts or moods (signs of psychotic disorders) , Impaired memory (signs of memory impairment) , Seizures (signs of convulsions) , Anxiety , Stiff neck, fever, nausea, vomiting, headache (signs of aseptic meningitis). These side effects may affect between 1 and 10 in every 100 patients : Headache, dizziness, vertigo, nausea, vomiting, diarrhea, indigestion (signs of dyspepsia), abdominal pain, flatulence, loss of appetite (signs of decreased appetite), abnormal liver function test results (e.g. level of transaminases increased), skin rash, skin reaction such as redness or swelling at the site of injection.
When not to Use
Do not receive/take/use Diclofenac potassium :1. If you are allergic (hypersensitive) to diclofenac, sodium metabisulphite (or other sulphites) (solution for injection only) or to any of the other ingredients in the leaflet.2. If you have ever had an allergic reaction after taking medicines to treat inflammation or pain (e.g. acetylsalicylic acid, diclofenac or ibuprofen). Reactions may include asthma, runny nose, skin rash, face swelling. If you think you may be allergic, ask your doctor for advice.3. If you have a stomach or intestinal ulcer.4. If you have gastrointestinal bleeding or perforation, symptoms of which may include blood in your stools or black stools.
Dosage
Adults : Pain - 50mg every 8hr or 100mg 1st dose,then 50mg every 8hr. Max: 150mg/day (200mg/day on 1st day). Osteoarthritis : 50mg every 8 hour or every 6 hr. Max:225mg/day. Dysmenorrhoea: 50mg every 8 hr or 100mg 1st dose, then 50mg every 8hr. Max: 150mg/day (200mg/day on 1st day). Children : Rheumatic disease and musculoskeletal disorders : 14-18yr, 75-100mg daily in 2-3 divided doses. Fever in ear, nose or throat infection : 9-18yr and body weight over 35kg, upto 2mg/kg (max 100mg) daily in divided doses. Always consult ypur doctor or pharmacist for dose adjustments.
Storage yes or /no
Store this medicine at room temperature, away from direct light and heat.
Precautions
If you have established disease of the heart or blood vessels (also called cardiovascular disease, including uncontrolled high blood pressure, congestive heart failure, established ischemic heart disease, or peripheral arterial disease), as treatment with diclofenac potassium is generally not recommended.
Warning 1
It is generally important to take the lowest dose of Diclofenac potassium that relieves your pain and/or swelling and for the shortest time possible in order to keep your risk for cardiovascular side effects as small as possible.
Warning 2
If, at any time while taking Diclofenac potassium you experience any signs or symptoms of problems with your heart or blood vessels such as chest pain, shortness of breath, weakness, or slurring of speech, contact your doctor immediately.
Warning 3
Diclofenac potassium may reduce the symptoms of an infection (e.g. headache, high temperature) and may therefore make the infection more difficult to detect and to treat adequately. If you feel unwell and need to see a doctor, remember to mention that you are taking diclofenac potassium.
Pregnancy category
Always consult your physician before using any medicine.
Drug Interactions
Lithium or selective serotonin-reuptake inhibitors (SSRIs) , Digoxin , Diuretics , ACE inhibitors or beta-blockers , acetylsalicylic acid or ibuprofen , Corticosteroids , Blood thinners ,Medicines used to treat diabetes, except insulin , Methotrexate , Ciclosporin, Tacrolimus , Trimethoprim , Quinolone antibacterials , Voriconazole , Phenytoin.
Suggestions