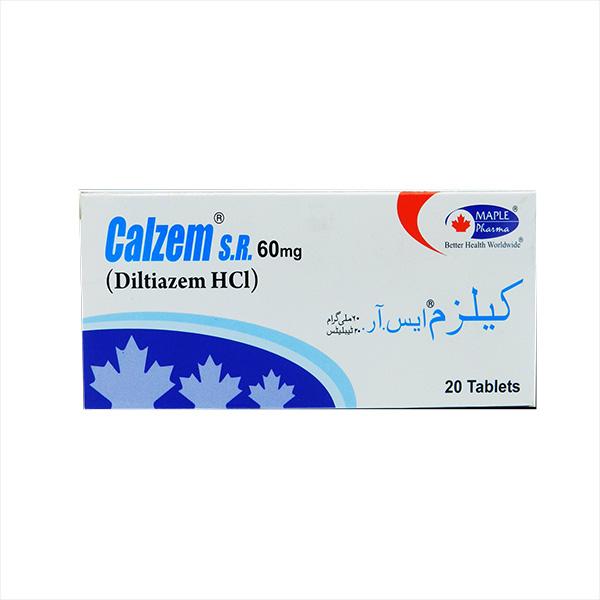 Calzem Sr 60 Mg 20 Tablets
How it works
Diltiazem HCl retard belongs to the group of the calcium antagonists. Diltiazem HCl retard is a drug that lowers the heart rate. It has a vasodilating action. As a result, the blood flow of the heart is improved and the pain in the chest due to a shortage of oxygen in the heart muscle avoided. Blood flow in the arteries is also improved and decreases the elevated blood pressure. The effect lasts for 24 hours, therefore one capsule per day is sufficient.
Description
CALZEM TAB SR 60 MG 20'S
Requires Prescription (YES/NO)
Yes
Indication
Diltiazem Hydrochloride used to: • Treat (long-term) and prevent angina pectoris • Treat mild to moderate high blood pressure .
Side Effects
Very common (may affect more than 1 in 10 people): The accumulation of fluid in ankles, legs or arms (peripheral edema).Common (may affect up to 1 in 10 people): Dizziness, headache , some disorder in the conduction of the heart, leading to arrhythmias (1st, 2nd or 3rd degree , heart block or bundle branch block), palpitations (palpitations) , flushing (sudden reddening of the face and neck, flush) , indigestion with fullness or pain in the stomach, belching, nausea, vomiting and heartburn (dyspepsia), stomach pain, constipation. , redness of the skin (erythema) , feeling unwell (malaise) , fatigue.Uncommon (may affect up to 1 in 100 people): Nervousness, sleeplessness (insomnia) , slow heart rate (bradycardia) , drop in blood pressure caused by a rapid rise from a sitting or lying position that sometimes in dizziness (orthostatic hypotension) , vomiting, diarrhea , increase in liver enzymes.
When not to Use
Do not take Diltiazem Hydrochloride if you are allergic to diltiazem hydrochloride or any of the other ingredients of this medicine . Signs of an allergic reaction include: a rash, swallowing or breathing problems, swelling of your lips, face, throat or tongue.
Dosage
Adults : The maintenance dose is one tablet (60mg) three times a day. Up to 8 tablets (480mg) a day may be used. Your doctor will decide on the best dose for you. Elderly and those with liver or kidney problems : Initially one tablet (60mg) twice a day. Your doctor may adjust the dose according to your response. Use in children : Not recommended OR As directed by your physician.
Storage yes or /no
Store this medicine at room temperature, away from direct light and heat.
Precautions
Talk to your doctor, pharmacist or nurse before taking Diltiazem Hydrochloride tablets/capsules if you have a history of heart failure, new shortness of breath, slow heartbeat or low blood pressure. Cases of kidney injury in patients with such conditions have been reported.
Warning 1
If you have impaired kidney or liver function, your doctor may want to monitor you by carrying out tests.
Warning 2
If you forget to take a dose, take one as soon as you remember. Then go on as before. Do not take a double dose to make up for a forgotten dose.
Warning 3
Diltiazem tablets/capsules may cause dizziness or tiredness, therefore make sure you are not affected before driving or operating machinery.
Pregnancy category
Always consult your physician before using any medicine.
Drug Interactions
Lithium , nitrate derivatives, alpha-blockers, amiodarone, digoxin, beta blockers, antiarrhythmics , theophylline , carbamazepine , cyclosporine , benzodiazepines such as midazolam and triazolam , methylprednisolone , statins , rifampicin , cimetidine and ranitidine .
Suggestions