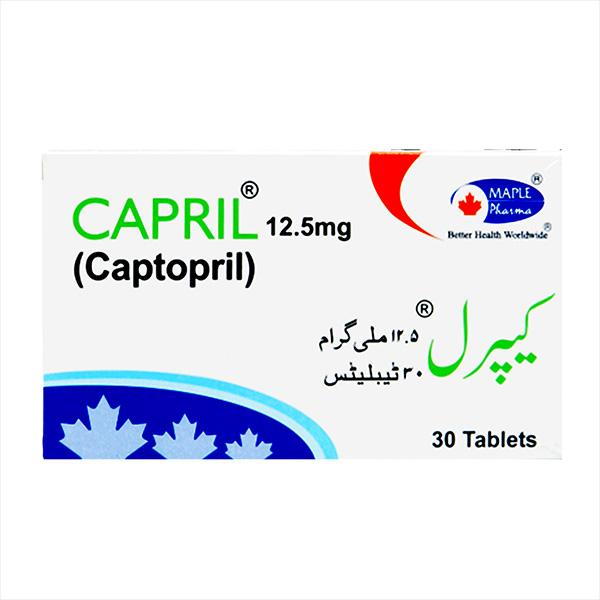 Capril 12.5Mg Tablets 30S (Pack Size 3 X 10S)
SPECIFICATION
Requires Prescription (YES/NO)
Yes
How it works
Captopril belongs to a group of medicines called Angiotensin Converting Enzyme (ACE) inhibitors. ACE inhibitors work by helping to widen your blood vessels, which then make it easier for your heart to pump blood through them.
USAGE AND SAFETY
Side Effects
Neutropenia , agranulocytosis , proteinuria , angioadema , pancreatitis , tachycardia , angina , anorexia , drowsiness , heaadache , paraesthesia , hepatic failure , hypotension , rash , loss of apetite , sleep disorders , dizziness , dry mouth , pruritis , aloepecia , blood dyscrasias.
Drug Interactions
Diuretics (thiazide or loop diuretics ) , Potassium-sparing diuretics (triamterene, amiloride and spironolactone), potassium-containing salt substitutes or potassium supplements , anti-hypertensive agents (e.g. beta-blockers and long-acting calcium channel blockers) , Alpha blocking agents , Lithium , Indomethacin, Ibuprofen , Clonidine , Allopurinol, procainamide, cytostatic or immunosuppressive agents, Probenecid , Tricyclic antidepressants/Antipsychotics , Sympathomimetics , sulphonylurea.
Indication
Captopril is used to treat high blood pressure (hypertension), congestive heart failure, kidney problems caused by diabetes, and to improve survival after a heart attack.
When not to Use
Do not take Captopril : If you are allergic (hypersensitive) to captopril, any of the other ingredients in these tablets or other ACE inhibitors.- If you have ever had a reaction which included swelling of the hands, lips face or tongue where the cause was unknown. - If you have diabetes or impaired kidney function and you are treated with a blood pressure lowering medicine containing aliskiren - If you are more than 3 months pregnant. (It is also better to avoid Captopril tablets in early pregnancy.
PRECAUTIONS
Precaution
Captopril should be used with caution in patients with left ventricular valvular and outflow tract obstruction. As limited experience has been obtained in the treatment of acute hypertensive crises, the use of captopril should be avoided in cases of cardiogenic shock and haemodynamically significant obstruction.
WARNINGS
Warning 1
Symptomatic hypotension is more likely to occur in hypertensive patients who are volume and/or sodium depleted by vigorous diuretic therapy, dietary salt restriction, diarrhoea, vomiting or haemodialysis. Volume and/or sodium depletion should be corrected before the administration of an ACE inhibitor and a lower starting dose should be considered.
Warning 2
Renovascular hypertension: There is an increased risk of hypotension and renal insufficiency when patients with bilateral renal artery stenosis or stenosis of the artery to a single functioning kidney are treated with ACE inhibitors. Loss of renal function may occur with only mild changes in serum creatinine. In these patients, therapy should be initiated under close medical supervision with low doses, careful titration and monitoring of renal function.
Warning 3
Renal impairment: The incidence of adverse reactions to captopril is principally associated with renal function since the drug is excreted primarily by the kidney. In cases of renal impairment (creatinine clearance =40 ml/min), the initial dosage of captopril must be adjusted according to the patient's creatinine clearance , and then as a function of the patient's response to treatment. The dose should not exceed that necessary for adequate control and should be reduced in patients with impaired renal function.
ADDITIONAL INFORMATION
Pregnancy category
Always consult your physician before using any medicine.
Storage (YES/NO)
Store this medicine at room temperature, away from direct light and heat.
Related Products