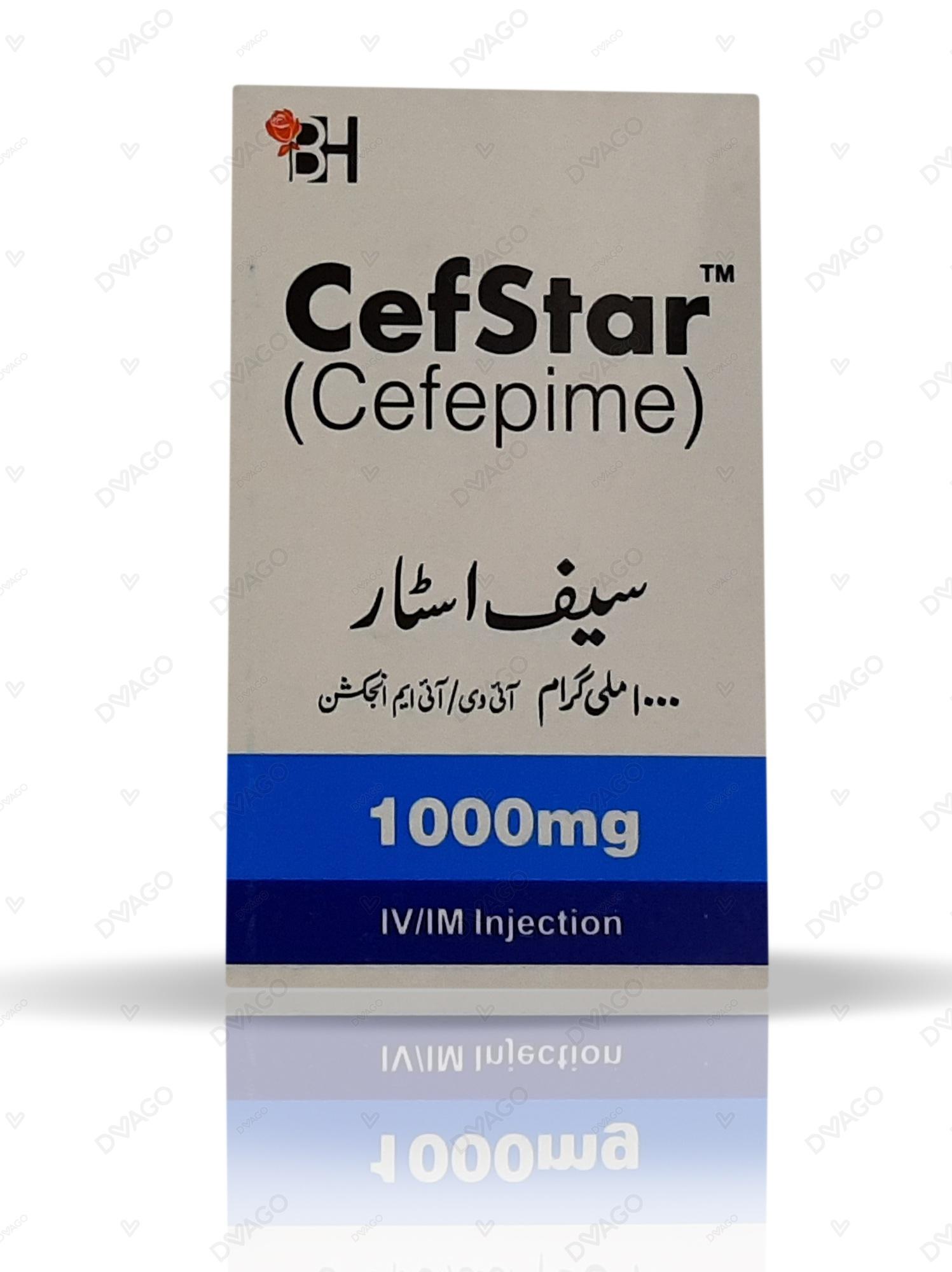 Cefstar 1000Mg Im/Iv Injection 1Vial
How it works
Cefepime is a bactericidal agent that acts by inhibition of bacterial cell wall synthesis. Cefepime has a broad spectrum of in vitro activity that encompasses a wide range of Gram-positive and Gram-negative bacteria. Cefepime has a low affinity for chromosomally-encoded beta-lactamases. Cefepime is highly resistant to hydrolysis by most beta-lactamases and exhibits rapid penetration into Gram-negative bacterial cells. Within bacterial cells, the molecular targets of cefepime are the penicillin binding proteins (PBP).
Description
CEFSTAR INJ 1 GM 1 VIAL
used for
Bacterial Infection
Requires Prescription (YES/NO)
Yes
Indication
It is indicated in the treatment of infections caused by bacteria susceptible to cefepime, namely : Lower respiratory tract infections, including nosocomial pneumonia and community acquired pneumonia, acute bacterial exacerbation of chronic bronchitis and secondary bacterial infection of acute bronchitis ; Uncomplicated and complicated urinary tract infections, including pyelonephritis ; Skin and subcutaneous tissue infection ; Intrabdominal infection, including peritonitis, and biliary tract infections ; Gynecological infections ; Bacterial meningitis in infants and children.
Side Effects
Increased blood coagulation time (increased prothrombin or thromboplastin time) ; Anaemia ; An elevated level of certain blood cells (eosinophilia) ; Infusion site phlebitis ; Diarrhoea ; Rashes ; Infusion site reaction ; Pain and inflammation on the injection site .
When not to Use
Do not use : If you are allergic to cefepime, any other cephalosporin antibiotics or any of the other ingredients of this medicine . If you have history of severe allergic reaction any other type of beta-lactam antibiotics (penicillins, monobactams and carbapenems).
Dosage
Lower Respiratory Infection : Adults : Moderate-Severe : 1-2gm IV every 12hr for 10 days. Children : 2 mnth-16yr: <40kg : 50mg/kg IV every 12hr. Max : Do not exceed adult dose . Urinary tract infection : Adults : Mild-Moderate : 0.5-1gm IM/IV every 12hr for 7-10 days. Severe : 2gm IV every 12hr for 10 days. Children : 2mnth-16 yr : <40kg : 50mg/kg IV every 12hr. Max : Dont exceed adult dose. Skin Infection : Adults : Moderate-Severe : 2gm IV every 12 hr for 10 days. Children : 2 mnth-16yr : <40kg : 50mg/kg IV every 12 hr . Max : Do not exceed adult dose. Febrile neutropaenia : Adults : 2gm IV every 8hrs. OR As directed by your physician .
Storage yes or /no
Store this medicine at room temperature, away from direct light and heat.
Precautions
Before therapy with cefixime for Injection is instituted, careful inquiry should be made to determine whether the patient has had previous immediate hypersensitivity reactions to cefepime, cephalosporins, penicillins, or other drugs. Exercise caution if this product is to be given to penicillin-sensitive patients because cross-hypersensitivity among beta-lactam antibiotics has been clearly documented and may occur in up to 10% of patients with a history of penicillin allergy. If an allergic reaction to cefixime occurs, discontinue the drug.
Warning 1
Prescribing cefepime in the absence of a proven or strongly suspected bacterial infection or a prophylactic indication is unlikely to provide benefit to the patient and increases the risk of the development of drug-resistant bacteria.
Warning 2
As with other antimicrobials, prolonged use of cefixime may result in overgrowth of nonsusceptible microorganisms. Repeated evaluation of the patient's condition is essential. Should superinfection occur during therapy, appropriate measures should be taken.
Warning 3
Patients should be counseled that antibacterial drugs including cefepime should only be used to treat bacterial infections. They do not treat viral infections (eg, the common cold).
Pregnancy category
Always consult your physician before using any medicine.
Drug Interactions
Aminoglycosides , Potent diuretics such as furosemide .
Suggestions