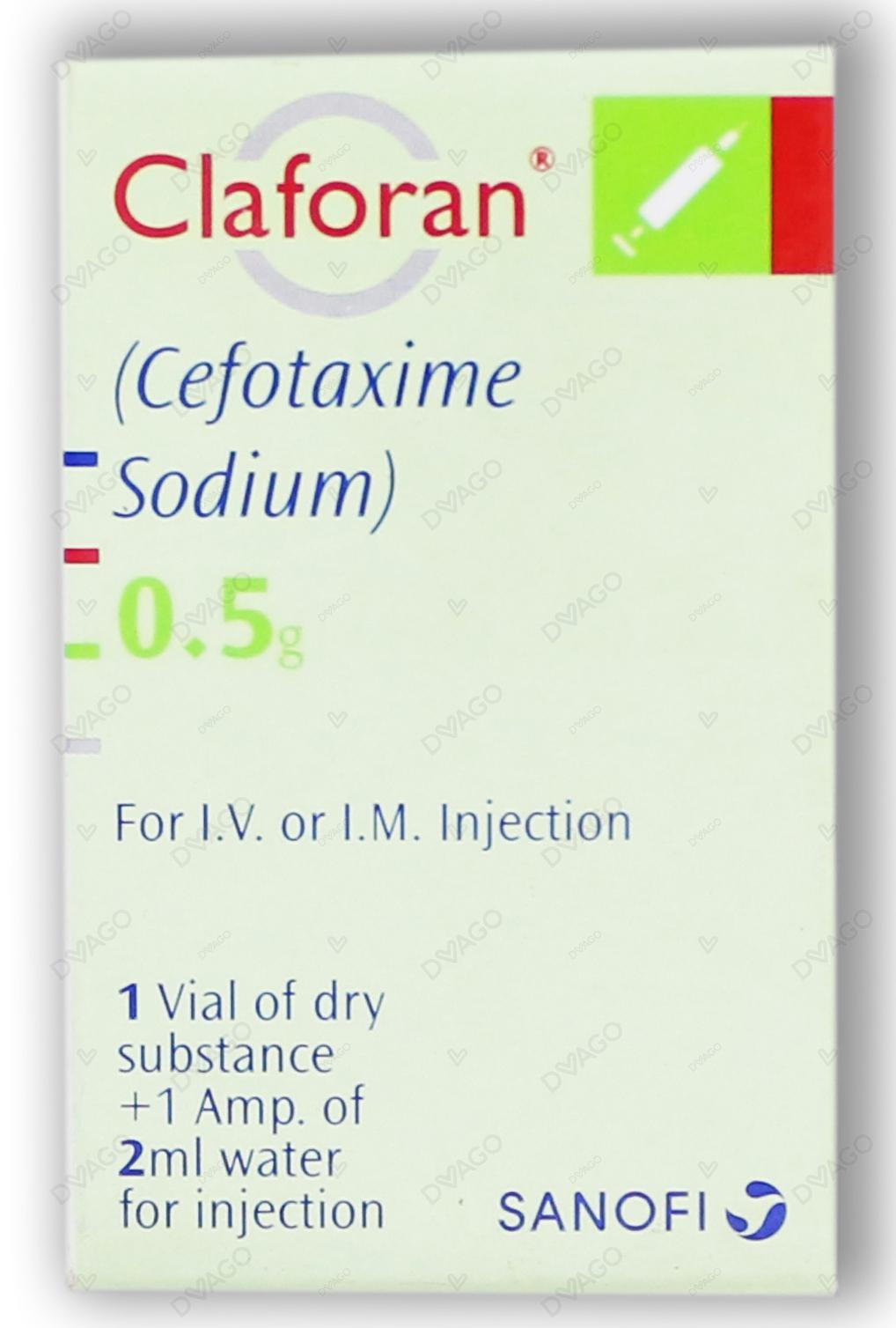 Claforan 0.5G Injection 1Vial
How it works
In vitro studies indicate that the antibacterial action of Cefotaxime sodium results from inhibition of cell wall synthesis. It is stable against the action of most ß-lactamases.
Description
CLAFORAN INJ 500 MG 1 VIAL
Generics
Cefotaxime Sodium
used for
Bacterial Infection
Requires Prescription (YES/NO)
Yes
Indication
Cefotaxime for injection may be indicated for the treatment of infections caused by susceptible strains of micro-organisms.
Side Effects
Headache , Colitis, diarrhea, nausea and vomiting , Moniliasis, vaginitis , Rash, pruritus, fever .
When not to Use
It is contraindicated in patients who have shown hypersensitivity to cefotaxime sodium, the cephalosporin or the penicillin groups of antibiotics.
Dosage
Standard dose : Adults : 1gm IV or IM every 12hr , serious infections , 3-6gm daily in three or four divided doses, max 12g daily. Use 2gm by IV route. Children : 50mgg/kg daily , others 100-150mg/kg daily. Both in two to four divided doses , max 200mg/kg daily. Bone Infection : IM/IV : Adults & Children : >50mg/kg daily ; others , 100-150mg/kg/day divided into 4-6 doses . 1-4 wk : 50mg/kg IV every 8hr . 0-1 wk : 50mg/kg IV every 12 hr . OR As directed by your physician.
Storage yes or /no
Store this medicine at room temperature, away from direct light and heat.
Precautions
Prolonged use of medicine may result in the overgrowth of nonsusceptible organisms. Constant evaluation of the patient's condition is essential. If superinfection occurs, therapy should be discontinued and appropriate measures taken.
Warning 1
Cefotaxime Sodium should be prescribed with caution in individuals with a history of lower gastrointestinal disease, particularly colitis.
Warning 2
Cefotaxime, like other parenteral anti-infective drugs, may be locally irritating to tissues. In most cases, perivascular extravasation of cefotaxime responds to changing of the infusion site.
Warning 3
As with other ß-lactam antibiotics, granulocytopenia, leukopenia, neutropenia and, more rarely, bone marrow failure, pancytopenia, or agranulocytosis may develop during treatment with Cefotaxime. For courses of treatment lasting longer than 10 days, blood counts should therefore be monitored and treatment discontinuation should be considered in case of abnormal results .
Pregnancy category
Always consult your physician before using any medicine.
Drug Interactions
Probenecid , furosemide, aminoglycosides
Suggestions