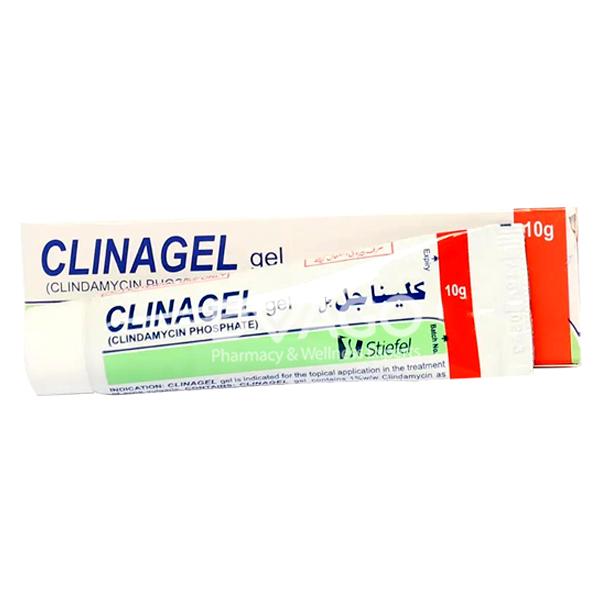 Clinagel Gel 10G
How it works
It contains an antibiotic clindamycin that reduces the number of bacteria and stops the skin pores becoming blocked and new spots forming.
Description
CLINAGEL GEL 10 GM
Generics
Clindamycin Phosphate
Requires Prescription (YES/NO)
Yes
Indication
It is an anti infective used on the skin for the treatment of acne in adults.
Side Effects
Very common: may affect more than 1 in 10 people • Skin irritation (may cause symptoms such as burning, itching, peeling), hives, dryness of skin • Hives • A disease of the sebaceous glands resulting in an oily coating, crusts, or scales on the skin (seborrhoea) Uncommon: may affect up to 1 in 100 people • Gastrointestinal disorder (may cause symptoms such as diarrhoea, and nausea) Frequency not known, but may also occur • Infection of the hair follicles in the skin (also known as folliculitis), • Stinging of the eye, • Pain in the eye, • Stomach ache, • Inflammation of the skin caused by contact with irritants or allergens
When not to Use
Do not use • If you are allergic to clindamycin, lincomycin or any of the other ingredients of this medicine • If you have a history of inflammatory bowel disease or antibiotic-associated colitis.
Dosage
Adults : Apply two times daily. Or As directed by your physician.
Storage yes or /no
Store this medicine at room temperature, away from direct light and heat.
Precautions
If you develop severe or prolonged or bloody diarrhoea when using clindamycin stop using the lotion/gel and tell your doctor immediately. This may be a sign of bowel inflammation (pseudomembranous colitis) which can occur following treatment with antibiotics.
Warning 1
Take care when using clindamycin topical around your mouth as it has an unpleasant taste.
Warning 2
Do not stop using topical cllindamycin as soon as your acne starts to get better. Ask your doctor when you should stop the treatment.
Warning 3
Take care to avoid your eyes, inside your nose or mouth when applying topical clindamycin. If you accidentally put gel on these areas, wash them straight away with plenty of water.
Pregnancy category
Always consult your physician before using any medicine.
Drug Interactions
Keratolytics , neuromuscular blocking agents , erythromycin , Vit k antagonists.
Suggestions