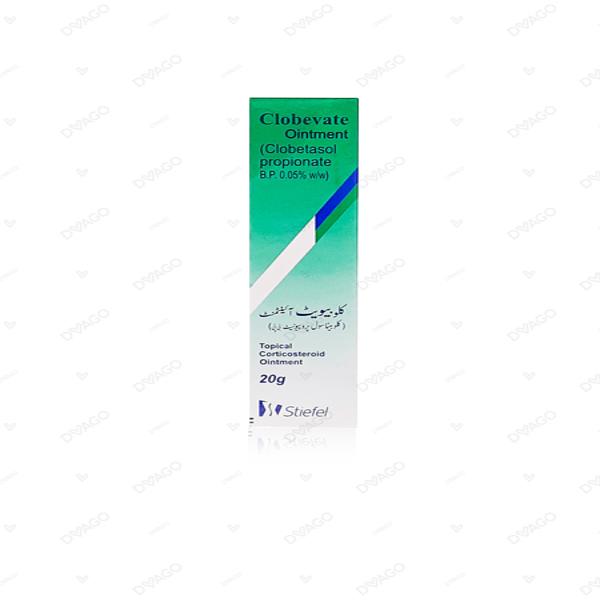 Clobevate Ointment 20G
How it works
Clobetasol propionate exerts its effect by binding to cytoplasmic glucocorticoid receptors and subsequently activates glucocorticoid receptor mediated gene expression. This results in synthesis of certain anti-inflammatory proteins, while inhibiting the synthesis of certain inflammatory mediators.
Description
CLOBEVATE OINT 20 GM
Generics
Clobetasol Propionate
Requires Prescription (YES/NO)
Yes
Indication
It is used to help reduce the redness and itchiness of certain skin problems. These skin problems include:• Frequently relapsing eczema• Psoriasis (thickened patches of inflamed, red skin, often covered by silvery scales), excluding widespread plaque psoriasis• Lichen planus (a skin disease that causes itchy, reddish-purple, flat-topped bumps on the wrists, forearms or lower legs)• Discoid lupus erythematosus (a disease of the skin most often affecting the face, ears and scalp causing scarring and increased sensitivity of the affected skin to sunlight)• Dermatitis and other skin conditions that have not responded to milder steroid creams or ointments .
Side Effects
Common (may affect up to 1 in 10 people)• a feeling of burning, pain, irritation or itching where the ointment is applied.Uncommon (may affect up to 1 in 100 people)• skin thinning, stretch marks may develop. • blood vessels under the surface of your skin may become more noticeable. Very Rare (may affect up to 1 in 10,000 people)Use of Dermovate for a long period of time, or use under an airtight dressing, may cause the following symptoms:• increased weight • moon face, rounding of the face • obesity • skin thinning • skin wrinkling • skin dryness • changes to the colour of your skin • increased body hair • hair loss/lack of hair growth/damaged looking hair.
When not to Use
Do not use : • If you are allergic (hypersensitive) to clobetasol propionate or any of the other ingredients of this medicine .• On a child under 1 year of age• To treat any of the following skin problems, it could make them worse:- Acne - severe flushing of skin on and around your nose (rosacea) - spotty red rash around your mouth (perioral dermatitis) - itching around your anus or genitals (penis or vagina) - infected skin (unless the infection is being treated with an anti-infective medicine at the same time) - itchy skin which is not inflamed - widespread plaque psoriasis, except single lesions.
Dosage
Adults : Apply sparingly once or twice daily for max four wk, then review. Children : Same as adult but review weekly. OR As directed by your physician.
Storage yes or /no
Store this medicine at room temperature, away from direct light and heat.
Precautions
If you are applying to thin skin such as the face, as It may cause skin thinning. Use on the face should be limited to 5 days. Dressings or bandages should not be used on the face where the ointment is applied.
Warning 1
Talk to your doctor or pharmacist before using if you experience newly developed bone pain or worsening of previous bone symptoms during a treatment with Dermovate especially if you have been usingClobetasol for a prolonged time or repeatedly.
Warning 2
Talk to your doctor or pharmacist before using if you use other oral/topical medication containing corticosteroids or medication intended to control your immune system (e.g. for autoimmune disease or after a transplantation). Combining with these medicines may result in serious infections.
Warning 3
Talk to your doctor or pharmacist before using if you are applying the ointment under an airtight dressing, including a child's nappy. These dressings make it easier for the active ingredient to pass throughthe skin. It is possible to accidentally end up using too much ointment.
Pregnancy category
Always consult your physician before using any medicine.
Drug Interactions
Ritonavir and itraconazole
Suggestions