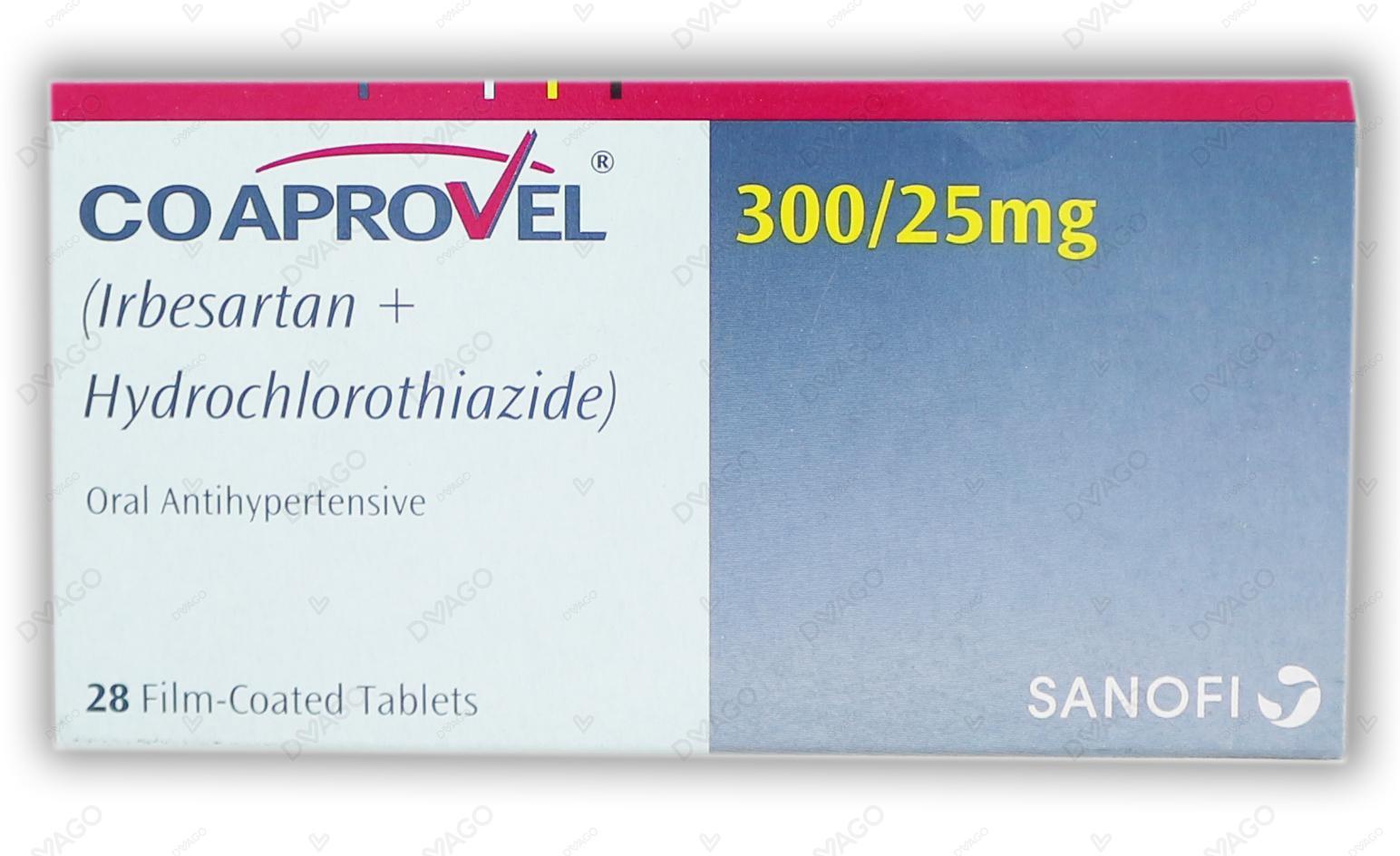 Co-Aprovel 300/25Mg Tablets 28S (Pack Size 2 X 14S)
How it works
Irbesartan : Irbesartan is a potent, orally active, selective angiotensin-II receptor (type AT1) antagonist. It is expected to block all actions of angiotensin-II mediated by the AT1 receptor, regardless of the source or route of synthesis of angiotensin-II. The selective antagonism of the angiotensin-II (AT1) receptors results in increases in plasma renin levels and angiotensin-II levels, and a decrease in plasma aldosterone concentration. Serum potassium levels are not significantly affected by irbesartan alone at the recommended doses. Irbesartan does not inhibit ACE (kininase-II), an enzyme which generates angiotensin-II and also degrades bradykinin into inactive metabolites. Irbesartan does not require metabolic activation for its activity. Hydrochlorothiazide : Hydrochlorothiazide is a thiazide diuretic. The mechanism of antihypertensive effect of thiazide diuretic is not fully known. Thiazides affect the renal tubular mechanisms of electrolyte reabsorption, directly increasing excretion of sodium and chloride in approximately equivalent amounts. The diuretic action of hydrochlorothiazide reduces plasma volume, increases plasma renin activity, increases aldosterone secretion, with consequent increases in urinary potassium and bicarbonate loss, and decreases in serum potassium. Presumably through blockade of the renin-angiotensin-aldosterone system, co-administration of irbesartan tends to reverse the potassium loss associated with these diuretics. With hydrochlorothiazide, onset of diuresis occurs in 2 hours, and peak effect occurs at about 4 hours, while the action persists for approximately 6-12 hours.
Description
CO-APROVEL TAB 300/25MG 2X14'S
Generics
 Irbesartan , Hydrochlorothiazide
Requires Prescription (YES/NO)
Yes
Indication
• Treatment of essential hypertension. • This fixed dose combination is indicated in adult patients whose blood pressure is not adequately controlled on irbesartan or hydrochlorothiazide alone. • It may also be used as initial therapy in patients who are likely to need multiple drugs to achieve their blood pressure goals .
Side Effects
Cardiac disorders: Common: increases in blood urea nitrogen (BUN), creatinine and creatine kinase Uncommon: decreases in serum potassium and sodium .Uncommon: syncope, hypotension, tachycardia, oedema.Nervous system disorders: Common: dizziness Uncommon: orthostatic dizziness Not known: headache . Ear and labyrinth disorders: Not known: tinnitus. Respiratory, thoracic and mediastinal disorders: Not known: cough. Gastrointestinal disorders: Common: nausea/vomiting , Uncommon: diarrhoea , Not known: dyspepsia, dysgeusia .
When not to Use
• Hypersensitivity to the active substances or to any of the excipients or to other sulfonamide-derived substances (hydrochlorothiazide is a sulfonamide-derived substance)• Second and third trimesters of pregnancy.• Severe renal impairment (creatinine clearance <30 ml/min).• Refractory hypokalaemia, hypercalcaemia.• Severe hepatic impairment, biliary cirrhosis and cholestasis.• The concomitant use of Irbesartan/Hydrochlorothiazide with aliskiren-containing products is contraindicated in patients with diabetes mellitus or renal impairment (creatinine clearance <60ml/min/1.73 m²).• Due to its HCT component Irbesartan/HCT tablets are contraindicated in anuric patients
Dosage
Adults : 1 Tab daily. Max daily dose : 300mg irbesartan & 25mg hydrochlorothiazide. Children : Not Recommended. OR As directed by your physician.
Storage yes or /no
Store this medicine at room temperature, away from direct light and heat.
Precautions
It has been rarely associated with symptomatic hypotension in hypertensive patients without other risk factors for hypotension. Symptomatic hypotension may be expected to occur in patients who are volume and/or sodium depleted by vigorous diuretic therapy, dietary salt restriction, diarrhea or vomiting. Such conditions should be corrected before initiating therapy with Irbesartan/Hydrochlorothiazide.
Warning 1
There is an increased risk of severe hypotension and renal insufficiency when patients with bilateral renal artery stenosis or stenosis of the artery to a single functioning kidney are treated with angiotensin converting enzyme inhibitors or angiotensin-II receptor antagonists. While this is not documented with Irbesartan/Hydrochlorothiazide , a similar effect should be anticipated.
Warning 2
Patients with primary aldosteronism generally will not respond to antihypertensive medicinal products acting through inhibition of the renin-angiotensin system. Therefore, the use of Irbesartan/Hydrochlorothiazide is not recommended.
Warning 3
Thiazides should be used with caution in patients with impaired hepatic function or progressive liver disease, since minor alterations of fluid and electrolyte balance may precipitate hepatic coma. Irbesartan/HCT must not be used in patients with severe hepatic impairment. No dosage adjustment is required in patients with mild to moderate hepatic impairment.
Pregnancy category
Always consult your physician before using any medicine.
Drug Interactions
Irbesartan : Lithium , kaliuretic diuretics, laxatives, amphotericin, carbenoxolone, penicillin G sodium , heparin sodium , digitalis glycosides, antiarrhythmics , selective COX-2 inhibitors, acetylsalicylic acid , Hydrochlorothiazide: Thiazide diuretics , Alcohol , Antidiabetic medicinal products (oral agents and insulins) , Colestyramine and Colestipol resins , Corticosteroids, ACTH , Digitalis glycoside , Pressor amines (e.g. noradrenaline) , tubocurarine , probenecid or sulfinpyrazone , calcium supplements or calcium sparing medicinal products (e.g. vitamin D therapy) , Carbamazepine , atropine, beperiden , cyclophosphamide, methotrexate.
Suggestions