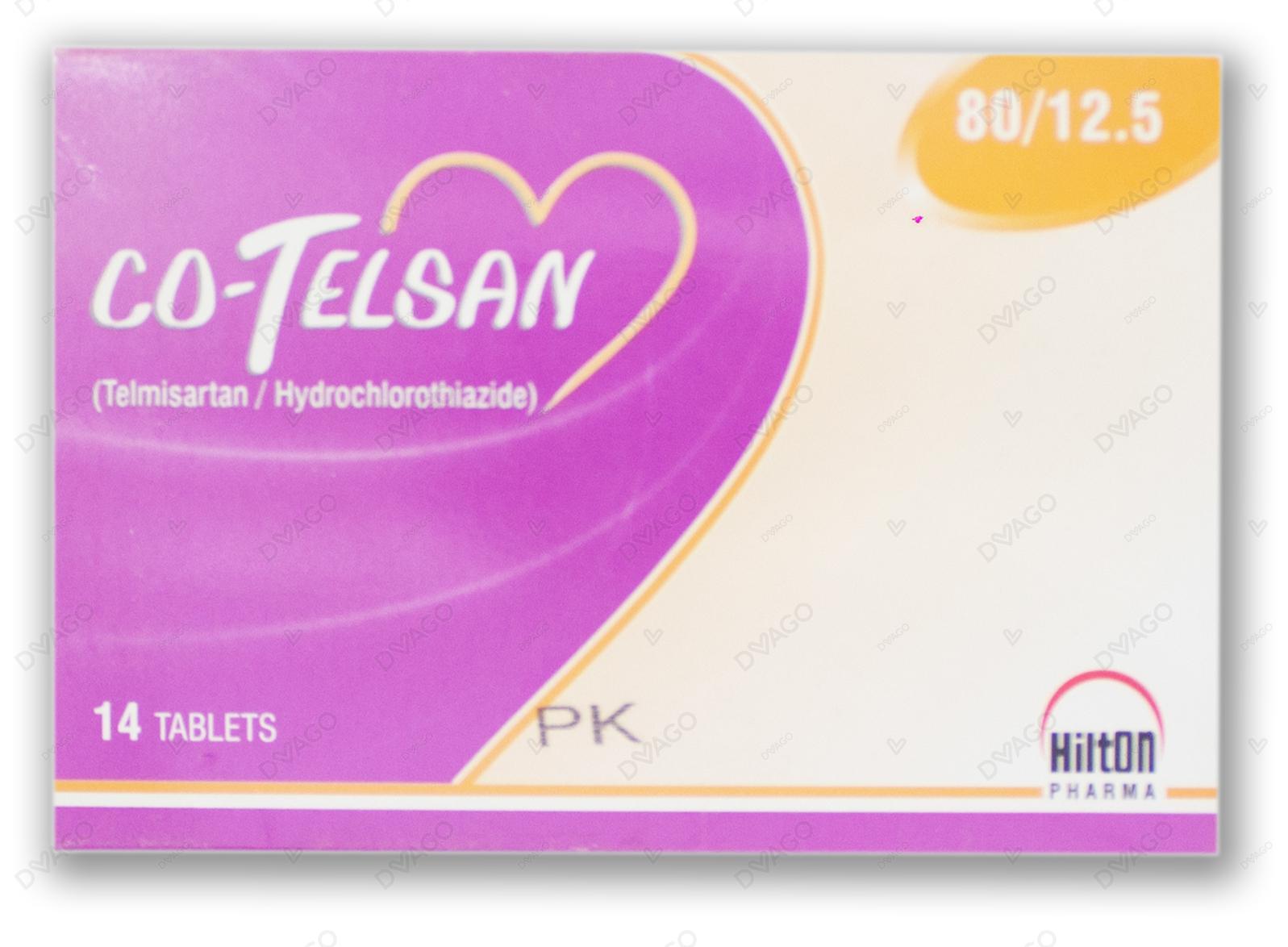 Co-Telsan 80/12.5Mg Tablets 14S (Pack Size 2 X 7S)
How it works
Telmisartan : Telmisartan is an orally effective and specific angiotensin II receptor subtype 1 (AT1) antagonist. Angiotensin II is formed from angiotensin I in a reaction catalyzed by angiotensinconverting enzyme (ACE, kininase II). Angiotensin II is the principal pressor agent of the renin-angiotensin system, with effects that include vasoconstriction, stimulation of synthesis and release of aldosterone, cardiac stimulation, and renal reabsorption of sodium. Telmisartan blocks the vasoconstrictor and aldosterone-secreting effects of angiotensin II by selectively blocking the binding of angiotensin II to the AT1 receptor in many tissues, such as vascular smooth muscle and the adrenal gland. Its action is therefore independent of the pathways for angiotensin II synthesis. In patients with hypertension telmisartan reduces both systolic and diastolic blood pressure without affecting pulse rate. Telmisartan has much greater affinity (>3,000 fold) for the AT1 receptor than for the AT2 receptor. Hydrochlorothiazide : Hydrochlorothiazide is a thiazide diuretic. Thiazides affect the renal tubular mechanisms of electrolyte reabsorption, directly increasing excretion of sodium and chloride in approximately equivalent amounts. The diuretic action of hydrochlorothiazide reduces plasma volume, increases plasma renin activity, increases aldosterone secretion, with consequent increases in urinary potassium and bicarbonate loss, and decreases in serum potassium. Presumably through blockade o f the renin-angiotensin-aldosterone system, co-administration of telmisartan tends to reverse the potassium loss associated with thiazide diuretics.
Description
CO-TELSAN TAB 80/12.5 MG 14'S
Generics
Telmisartan + Hydrochlorothiazide
Requires Prescription (YES/NO)
Yes
Indication
It is indicated for the treatment of hypertension.
Side Effects
Common: Dizziness Uncommon: Hypokalemia, anxiety, syncope, paraesthesia, vertigo, tachycardia, arrhythmias, hypotension, or thostatic hypotension, dyspnoea, diarrhea, dry mouth, flatulence, back pain, muscle spasms, myalgia, erectile dysfunction, chest pain and blood uric acid increase. Rare: Bronchitis, hyperuricemia, hyponatremia, depression, insomnia, sleep disorders, visual disturbance, vision blurred, respiratory distress, abdominal pain, constipation, dyspepsia, vomiting, abnormal hepatic function/liver disorder, angioedema, muscle cramp, pain in limb, influenza-like illness, pain, blood creatinine increased, blood creatine phosphokinase increased and hepatic enzyme increased.
When not to Use
Telmisartan + Hydrochlorothiazide combination is contraindicated: In patients who are hypersensitive to this drug or any component of this product. - In patients with anuria or hypersensitivity to other sulfonamide-derived drugs, due to hydrochlorothiazide component in the preparation. - Refractory hypokalemia and hypercalcemia. - During second and third trimesters of pregnancy and lactation. - With cholestasis and biliary obstructive disorders. - With severe hepatic impairment. - With severe renal impairment.
Dosage
Adults : Usually effective dose of telmisartan is 40mg once daily. Blood response is dose related over the range of 20-80mg. Some patients may already benefit at a daily dose of 20mg. Hydrochlorothiazide is effective in doses of 12.5mg to 50mg once daily. Renal impaired patients : The usual regimens of therapy with Telmisartan + Hydrochlorothiazide may be followed as long as the patient's creatinine clearance is >30mL/min. In patients with more severe renal impairment it is not recommended to use thiazide. Hepatic impaired patients In patients with mild to moderate hepatic impairment the dosage should not exceed 40mg+12.5mg once daily or as directed by your physician.
Storage yes or /no
Store this medicine at room temperature, away from direct light and heat.
Precautions
Telmisartan + Hydrochlorothiazide should be used with caution in patients with impaired hepatic function or progressive liver disease, since minor alterations of fluid and electrolyte balance may precipitate hepatic coma.
Warning 1
There is an increased risk of severe hypotension and renal impairment when patients with bilateral renal artery stenosis or stenosis of the artery to a single functioning kidney are treated with medicinal products that affect the renin-angiotensin-aldosterone system.
Warning 2
There is less experience in patients with mild to moderate renal impairment, therefore, periodic monitoring of potassium, creatinine and uric acid serum levels is recommended. Thiazide diuretic-associated azotemia may occur in patients with impaired renal function.
Warning 3
Thiazide therapy may impair glucose tolerance. In diabetic patients dosage adjustments of insulin or oral hypoglycemic agents may be required. Latent diabetes mellitus may become manifest during thiazide therapy .
Pregnancy category
Always consult your physician before using any medicine.
Drug Interactions
Lithium , Digoxin , kaliuretic diuretics, laxatives, corticosteroids, ACTH, amphotericin, carbenoxolone, penicillin G sodium, salicylic acid and derivatives) , ACE inhibitors, potassium-sparing diuretics, potassium supplements, salt substitutes containing potassium, cyclosporine or other medicinal p roducts such as heparin sodium) , quinidine, hydroquinidine, disopyramide), class III antiarrythmics (e.g, amiodarone, sotalol,dofetilide, ibutilide), some antipsychotics : (e.g., thioridazine, chlorpromazine, levomepromazine, trifluoperazine, cyamemazine, sulpiride, sultopride, amisulpride, tiapride, pimozide, haloperidol, droperidol), others: (e.g., bepridil, cisapride, diphemanil, erythromycin IV, halofantrin, mizolastin, pentamidine, sparfloxacine, terfenadine, vincamine IV.) , Metformin , Cholestyramine and colestipol resins , NSAIDs , Amantadine ,Cytotoxic agents (e.g., cyclophosphamide, methotrexate).
Suggestions