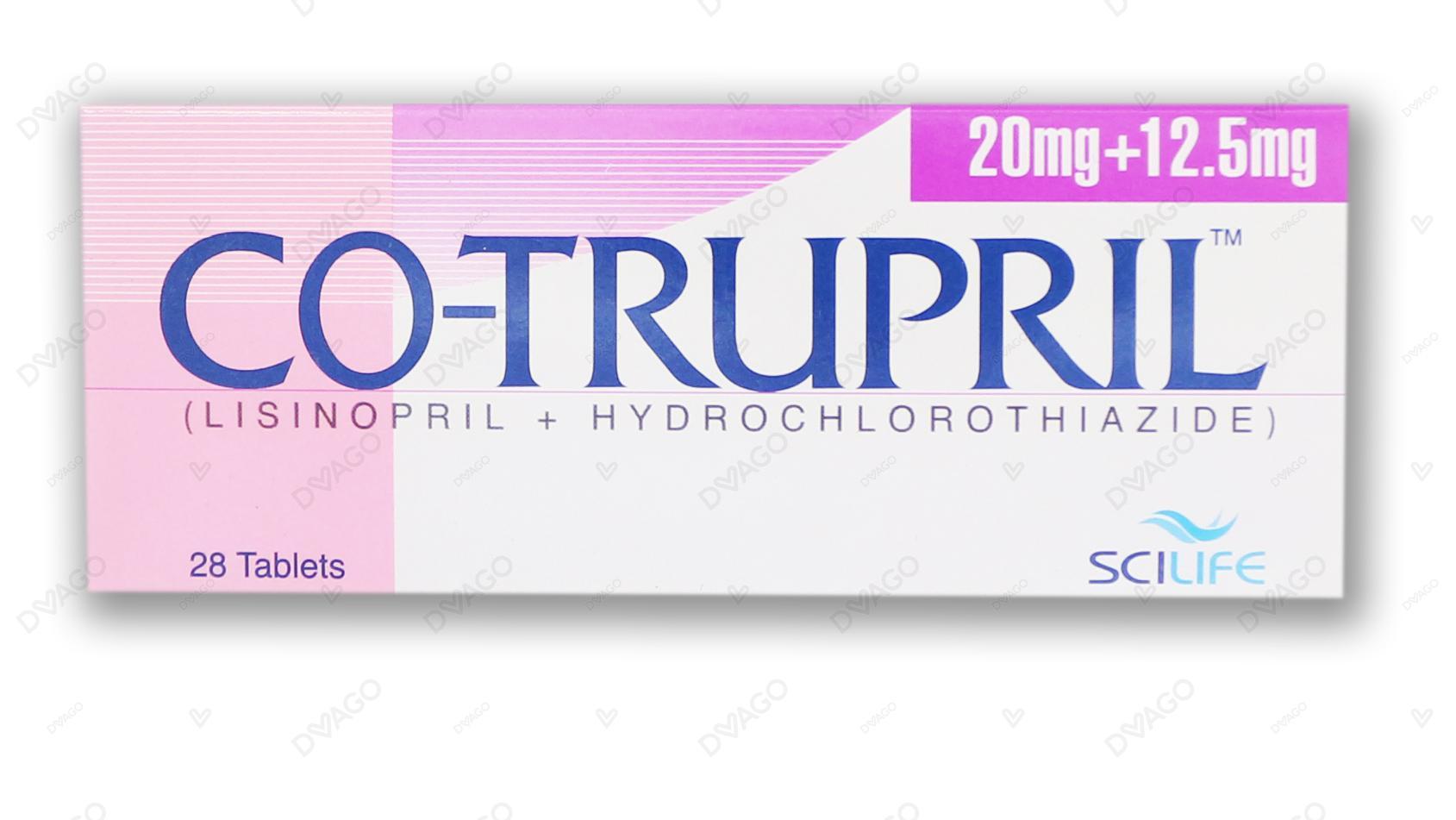 Co-Trupril 20/12.5Mg Tablets 28S (Pack Size 2 X 14S)
How it works
Lisinopril : The mechanism through which lisinopril lowers blood pressure is believed to be primarily suppression of the renin-angiotensin-aldosterone system. Lisinopril is antihypertensive even in patients with low-renin hypertension. Hydrochlorothiazide : The mechanism of the antihypertensive effect of thiazides is unknown. Thiazides do not usually affect normal blood pressure. Hydrochlorothiazide is a diuretic and antihypertensive. Thiazides affect the renal tubular mechanisms of electrolyte reabsorption, directly increasing excretion of sodium and chloride in approximately equivalent amounts. Indirectly, the diuretic action of hydrochlorothiazide reduces plasma volume with consequent increase in plasma renin activity increase in aldosterone secretion, increases in urinary potassium loss and decrease in serum potassium. The renin-aldosterone link is mediated by angiotensin II, so co-administration of an angiotensin II receptor antagonist tends to reverse the potassium loss associated with these diuretics .
Description
CO-TRUPRIL TAB 20/12.5 MG 28'S
Generics
Lisinopril , Hydrochlorothiazide
Requires Prescription (YES/NO)
Yes
Indication
It is indicated in the management of mild to moderate hypertension in patients who are not adequately controlled on monotherapy.
Side Effects
Common : Dizziness, headache, dry cough, fatigue, hypotension including orthostatic hypotension. Small decreases in hemoglobin and haematocrit. Less Common : Diarrhea, nausea, vomiting, dry mouth, rash, gout, palpitations, chest discomfort, muscle cramps and weakness, paraesthesia, asthenia and impotence, hyperglycemia, hyperuricemia and hyper or hypokalemia. Rarely : Pancreatitis, agranulocytosis, elevations of liver enzymes and/or serum bilirubin.
When not to Use
Lisinopril+Hydrochlorothiazide is contraindicated in patients who are hypersensitive to any component of this product and in patients with a history of angioneurotic edema relating to previous treatment with an angiotensin-converting enzyme inhibitor and in patients with hereditary or idiopathic angioedema. - Lisinopril+Hydrochlorothiazide is contraindicated in patients who are hypersensitive to other sulphonamide-derived drugs. - Lisinopril+Hydrochlorothiazide is contraindicated in patients with anuria. - Lisinopril+Hydrochlorothiazide is contraindicated in pregnancy and treatment should be stopped if pregnancy is suspected.
Dosage
Adults : The usual dosage of Lisinopril+Hydrochlorothiazide is 1 tablet, administered once daily. It should be taken approximately the same time each day. If the desired therapeutic effect cannot be achieved in a period of 2 to 4 weeks at this dose level, the dose can be increased to 2 tablets administered once daily . Children : Not recommernded. OR As directed by your physician.
Storage yes or /no
Store this medicine at room temperature, away from direct light and heat.
Precautions
As with all antihypertensive therapy, symptomatic hypotension may occur in some patients. Periodic determination of serum electrolytes should be performed at appropriate intervals in such patients. In patients at increased risk of symptomatic hypotension, initiation of therapy and dose adjustment should be monitored under close medical supervision .
Warning 1
Particular consideration should be given when therapy is administered to patients with ischemic heart or cerebrovascular disease because an excessive fall in blood pressure could result in a myocardial infarction or cerebrovascular accident.
Warning 2
Thiazides should be used with caution in patients with impaired hepatic function or progressive liver disease, since minor alterations of fluid and electrolyte balance may precipitate hepatic coma.
Warning 3
Thiazides may decrease urinary calcium excretion and may cause intermittent and slight elevation of serum calcium. Thiazides should be discontinued before carrying out tests for parathyroid function .
Pregnancy category
Always consult your physician before using any medicine.
Drug Interactions
Agents Increasing Serum Potassium , Agents Affecting Sympathetic Activity , Lithium , Corticosteroids (ACTH) , Nonsteroidal Anti-inflammatory Drugs , Tubocurarine , Insulin , Alcohol, Barbiturates or Narcotics , Pressor Amines .
Suggestions