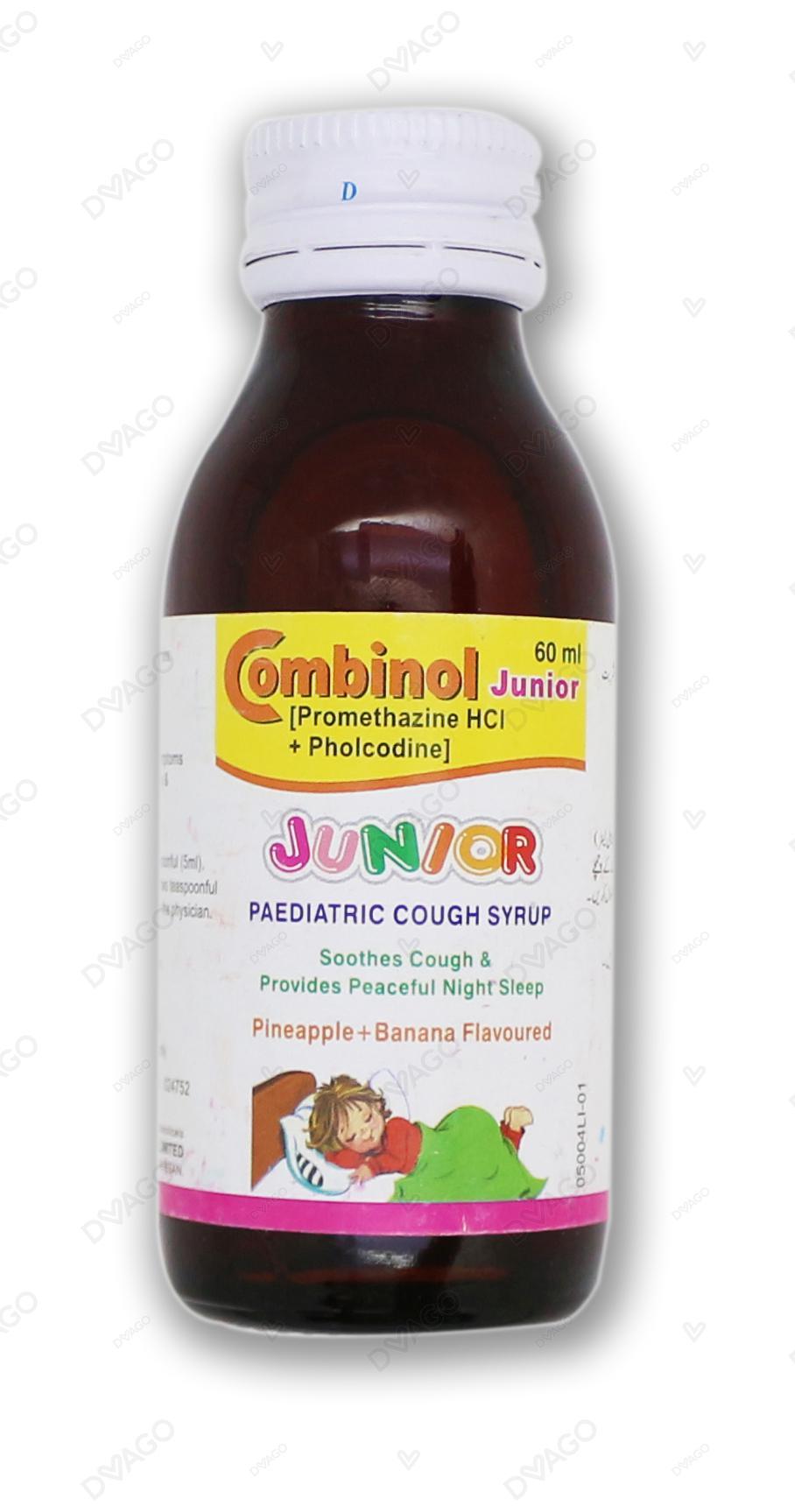 Combinol Junior Cough Syrup 60Ml
How it works
Pholcodine is a cough suppressant that acts primarily on the central nervous system (CNS) causing depression of the cough reflex, partly by a direct effect on the cough centre in the medulla. It also has a mild sedative effect. Promethazine is a an antagonist of histamine H1, post-synaptic mesolimbic dopamine, alpha adrenergic, muscarinic, and NMDA receptors. The antihistamine action is used to treat allergic reactions. Antagonism of muscarinic and NMDA receptors contribute to its use as a sleep aid, as well as for anxiety and tension.
Description
COMBINOL JUNIOR COUGH SYP 60ML
Generics
 Promethazine HCl , Pholcodine
Requires Prescription (YES/NO)
Yes
Indication
It is used to treat cough .
Side Effects
Ask your pharmacist or physician for any side effects .
When not to Use
These products are contraindicated in persons who have shown hypersensitivity to any of their components.
Dosage
Adults : 1 tsp 6 hourly . Children : Upto 4 yr , 1/4 tsp 3-4 times daily ; 4-12 yr, 1/2 tsp 6 hourly . OR As directed by your physician.
Storage yes or /no
Store this medicine at room temperature, away from direct light and heat.
Precautions
It may cause drowsiness and may potentiate the effects of sedatives, hypnotics, tranquilizers and alcohol.
Warning 1
Patients should be cautioned against operating motor vehicles or machinery while taking this medicine.
Warning 2
Caution is required in patients with severe cardiac disease, coronary artery disease and congestive heart failure, hypertension, history of peptic ulcer or thyrotoxicosis.
Warning 3
Generally this medicine is very well tolerated and has few side effects.
Pregnancy category
Always consult your physician before using any medicine.
Drug Interactions
Ask your doctor or Pharmacist for any drug interactions.
Suggestions