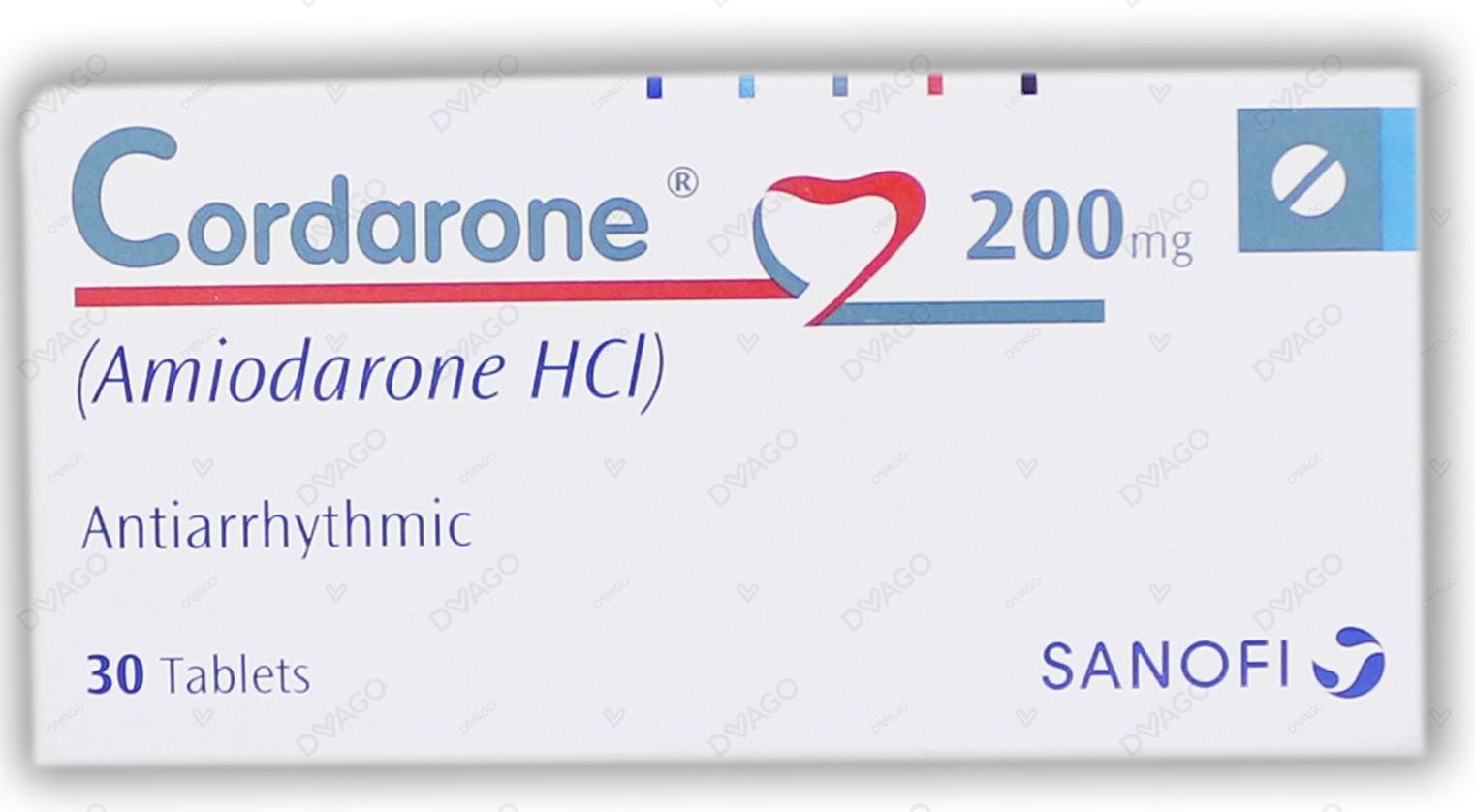 Cordarone 200Mg Tablets 30S (Pack Size 3 X 10S)
How it works
Amiodarone is a Class III antiarrhythmic agent prolonging the action potential duration and hence refractory period of atrial, nodal and ventricular tissues, thereby giving a very broad spectrum of activity. An increase in the refractory period of the atrial cells is a major contributing action to the control of atrial tachyarrhythmias.
Description
CORDARONE TAB 200 MG 3X10'S
Requires Prescription (YES/NO)
Yes
Indication
Amiodarone can be used to: • Treat uneven heartbeats where other medicines either have not worked or cannot be used • Treat an illness called Wolff-Parkinson-White Syndrome. This is where your heart beats unusually fast • Treat other types of fast or uneven heartbeats known as "atrial flutter" or "atrial fibrillation". Amiodarone Tablets are used only when other medicines can not be used.
Side Effects
Dermatologic: Solar dermatitis/photosensitivity. Neurologic: Malaise and fatigue, tremor/abnormal involuntary movements, lack of coordination, abnormal gait/ataxia, dizziness, paresthesias. Gastrointestinal: Constipation, anorexia. Ophthalmologic: Visual disturbances. Hepatic: Abnormal liver-function tests. Respiratory: Pulmonary inflammation or fibrosis .
When not to Use
Do not take if • You are allergic (hypersensitive) to iodine , amiodarone hydrochloride or any of the other ingredients . Signs of an allergic reaction include: a rash, swallowing or breathing problems, swelling of your lips, face, throat or tongue. • You have a slower than usual heartbeat (called 'sinus bradycardia') or an illness called 'sinoatrial' heart block • You have any other problems with your heartbeat and do not have a pacemaker fitted • You have ever had thyroid problems. Your doctor should test your thyroid before giving you this medicine .
Dosage
Initial Treatment : It should be started with 200 mg, 3 times a day and may be continued for 1 week. The dosage should then be reduced to 200 mg, twice daily for a further week. Maintenance therapy : After the initial period the dosage should be reduced to 200 mg daily, or less if appropriate. Rarely, the patient may require a high maintenance dose. The scored 100 mg tablet should be used to titrate minimum dosage required to maintain control of the arrhythmia. The maintenance dose should be regularly reviewed, especially where this exceeds 200 mg daily. OR As directed by your physician.
Storage yes or /no
Store this medicine at room temperature, away from direct light and heat.
Precautions
Chronic administration of oral amiodarone in rare instances may lead to the development of peripheral neuropathy that may resolve when amiodarone is discontinued, but this resolution has been slow and incomplete .
Warning 1
In patients with implanted defibrillators or pacemakers, chronic administration of antiarrhythmic drugs may affect pacing or defibrillating thresholds. Therefore, at the inception of and during amiodarone treatment, pacing and defibrillation thresholds should be assessed.
Warning 2
Elevations of hepatic enzyme levels are seen frequently in patients exposed to this medicine and in most cases are asymptomatic. If the increase exceeds three times normal, or doubles in a patient with an elevated baseline, discontinuation of this medicine or dosage reduction should be considered.
Warning 3
Cases of optic neuropathy and/or optic neuritis, usually resulting in visual impairment, have been reported in patients treated with amiodarone. In some cases, visual impairment has progressed to permanent blindness .
Pregnancy category
Always consult your physician before using any medicine.
Drug Interactions
Class I and III antiarrhythmics, lithium, certain phenothiazines, tricyclic antidepressants, certain fluoroquinolone and macrolide antibiotics, IV pentamidine, and azole antifungals , digoxin, beta blockers, verapamil, diltiazem, clonidine , certain protease inhibitors, loratadine, cimetidine, trazodone) , HMG-CoA reductase inhibitors
Suggestions