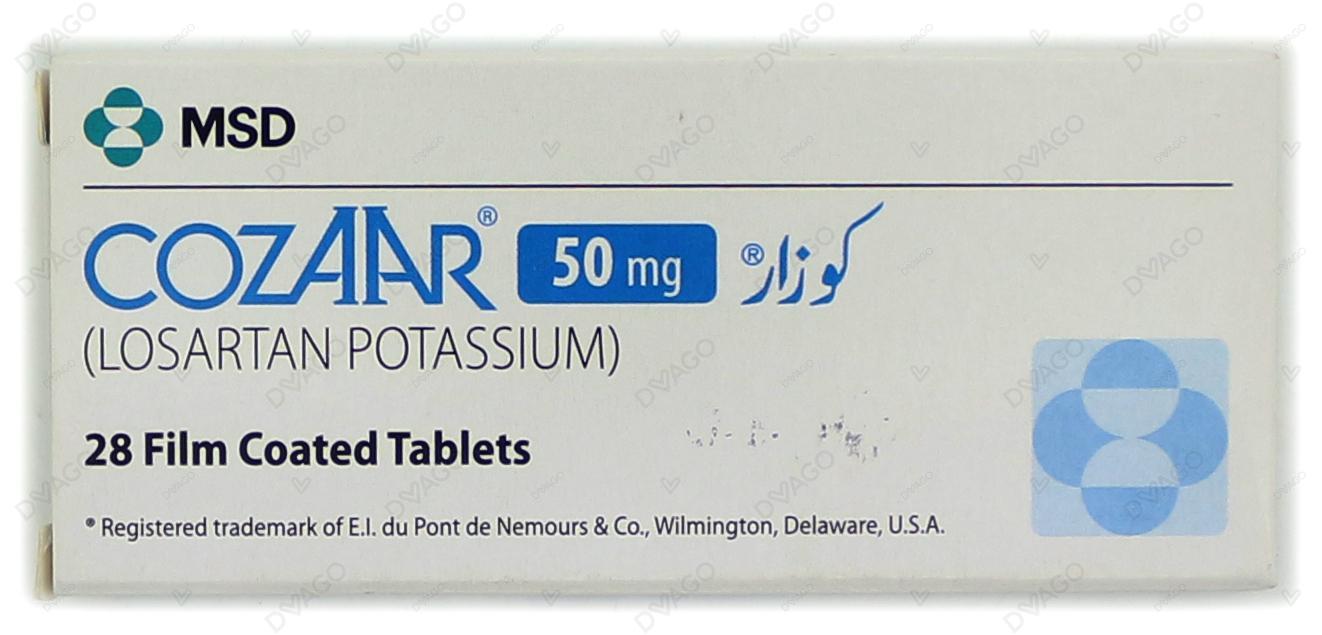 Cozaar 50Mg Tablets 28S (Pack Size 2 X 14S)
How it works
Losartan and its principal active metabolite block the vasoconstrictor and aldosterone-secreting effects of angiotensin II by selectively blocking the binding of angiotensin II to the AT1 receptor found in many tissues, (e.g., vascular smooth muscle, adrenal gland).
Description
COZAAR TAB 50 MG 2X14'S
Generics
Losartan Potassium
Requires Prescription (YES/NO)
Yes
Indication
It is used: • Alone or with other blood pressure medicines to lower high blood pressure (hypertension).• To lower the chance of stroke in patients with high blood pressure and a heart problem called left ventricular hypertrophy. It may not help Black patients with this problem.• To slow the worsening of diabetic kidney disease (nephropathy) in patients with type 2 diabetes who have or had high blood pressure.
Side Effects
Symptoms of an allergic reaction are swelling of the face, lips, throat or tongue , Low blood pressure may cause you to feel faint or dizzy , diarrhea , tiredness , low blood sugar , chest pain , high blood potassium , low blood pressure .
When not to Use
Do not take losartan potassium if you are allergic to any of the ingredients in in the list.
Dosage
Hypertension : Adults - 50mg once daily. If necessary increase to max 100mg once daily . With intravascular volume depletion ( adults 18-75yrs), 25mg once daily for several wks, increased upto 100mg once daily if necessary . Eldrely : Over 75yr, initially 25mg once daily. Children : Under 6yr, not recommended. 6-18yr, body weight less than 50kg, Initially 700mcg/kg (max 25mg) once daily ( lower in intravascular volume depletion ), adjusted according to response , max 50mg once daily. Body weight 50kg & over , initially 50mg once daily ( initially 25mg once daily in intravascular volume depletion ), adjusted according to response , max 1.4mg/kg (max 100mg once daily ). Take Losartan potassium exactly as prescribed by your doctor. Your doctor may change your dose if needed.
Storage yes or /no
Store this medicine at room temperature, away from direct light and heat.
Precautions
Based on pharmacokinetic data which demonstrate significantly increased plasma concentrations of losartan in cirrhotic patients, a lower dose should be considered for patients with impaired liver function .
Warning 1
As a consequence of inhibiting the renin-angiotensin-aldosterone system, changes in renal function have been reported in susceptible individuals treated with losartan potassium; in some patients, these changes in renal function were reversible upon discontinuation of therapy.
Warning 2
Electrolyte imbalances are common in patients with renal impairment, with or without diabetes, and should be addressed.
Warning 3
A patient receiving losartan potassium should be told not to use potassium supplements or salt substitutes containing potassium without consulting the prescribing physician.
Pregnancy category
Always consult your physician before using any medicine.
Drug Interactions
Hydrochlorothiazide, digoxin, warfarin, cimetidine and phenobarbital , Rifampin , Ketoconazole , Fluconazole , potassium-sparing diuretics (e.g., spironolactone, triamterene, amiloride), potassium supplements, or salt substitutes containing potassium may lead to increases in serum potassium , Lithium , NSAIDs , aliskiren .
Suggestions