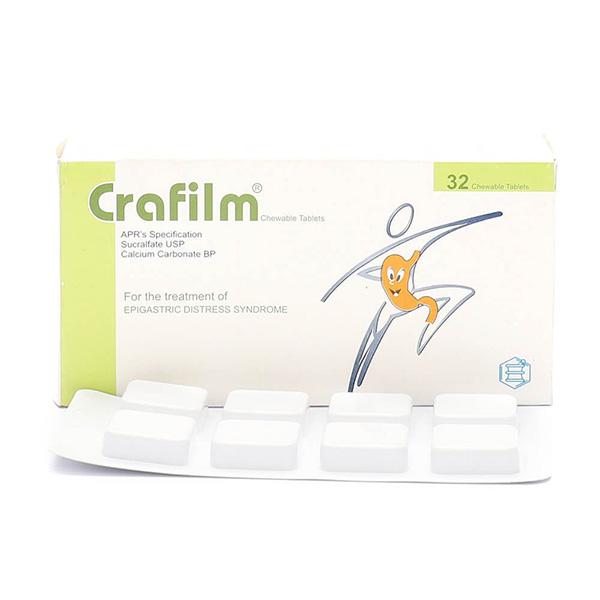 Crafilm Tablets Chewable 250Mg32s
How it works
Sucralfate is a sucrose sulfate-aluminum complex that possesses cytoprotective properties. It prevents direct contact of hydrochloric acid (HCl) with the inner mucosa by binding to the ulcer. It also acts like an acid buffer by promoting bicarbonate production.Calcium carbonate is an antacid that combats hyperacidity by neutralizing HCl.
Description
CRAFILM TAB CHEWABLE 250MG32'S
Generics
Sucralfate , Calcium Carbonate
used for
Acidity & Heartburn
Requires Prescription (YES/NO)
No
Indication
It is a proven therapy for a myriad of gastrointestinal problems causing indigestion, acidity and heartburn. It is a gastric mucosal protectant that works by forming a barrier against gastric acid, enzymes and salts. It is indicated in: Heart burn, Hyperacidity, Peptic and duodenal ulcer, Bloating & Belching and Dyspepsia.
Side Effects
Constipation , diarrhoea , GI upset , dry mouth , rash.
When not to Use
Hypersensitivity to sucralfate or to any of the excipients found in this product.
Dosage
Dosage: 1-2 tablets thrice a day before meals. OR As directed by your physician.
Storage yes or /no
Store this medicine at room temperature, away from direct light and heat.
Precautions
It should be administered with caution in patients with renal impairment or on dialysis, due to the possibility of increased aluminium absorption.
Warning 1
Aluminium accumulation and toxicity (aluminium osteodystrophy, osteomalacia, encephalopathy) have been described in patients with renal impairment. Blood levels of aluminium, phosphate, calcium, alkalinephosphatase, should be periodically measured in these patients.
Warning 2
Caution is advised when sucralfate is administered in patients with phosphate deficiencies as aluminium binds to phosphate in the gastrointestinal tract, inhibiting its absorption.
Warning 3
Occasional cases of bezoar (an insoluble mass formed within the gastric lumen) have been reported in patients taking sacralfate. Bezoars have been described in patients after administration of sucralfate in severely ill patients in Intensive Care Units, and especially in premature infants in whom the use of sucralfate is not recommended, and should be used with caution in patients with delayed gastric emptying or receiving concomitant enteral feeds.
Pregnancy category
Always consult your physician before using any medicine.
Drug Interactions
Tetracyclines , phenytoin , cimetidine , digoxin .
Suggestions