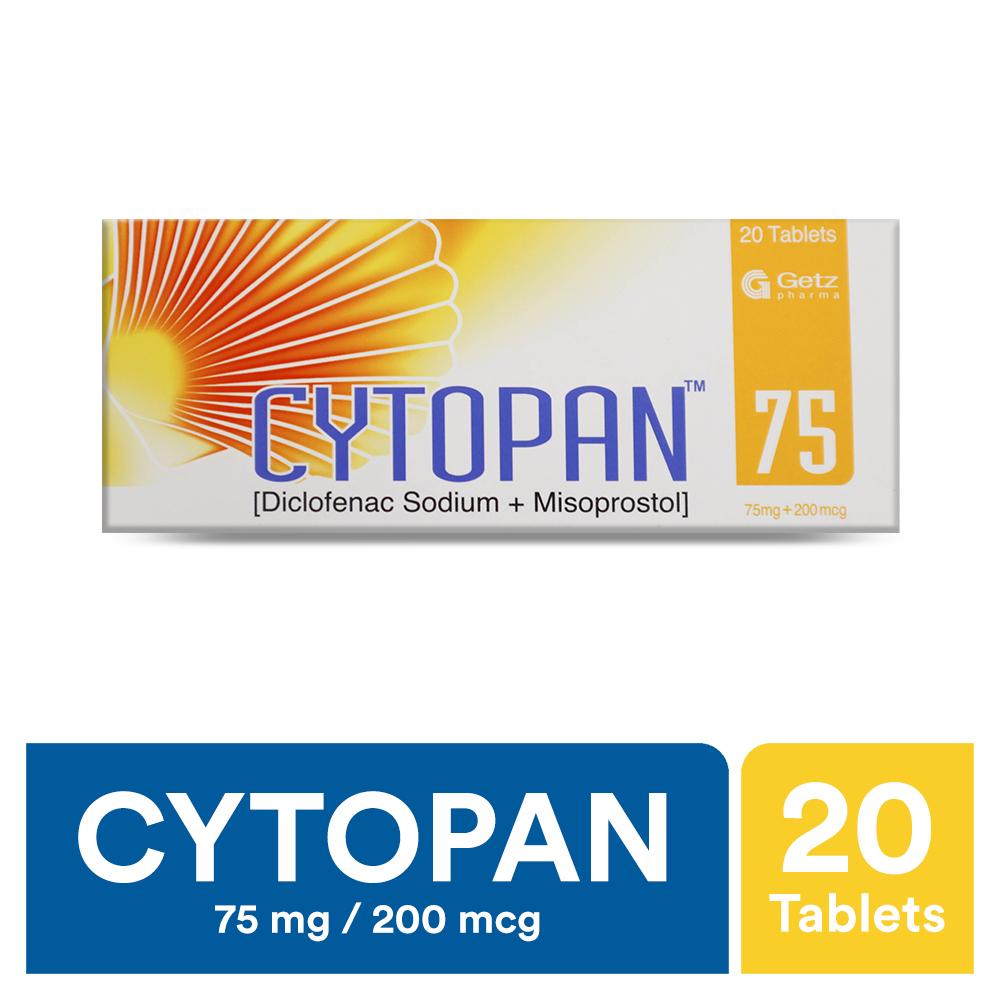 Cytopan 75Mg+200Mcg Tablets 20S (Pack Size 2 X 10S)
How it works
Diclofenac Sodium/Misoprostol is a nonsteroidal anti-inflammatory drug (NSAID). In pharmacologic studies, diclofenac sodium has shown anti-inflammatory, analgesic and antipyretic properties. The mechanism of action of diclofenac sodium, like other NSAIDs, is not completely understood but may be related to prostaglandin synthetase inhibition.
Description
CYTOPAN TAB 75 MG 20'S
Generics
Diclofenac sodium + Misoprostol
Requires Prescription (YES/NO)
Yes
Indication
It is indicated for treatment of the signs and symptoms of osteoarthritis or rheumatoid arthritis in patients at high risk of developing NSAID-induced gastric and duodenal ulcers and their complications.
Side Effects
Inflammation, bleeding, ulceration, and perforation of the stomach, small intestine, or large intestine , thrombotic events, myocardial infarction, and stroke , ulcer or gastrointestinal bleeding .
When not to Use
It is contraindicated in patients with hypersensitivity to diclofenac or to misoprostol or other prostaglandins.
Dosage
Osteoarthritis: The recommended dosage for maximal GI mucosal protection is 50mg/200mcg tid. For patients who experience intolerance, 75mg/200mcg bid or 50mg/200mcg bid can be used, but are less effective in preventing ulcers. This fixed combination product, is not appropriate for patients who would not receive the appropriate dose of both ingredients. Children : Not recommended . OR As directed by your physician .
Storage yes or /no
Store this medicine at room temperature, away from direct light and heat.
Precautions
As with other NSAIDs, aseptic meningitis with fever and coma has been observed on rare occasions in patients on diclofenac therapy.
Warning 1
It contains diclofenac sodium and misoprostol. Administration of misoprostol to women who are pregnant can cause abortion, premature birth, or birth defects.
Warning 2
Uterine rupture has been reported when misoprostol was administered in pregnant women to induce labor or to induce abortion beyond the eighth week of pregnancy.
Warning 3
Anemia is sometimes seen in patients receiving NSAIDs, including this medicine.
Pregnancy category
Always consult your physician before using any medicine.
Drug Interactions
ACE-Inhibitors , Aspirin , Digoxin , Warfarin , Methotrexate , Cyclosporine , Lithium , Antacids , Diuretics
Suggestions