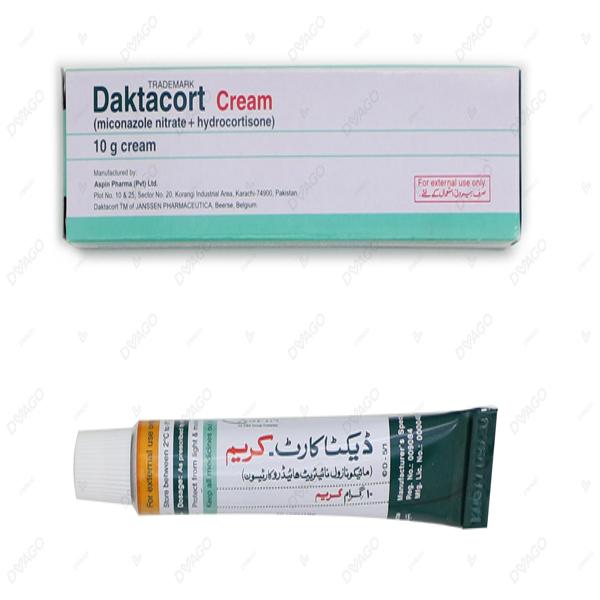 Daktacort Cream 10G
How it works
Miconazole nitrate is active against dermatophytes and pathogenic yeasts and many Gram-positive bacteria. Hydrocortisone is an anti-inflammatory steroid. Its anti-inflammatory action is due to reduction in the vascular component of the inflammatory response, suppression of migration of polymorphonuclear leukocytes, and reversal of increased capillary permeability. The vasoconstrictor action of hydrocortisone may also contribute to its anti-inflammatory activity.
Description
DAKTACORT CREAM 10 GM
Generics
Miconazole Nitrate, Hydrocortisone Acetate
Requires Prescription (YES/NO)
Yes
Indication
Infections of the skin by dermatophytes or Candida spp., in which inflammatory symptoms are prominent.
Side Effects
Skin Irritation , Skin burning sensation , Irritability , Anaphylactic reaction, Hypersensitivity , Angioedema, Urticaria, Rash, Contact dermatitis, Pruritus, Erythema, Skin inflammation, Skin hypopigmentation, Application site reaction.
When not to Use
Known hypersensitivity to miconazole or other imidazole derivatives, hydrocortisone or another ingredient in the list. Tuberculous skin infections, herpes simplex, vaccinia, all forms of varicella.
Dosage
It should be applied topically to the lesion once to twice daily. It should be rubbed in gently until it has been completely penetrated into the skin.
Storage yes or /no
Store in a refrigerator (2°C–8°C). Do not Freeze .
Precautions
If a reaction suggesting sensitivity or irritation should occur, the treatment should be discontinued.
Warning 1
It must not come into contact with the mucosa of the eyes.
Warning 2
As with any topical corticosteroid, caution is advised with infants and children when it is to be applied to extensive surface areas or under occlusive dressings including baby napkins (diapers).
Warning 3
Adrenal suppression can occur even without occlusion.
Pregnancy category
Always consult your physician before using any medicine.
Drug Interactions
Warfarin , hypoglycemics and phenytoin , CYP3A4 receptor.
Suggestions