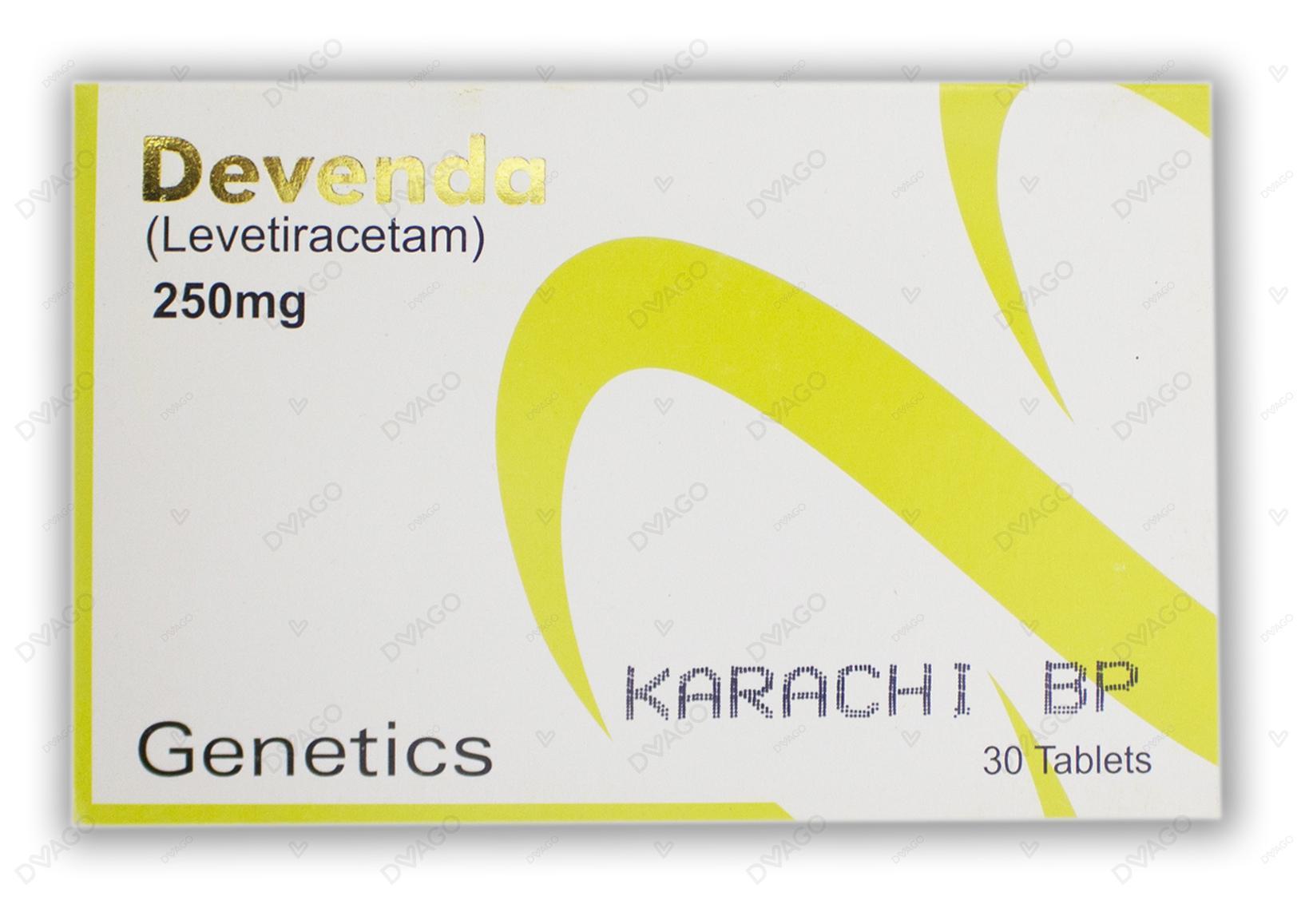 Devenda 250Mg Tablets 30S (Pack Size 3 X 10S)
How it works
The mechanism of action of levetiracetam still remains to be fully elucidated. In vitro studies show that levetiracetam affects intraneuronal Ca2+ levels by partial inhibition of N- type Ca2+ currents and by reducing the release of Ca2+ from intraneuronal stores. In addition it partially reverses the reductions in GABA- and glycine-gated currents induced by zinc and ß-carbolines. Furthermore, levetiracetam has been shown in in vitro studies to bind to a specific site in rodent brain tissue. This binding site is the synaptic vesicle protein 2A, believed to be involved in vesicle fusion and neurotransmitter exocytosis. Levetiracetam and related analogs show a rank order of affinity for binding to the synaptic vesicle protein 2A which correlates with the potency of their anti-seizure protection in the mouse audiogenic model of epilepsy. This finding suggests that the interaction between levetiracetam and the synaptic vesicle protein 2A seems to contribute to the antiepileptic mechanism of action of the medicinal product.
Description
DEVENDA TAB 250 MG 30'S
Requires Prescription (YES/NO)
Yes
Indication
Levetiracetam is indicated as: Monotherapy: • In the treatment of partial onset seizures with or without secondary generalization in adults and adolescents from 16 years of age with newly diagnosed epilepsy. Adjunctive Therapy: • In the treatment of partial onset seizures with or without secondary generalization in adults, adolescents and childrens 6 years of age or above with epilepsy. • In the treatment of myoclonic seizures in adults and adolescents from 12 years of age with Juvenile Myoclonic Epilepsy. • In the treatment of primary generalized tonic-clonic seizures in adults and adolescents from 6 years of age with Idiopathic Generalized Epilepsy.
Side Effects
Very common: Nasopharyngitis, somnolence and headache. Common: Anorexia, depression, hostility/aggression, anxiety, insomnia, nervousness/irritability, convulsion, balance disorder, dizziness, lethargy, tremor, vertigo, cough, abdominal pain, diarrhoea, dyspepsia, vomiting, nausea, rash and asthenia/fatigue. Uncommon: Thrombocytopenia, leucopenia, weight decrease, weight increase, suicide attempt and suicidal ideation, psychotic disorder, abnormal behaviour, hallucination, anger, confusional state, panic attack, emotional instability/mood swings, agitation, amnesia, memory impairment, abnormal coordination/ataxia, paraesthesia, disturbance in attention, diplopia, vision blurred, liver function test abnormal, alopecia, eczema, pruritus, muscle weakness, myalgia and injury. Rare: Infection, pancytopenia, neutropenia, agranulocytopenia, drug reaction with eosinophilia and systemic symptoms (DRESS), hypersensitivity, hyponatraemia, completed suicide, personality disorder, thinking abnormal, hepatic failure, hepatitis, acute kidney injury, toxic epidermal necrolysis, Stevens-Johnson syndrome, erythema multiforme, rhabdomyolysis and blood creatine phosphokinase increased.
When not to Use
Levetiracetam is contraindicated in patients who are hypersensitive to the active substance or other pyrrolidone derivatives or to any excipient of the product.
Dosage
Monotherapy for adults and adolescents from 16 years of age : The recommended starting dose is 250mg twice daily which should be increased to an initial therapeutic dose of 500mg twice daily after two weeks. The dose can be further increased by 250mg twice daily every two weeks depending upon the clinical response. The maximum dose is 1500mg twice daily. Dosing for Partial Onset Seizures : Adults 16 Years and Older : Initiate treatment with a daily dose of 1000mg/day, given as twice-daily dosing (500mg twice daily). Additional dosing increments may be given (1000mg/day additional every 2 weeks) to a maximum recommended daily dose of 3000mg. There is no evidence that doses greater than 3000mg/day confer additional benefit. Dosing for Myoclonic Seizures in Patients 12 Years of Age and Older with Juvenile Myoclonic Epilepsy Initiate: treatment with a dose of 1000mg/day, given as twice-daily dosing (500mg twice daily). Increase the dosage by 1000mg/day every 2 weeks to the recommended daily dose of 3000mg. The effectiveness of doses lower than 3000mg/day has not been studied. Always consult your doctor or pharmacist for dose adjustments.
Storage yes or /no
Store this medicine at room temperature, away from direct light and heat.
Precautions
Antiepileptic drugs (AEDs), including levetiracetam, increase the risk of suicidal thoughts or behavior in patients taking these drugs for any indication. Patients treated with any AED for any indication should be monitored for the emergence or worsening of depression, suicidal thoughts or behavior, and/or any unusual changes in mood or behavior.
Warning 1
The administration of levetiracetam to patients with renal impairment may require dose adjustment. In patients with severely impaired hepatic function, assessment of renal function is recommended before dose selection.
Warning 2
The use of levetiracetam has been very rarely associated with acute kidney injury, with a time to onset ranging from a few days to several months.
Warning 3
Levetiracetam can cause anaphylaxis or angioedema after the first dose or at any time during treatment. If a patient develops signs or symptoms of anaphylaxis or angioedema, levetiracetam should be discontinued and the patient should seek immediate medical attention. Levetiracetam should be discontinued permanently if a clear alternative etiology for the reaction cannot be established.
Pregnancy category
Always consult your physician before using any medicine.
Drug Interactions
Probenecid , Methotrexate .
Suggestions