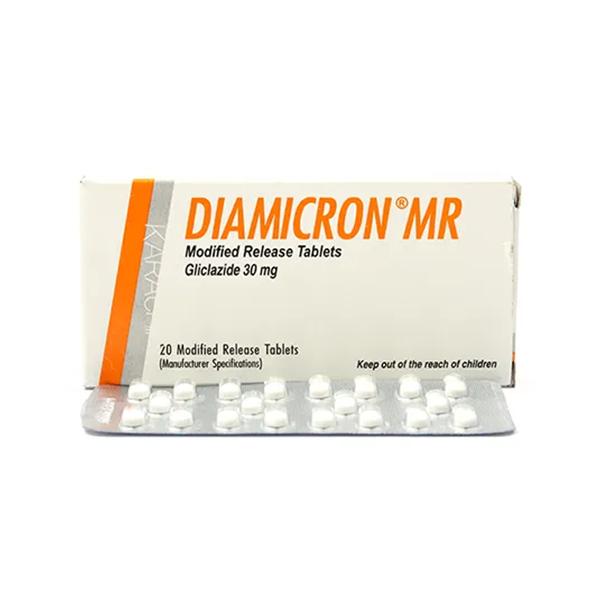 Diamicron Mr 30Mg Tablets 20S (Pack Size 1 X 20S)
How it works
It is used when diet and exercise are not enough to control your blood glucose properly. It lowers blood glucose by increasing the amount of insulin (a hormone that controls blood glucose levels) produced by your pancreas.
Description
DIAMICRON MR TAB 30 MG 20'S
Requires Prescription (YES/NO)
Yes
Indication
It is used to control blood glucose (sugar) in patients with Type II diabetes mellitus.
Side Effects
Gastro-intestinal: Abdominal pain, anal fissure, appetite increased, colitis, duodenal ulcer, epigastric fullness, faecal incontinence, flatulence, gastric irritation, gastroesophageal reflux, GI neoplasm benign, hemorrhoids, melena, dry mouth, oesophagitis, saliva increased, tooth ache, tooth disorder, vomiting. These reactions are generally dose-related and may disappear when the dose is reduced. Hearing and vestibular: hearing decreased, tinnitus. Liver and biliary: increased liver enzymes, hepatitis, hepatomegaly. Metabolic and nutritional: gout, glycosuria, hypercholesterolemia, hypertriglyceridemia, thirst. Cases of hepatic porphyria and disulfiram-like reactions have been described with sulfonylurea drugs. Clinical experience to date has shown that gliclazide 80 mg tablets has a low incidence of disulfiram type reactions. Musculo-skeletal: arthropathy, bursitis, hernia congenital, skeletal pain, spine malformation.
When not to Use
Do not take if • You are allergic to: gliclazide, or any of the other ingredients • You have had an allergic reaction to any other sulphonylureas, or related medicines such as sulfa antibiotics or to thiazide diuretics (a type of fluid or water tablet).
Dosage
Maturity-onset diabetes : Adults : 40-80mg daily increasing if necessary to max 320mg daily. Doses above 160mg should be taken in two divided doses. Type 2 diabetes : Adults : 30-120mg depending on response, once daily with breakfast, including eldrely or those with renal failure. Children : Not recommended. OR As directed by your physician.
Storage yes or /no
Store this medicine at room temperature, away from direct light and heat.
Precautions
In patients stabilized on gliclazide therapy, loss of blood sugar control may occur in cases of acute intercurrent disease or in stressful situations such as trauma or surgery. Under these conditions, discontinuation of gliclazide and administration of insulin should be considered.
Warning 1
Use of gliclazide must be considered as treatment in addition to proper dietary regimen and not as substitute for diet.
Warning 2
All sulfonylurea drugs can induce severe hypoglycemia. Particularly susceptible are elderly subjects, patients with impaired hepatic or renal function, those who are debilitated or malnourished and patients with primary or secondary adrenal insufficiency. Some cases may be severe and prolonged.
Warning 3
The efficacy of gliclazide, in reducing glucose to the desired level decreases over a long period of time in many patients: this may be due to progression in the severity of the diabetes, or to a reduced response to treatment. This phenomenon is known as secondary failure and should be distinguished from primary failure, when the drug is ineffective when prescribed as first-line treatment. Adequate dose adjustment and compliance with dietary measures should be considered before classifying the patient as secondary failure. If a loss of adequate blood glucose-lowering response to GLICLAZIDE is detected, the drug should be discontinued.
Pregnancy category
Always consult your physician before using any medicine.
Drug Interactions
Long-acting sulfonamides, tuberculostatics, NSAIDs, fibrates, monoamine oxidase inhibitors, salicylates, probenecid, beta-blockers, azole antifungal agents (oral and parenteral preparations), H2 receptor antagonists and angiotensin converting enzyme inhibitors , other antidiabetic agents (insulin, alpha glucosidase inhibitors, biguanides) , diuretics (thiazides, furosemide), corticosteroids, oral contraceptives (estrogen plus progestogen), chlorpromazine, ritodrine, salbutamol, terbutaline and nicotinic acid , Miconazole , Phenylbutazone , MAOIs , Chlorpromazine (neuroleptic agent) .
Suggestions