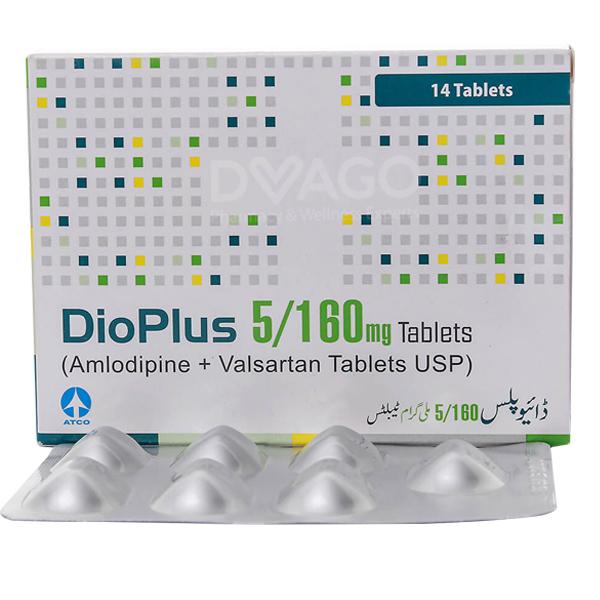 Dioplus 5/160Mg Tablets 14S (Pack Size 2 X 7S)
How it works
Amlodipine and Valsartan are antihypertensive compounds with complementary mechanisms to control blood pressure in patients with essential hypertension. The combination of these substances has an additive antihypertensive effect, reducing blood pressure to a greater degree than either component alone.
Description
DIO PLUS TAB 5/160 MG 14'S
Generics
Amlodipine Besilate + Valsartan
Requires Prescription (YES/NO)
Yes
Indication
It is indicated for the treatment of Hypertension.
Side Effects
Nasopharyngitis, influenza, hypokalemia, headache, asthenia, fatigue, facial edema, flushing, hot flush, edema, edema peripheral and pitting edema , Anorexia, hypercalcemia, hyperlipidemia, hyperuricemia, hyponatremia, coordination abnormal, dizziness, dizziness postural, paraesthesia, somnolence, visual impairment, vertigo, palpitations, tachycardia, orthostatic hypotension, cough, pharyngolaryngeal pain, abdominal discomfort, abdominal pain upper, constipation, diarrhea, dry mouth, nausea, erythema, rash, arthralgia, back pain and joint swelling.
When not to Use
The combination of amlodipine and valsartan is contraindicated in: - Patients with known hypersensitivity to the active substances, to dihydropyridine derivatives or to any of the excipient of the product. Severe hepatic impairment, biliary cirrhosis or cholestasis.
Dosage
Adults : The recommended dose of Amlodipine + Valsartan is one tablet per day. It can be used with or without food and it is recommended to take (Amlodipine + Valsartan) with some water. Children : Not recommended . Consult your doctor or Pharmacist for dose adjustment.
Storage yes or /no
Store this medicine at room temperature, away from direct light and heat.
Precautions
Combination of amlodipine + valsartan should be used with caution to treat hypertension in patients with unilateral or bilateral renal artery stenosis or stenosis to a solitary kidney since blood urea and serum creatinine may increase in such patients.
Warning 1
Concomitant use with potassium supplements, potassium-sparing diuretics, salt substitutes containing potassium, or other medicinal products that may increase potassium levels (heparin, etc.) should be undertaken with caution and with frequent monitoring of potassium levels.
Warning 2
The safety and efficacy of amlodipine in hypertensive crisis have not been established.
Warning 3
Angioedema, including swelling of the larynx and glottis, causing airway obstruction and/or swelling of the face, lips, pharynx and/or tongue, has been reported in patients treated with valsartan. Combination of amlodipine + valsartan should be discontinued immediately in patients who develop angioedema and should not be re-administered.
Pregnancy category
Always consult your physician before using any medicine.
Drug Interactions
Antihypertensive agents , grapefruit or grapefruit juice , CYP3A4 inhibitors (protease inhibitors, azole antifungals, macrolides like erythromycin or clarithromycin, verapamil or diltiazem) , CYP3A4 inducers (e.g. rifampicin, Hypericum perforatum) , Simvastatin , Lithium , Potassium-sparing diuretics, potassium supplements, salt substitutes containing potassium , NSAIDs , (rifampicin, cyclosporine) or efflux transporter (ritonavir) , Sildenafil.
Suggestions