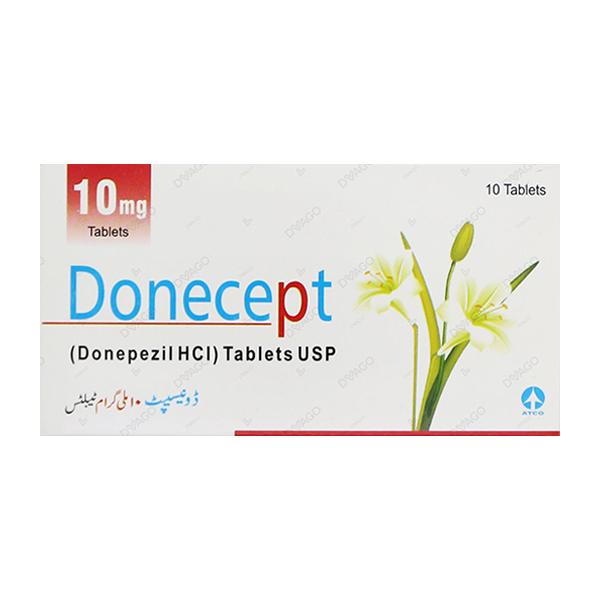 Donecept 10Mg Tablets 10S (Pack Size 1 X 10S)
How it works
Donepezil hydrochloride is a specific and reversible inhibitor of acetylcholinesterase, the predominant cholinesterase in the brain. Donepezil hydrochloride is in vitro over 1000 times more potent an inhibitor of this enzyme than of butyrylcholinesterase, an enzyme that is present mainly outside the central nervous system.
Description
DONECEPT TAB 10 MG 10'S
Requires Prescription (YES/NO)
Yes
Indication
It is indicated for the symptomatic treatment of mild to moderately severe Alzheimer's dementia.
Side Effects
Infections and Infestations: Common: common cold. Metabolism and nutrition disorders: Common: anorexia. Psychiatric disorders: Common: hallucinations, agitation, aggressive behavior and Abnormal dreams and Nightmares (Reports of hallucinations, abnormal dreams, nightmares, agitation and aggressive behavior have resolved on dose-reduction or discontinuation of treatment). Nervous system disorders: Common: syncope, dizziness and insomnia.Uncommon: seizure. Rare: extrapyramidal symptoms. Very rare: Neuroleptic malignant syndrome Cardiac disorders: Uncommon: bradycardia. Rare: sino-atrial block, atrioventricular block. Gastrointestinal disorders: very common: diarrhea and nausea. Common: Vomiting, abdominal disturbance. Uncommon: gastrointestinal hemorrhage, Gastric and duodenal ulcers. Hepato-biliary disorders: Rare: liver dysfunction including hepatitis (in case of unexplained liver dysfunction, withdrawal of Donepezil should be considered). Skin and subcutaneous tissue disorders: Common: rash and pruritis. Musculoskeletal, connective tissue and bone disorders: Common: muscle cramps Renal and urinary disorders: Common: urinary incontinence. General disorders and administration site conditions: Very common: headache. Common: fatigue and pain .
When not to Use
It is contraindicated in patients with a known hypersensitivity to donepezil hydrochloride, piperidine derivatives, or to any excipients used in the formulation.
Dosage
Aults : Initially 5mg once daily at bedtime. Increase if necessary to max 10mg at bedtime after 1 month. Assess response 2-4mnth after reaching maintenance dose and only continue if positive evidence of benefits. Children : Not recommended. OR As directed by your physician.
Storage yes or /no
Store this medicine at room temperature, away from direct light and heat.
Precautions
Because of their pharmacological action, cholinesterase inhibitors may have vagotonic effects on heart rate (e.g., bradycardia). The potential for this action may be particularly important to patients with sick sinus syndrome or other supraventricular cardiac conduction conditions, such as sinoatrial or atrioventricular block. There have been reports of syncope and seizures. In investigating such patients the possibility of heart block or long sinusal pauses should be considered.
Warning 1
Patients at increased risk for developing ulcers, e.g., those with a history of ulcer disease or those receiving concurrent nonsteroidal anti-inflammatory drugs (NSAIDs), should be monitored for symptoms.
Warning 2
Donepezil Hydrochloride, as a cholinesterase inhibitor, is likely to exaggerate succinylcholine-type muscle relaxation during anaesthesia .
Warning 3
This medicinal product contains lactose. Patients with rare hereditary problems of galactose intolerance, the Lapp lactase deficiency or glucose-galactose malabsorption should not take this medicine.
Pregnancy category
Always consult your physician before using any medicine.
Drug Interactions
Theophylline, warfarin, cimetidine or digoxin , ketoconazole and quinidine, CYP3A4 inhibitors, such as itraconazole and erythromycin, and CYP2D6 inhibitors, such as fluoxetine , Enzyme inducers, such as rifampicin, phenytoin, carbamazepine and alcohol .
Suggestions