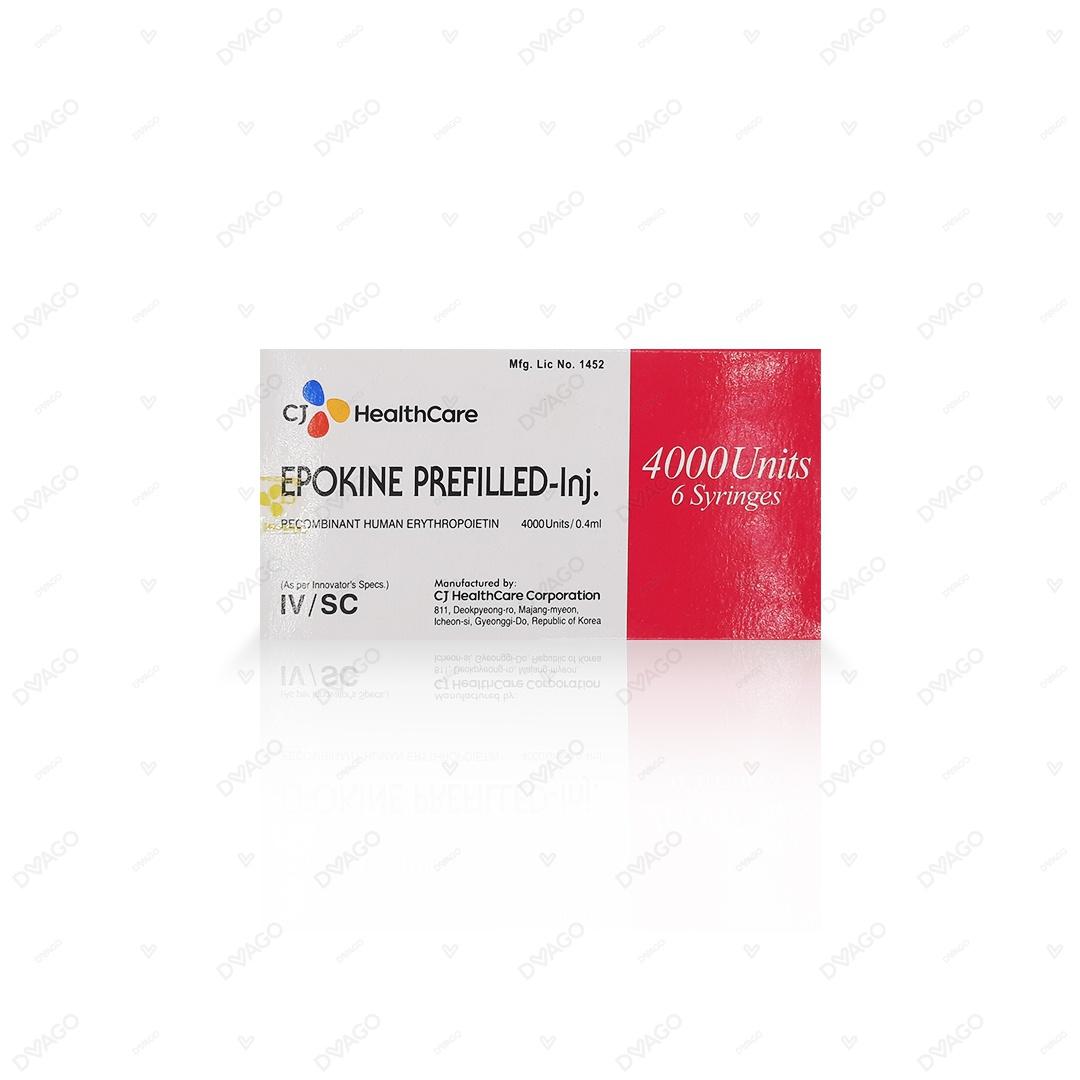 Epokine 4000Iu Injection 6Pfs
How it works
This medicine stimulates your bone marrow to produce more red blood cells, helping to treat your anaemia .
Description
EPOKINE INJ 4000 IU 6'S
Requires Prescription (YES/NO)
Yes
Indication
It contain the active ingredient epoetin alfa, a protein that stimulates bone marrow to produce more red blood cells.
Side Effects
Nausea, vomiting or diarrhoea , Cough or congested airways such as stuffy nose and sore throat , Flu-like symptoms such as dizziness, drowsiness, fever, chills, headache, muscle and joint pain and weakness. , Redness, burning and pain at the site Epoetin is given , Severe, sudden, stabbing migraine-like headaches. Seizures, confusion or epileptic fits. Chest pain, breathlessness, painful swelling in the leg that may be symptoms of a blood clot (thrombosis).
When not to Use
Do not use Epoetin If you have an allergy to Epoetin or any of the ingredients.
Dosage
Your doctor will determine the correct dose of Epoetin. Epoetin injection is administered either into a vein (intravenously) or just under the skin (subcutaneously). After instruction, you can administer it under the skin yourself if you wish. Your doctor can discuss with you whether injection into the vein or under the skin is preferable. The usual starting dose is 50 IU/kg three times per week for adults and 25 IU/kg three times per week for children, after which the dose may be changed by your doctor as needed.
Storage yes or /no
Store in a refrigerator (2°C–8°C). Do not Freeze .
Precautions
If you are receiving dialysis treatment when you begin treatment with epoetin, your dialysis regimen may need to be adjusted. Your doctor will decide this.
Warning 1
You will need to have regular blood tests while you are using Epoetin to see how you respond to treatment with Epoetin.Your doctor will order regular blood tests to ensure that your medicine is continuing to work properly.
Warning 2
Your doctor will need to monitor your blood pressure regularly, especially at the beginning of treatment.
Warning 3
Do not give this medicine to anyone else, even if their symptoms seem similar to yours.
Pregnancy category
Always consult your physician before using any medicine.
Drug Interactions
Drugs highly bound to red cells , cyclosporin.
Suggestions