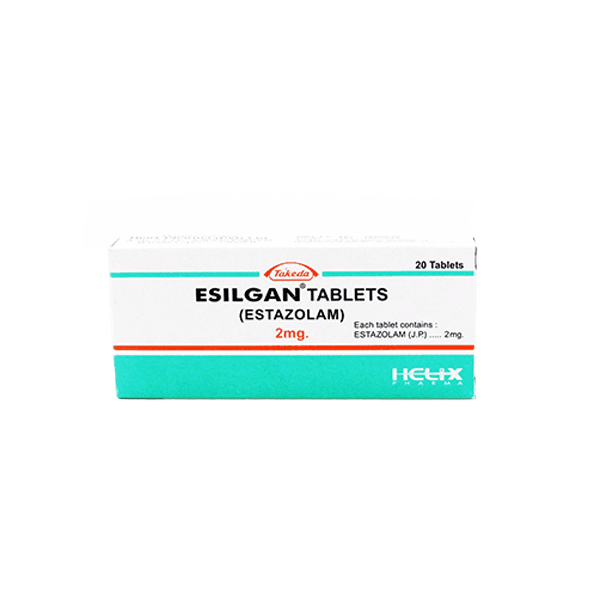 Esilgan 2 Mg 2X10 Tablets
How it works
Estazolam is a triazolo-benzodiazepine with anxiolytic, anticonvulsant, hypnotic, and muscle relaxant properties. Estazolam binds to the gamma-aminobutyric acid (GABA) receptor at a site distinct from the inhibitory neurotransmitter GABA binding site in the limbic system of the central nervous system (CNS).
Description
ESILGAN TAB 2 MG 2X10'S
Requires Prescription (YES/NO)
Yes
Indication
It is indicated for the short-term management of insomnia characterized by difficulty in falling asleep, frequent nocturnal awakenings, and/or early morning awakenings. 
Side Effects
Headache , Asthenia , Malaise , Lower extremity pain , Nausea , Dyspepsia , Somnolence , Hypokinesia , Dizziness , Confusion , Depression , Cold symptoms .
When not to Use
Benzodiazepines may cause fetal damage when administered during pregnancy. An increased risk of congenital malformations associated with the use of diazepam and chlordiazepoxide during the first trimester of pregnancy has been suggested in several studies. Transplacental distribution has resulted in neonatal CNS depression and also withdrawal phenomena following the ingestion of therapeutic doses of a benzodiazepine hypnotic during the last weeks of pregnancy.
Dosage
Neurosis : Adults : 1-2mg daily. Psychosis , schizophrenia : Adults : 2-4mg daily. Children : Not recommended. OR As directed by your physician.
Storage yes or /no
Store this medicine at room temperature, away from direct light and heat.
Precautions
Concomitant use of benzodiazepines, including estazolam, and opioids may result in profound sedation, respiratory depression, coma, and death. Because of these risks, reserve concomitant prescribing of these drugs for use in patients for whom alternative treatment options are inadequate.
Warning 1
Observational studies have demonstrated that concomitant use of opioid analgesics and benzodiazepines increases the risk of drug-related mortality compared to use of opioids alone. If a decision is made to prescribe estazolam concomitantly with opioids, prescribe the lowest effective dosages and minimum durations of concomitant use, and follow patients closely for signs and symptoms of respiratory depression and sedation.
Warning 2
Advise both patients and caregivers about the risks of respiratory depression and sedation when estazolam is used with opioids. Advise patients not to drive or operate heavy machinery until the effects of concomitant use with the opioid have been determined .
Warning 3
Because Estazolam can cause drowsiness and a decreased level of consciousness, patients, particularly the elderly, are at higher risk of falls.
Pregnancy category
Always consult your physician before using any medicine.
Drug Interactions
Ketoconazole and itraconazole ; CYP3A inhibitors : nefazodone, fluvoxamine, cimetidine, diltiazem, isoniazide, and some macrolide antibiotics ; CYP3A inducers such as carbamazepine, phenytoin, rifampin, and barbiturates ; fluoxetine .
Suggestions