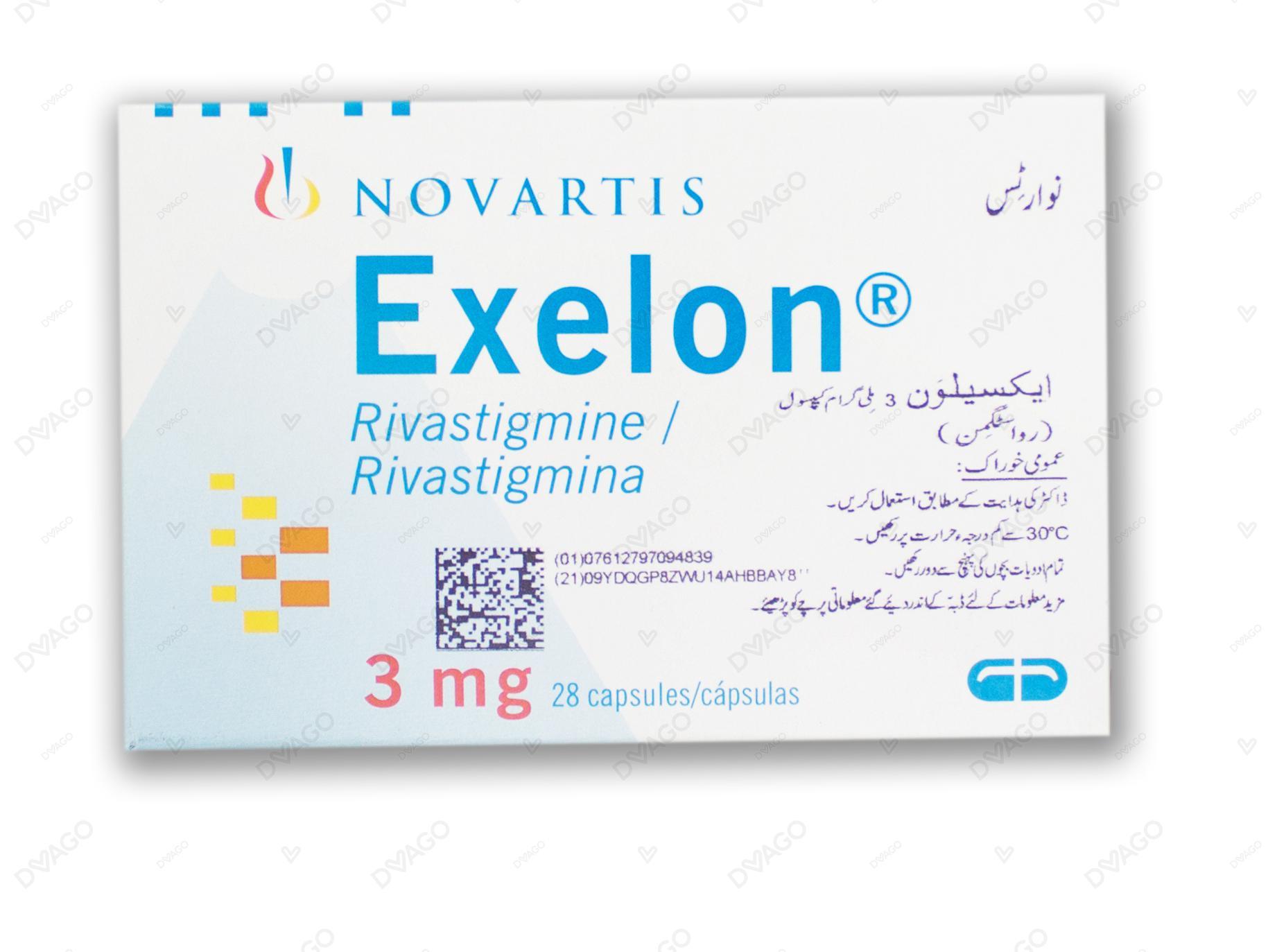 Exelon 3Mg Capsules 28S (Pack Size 2 X 14S)
SPECIFICATION
Requires Prescription (YES/NO)
Yes
How it works
Pathological changes in dementia such as Alzheimer's Disease involve cholinergic neuronal pathways that project from the basal forebrain to the cerebral cortex and hippocampus. These pathways are known to be involved in attention, learning and memory and other cognitive processes. Rivastigmine, a brain-selective acetyl- and butyryl-cholinesterase inhibitor of the carbamate type, is thought to facilitate cholinergic neurotransmission by slowing the degradation of acetylcholine released by functionally intact cholinergic neurons. Data from animal studies indicate that rivastigmine selectively increases the availability of acetylcholine in the cortex and hippocampus. Thus, Exelon may have an ameliorative effect on cholinergicmediated cognitive deficits associated with Alzheimer's Disease and with Parkinson's disease. In addition, there is some evidence that cholinesterase inhibition could slow the formation of amyloidogenic beta-amyloid-precursor protein (APP) fragments, and thus of amyloid plaques, which are one of the main pathological features of Alzheimer's Disease.
USAGE AND SAFETY
Side Effects
• Feeling dizzy • Loss of appetite • Stomach problems such as feeling sick (nausea) or being sick (vomiting), diarrhoea • Anxiety • Sweating • Headache • Heartburn • Weight loss • Stomach pain • Feeling agitated • Drowsiness • Feeling tired or weak • Generally feeling unwell • Trembling or feeling confused Nightmares .
Drug Interactions
Metoclopramide , oxybutynin, tolterodine , Succinylcholine-type muscle relaxants , beta-blockers (including atenolol) , nicotine.
Indication
Treatment of patients with mild to moderately severe dementia of the Alzheimer type, also termed probable Alzheimer's Disease or Alzheimer's Disease. Treatment of patients with mild to moderately severe dementia associated with Parkinson's disease.
When not to Use
The use of Rivastigmine is contraindicated in patients with: Known hypersensitivity to rivastigmine, to other carbamate derivatives or to the excipients of the formulation ; Previous history of application site reactions suggestive of allergic contact dermatitis with rivastigmine transdermal patch .
PRECAUTIONS
Precaution
Patients with Alzheimer's disease may lose weight whilst taking cholinesterase inhibitors, including rivastigmine. The patient's weight should be monitored during therapy with Rivastigmine.
WARNINGS
Warning 1
Cholinergic stimulation may cause increased gastric acid secretion and may exacerbate urinary obstruction and seizures. Caution is recommended in treating patients predisposed to such conditions.
Warning 2
Caregivers should be advised of the high incidence of nausea and vomiting associated with the use of the drug along with the possibility of anorexia and weight loss. Caregivers should be encouraged to monitor for these adverse events and inform the physician if they occur.
Warning 3
Patients with body weight below 50 kg may experience more adverse events and may be more likely to discontinue due to adverse events.
ADDITIONAL INFORMATION
Pregnancy category
Always consult your physician before using any medicine.
Storage (YES/NO)
Store this medicine at room temperature, away from direct light and heat.
Related Products