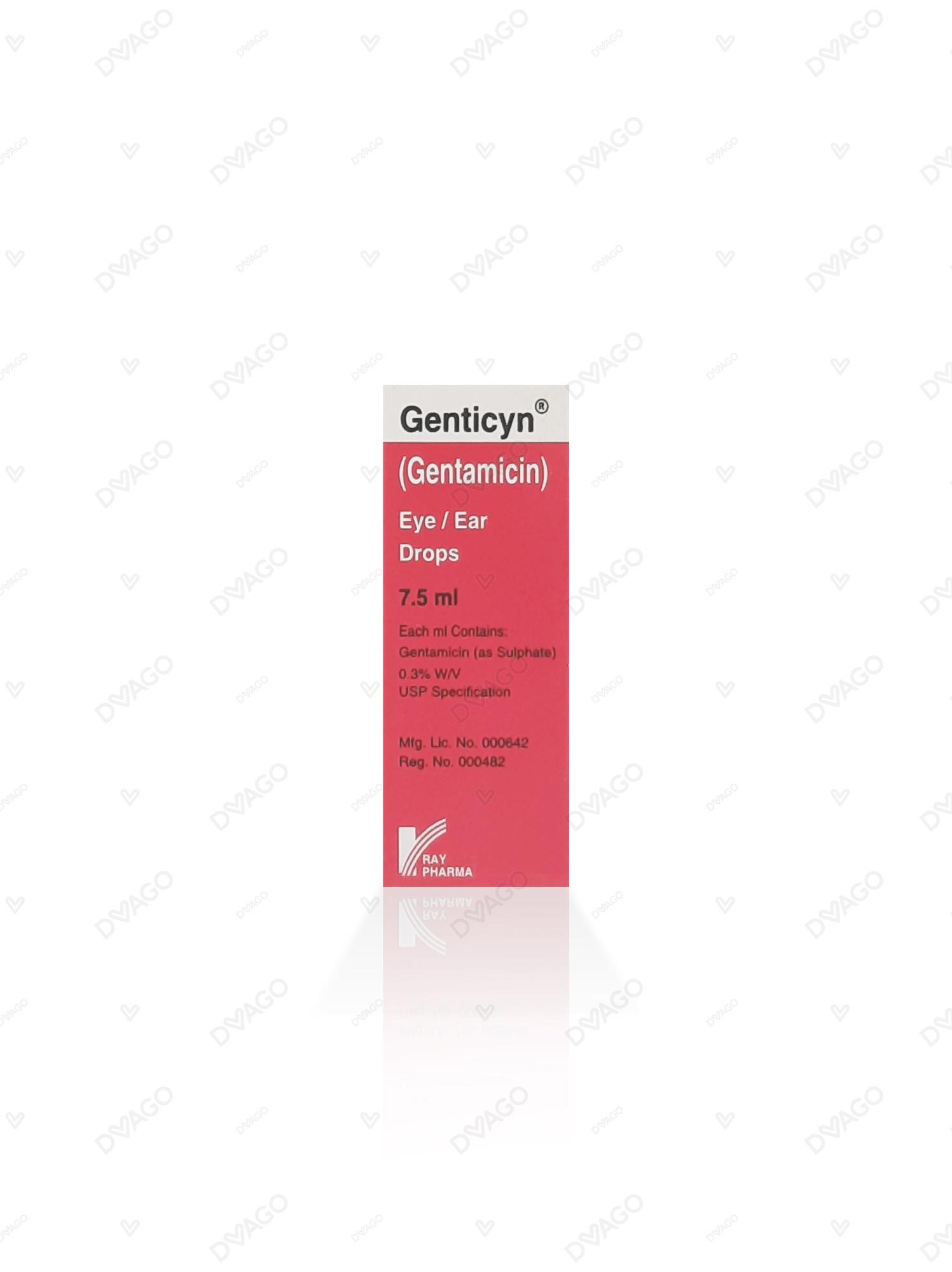 Genticyn 0.30% Eye/Ear Drops 7.5 Ml
How it works
Gentamicin is a sterile, preserved, aqueous solution used as eye/ear drops. The active ingredient Gentamicin is an antibiotic. Gentamicin is used in adults and children to kill bacteria which cause infection .
Description
GENTICYN EYE/EAR DROP 7.5 ML
used for
Eye Infection , Ear Infection
Requires Prescription (YES/NO)
Yes
Indication
It is used for the management of infection in injured eye and ear.
Side Effects
Eye : Transient irritation . Superinfection . Blurred vision ; Ear : Transient irritation . Superinfection.
When not to Use
Do not use Gentamicin if : you are allergic to Gentamicin or any of the other ingredients of this medicine , You have or suspect you have a burst ear drum, if you are being treated for a problem with your ear , You suffer from myasthenia gravis, a disease causing muscle weakness.
Dosage
Eye Drops : Adult & Children : 1-2 drops upto six times daily . Severe infections : Initially 1-2 drops every 15-20 min , reducing frequency gradually as infection is controlled . Ear Drop : Adults & Children : 2-3 drops 3-4 times daily and at night. Eye oint : Adults & children : 2-3 times/day to every 3-4 hr. OR As directed by your physician .
Storage yes or /no
Store this medicine at room temperature, away from direct light and heat.
Precautions
The drops must not be used in the ear if the ear drum is damaged in any way. Your doctor will check the condition of the ear drum before prescribing the drops.
Warning 1
In severe infections treatment with a systemic antibiotic may be necessary in addition to Gentamicin.
Warning 2
Talk to your doctor or pharmacist before using Gentamicin if you know (or think you have) a mitochondrial disease (mutations in the parts of your cells which help make energy); certain mitochondrial diseases may increase your risk of hearing loss with this product.
Warning 3
Talk to your doctor or pharmacist before using Gentamicin if you have any problems with your kidneys or liver .
Pregnancy category
Always consult your physician before using any medicine.
Drug Interactions
Tell your doctor if you are taking, or have recently taken, or might take any other medicines including those obtained without a prescription. In particular: Cephalosporins(antibiotics), amphotericin(used to treat fungal infection), Cisplatin (used in anti-cancer therapy) or ciclosporin (used to stop the body rejecting bone marrow or organ transplants) which may increase the risk of kidney damage ; Diuretic medicines such as ethacrynic acid (used in the treatment of high blood pressure and swelling) and furosemide(used in the treatment of congestive heart failure and swelling) which may increase the risk of ear damage ; Curare-type muscle relaxants ; Caution is advised when the drops are used with other aminoglycoside antibiotics given by injection.
Suggestions