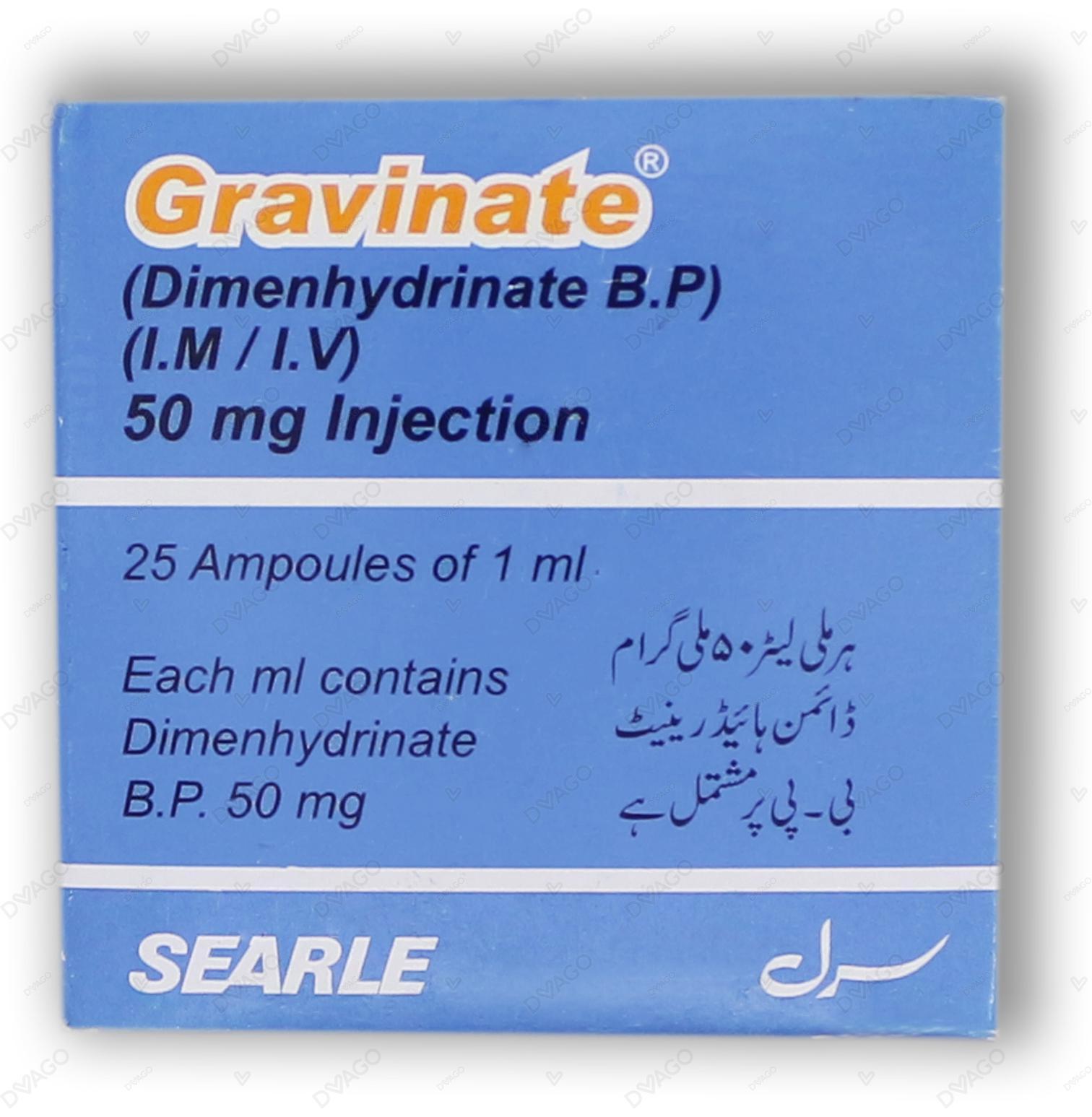 Gravinate 50Mg Injection 20X1mlampoules
How it works
The mechanism by which dimenhydrinate exerts its antiemetic, anti-motion sickness, and antivertigo effects is not precisely known, but may possibly be related to its central anticholinergic action. Other actions may involve an effect on the medullary chemoreceptor trigger zone or dose-related inhibition of vestibular stimulation (i.e., first acting on the otolith system and in larger doses on the semicircular canals).
Description
GRAVINATE INJ 25 AMPX1 ML
used for
Nausea & Vomiting
Requires Prescription (YES/NO)
Yes
Indication
It is indicated for use in the prevention and relief of nausea, vomiting and/or vertigo .
Side Effects
Headache , Dry mouth , Difficulty urinating , Drowsiness, feeling less alert, somnolence (mainly observed in early treatment), Vertigo , Myasthenia (a disease which causes weak muscles) , Increased intraocular pressure , Balance problems, memory or concentration difficulties (more frequent in the elderly) , Confusion, hallucinations (seeing or hearing things that aren't really there) , Difficulty sleeping , Difficulty moving, involuntary muscle movements .
When not to Use
Patients who are hypersensitive to dimenhydrinate or its components (diphenhydramine or 8-chlorotheophylline) or to any ingredient in the formulations or component of the container. - During or within two weeks following therapy with a monoamine oxidase inhibitor . - Patients with glaucoma (narrow angle) ? Patients with chronic lung disease .
Dosage
Adults : IM/IV , 50mg every 4 hr, max 100mg every 4 hr. Children : Above 1 yr, IM 1.25mg/kg or 37.5mg/square meter 4 times daily , max 300 mg/day. OR As directed by your physician.
Storage yes or /no
Store this medicine at room temperature, away from direct light and heat.
Precautions
Diphenhydramine should be used with caution in patients with myasthenia gravis, epilepsy or seizure disorders, prostatic hypertrophy, urinary retention, narrow-angle glaucoma, asthma, bronchitis and chronic obstructive pulmonary disease (COPD), moderate to severe hepatic impairment and moderate to severe renal impairment.
Warning 1
Tolerance may develop with continuous use. Seek medical advice if sleeplessness persists, as insomnia may be a symptom of a serious underlying medical illness.
Warning 2
Avoid use of other antihistamine-containing preparations, including topical antihistamines and cough and cold medicines.
Warning 3
Use with caution in the elderly, who are more likely to experience side-effects.
Pregnancy category
Always consult your physician before using any medicine.
Drug Interactions
CNS depressants (e.g. tranquillizers, hypnotics and anxiolytics), Monoamine oxidase inhibitors (MAOIs) , anticholinergic drugs (e.g. atropine, tricyclic antidepressants) , CYP2D6, such as metoprolol and venlafaxine.
Suggestions