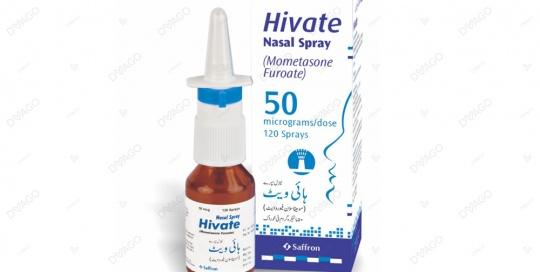 Hivate 50 Mcg/Dose 120 Sprays Nasal Spray
How it works
Nasal Spray contains mometasone furoate, one of a group of medicines called corticosteroids. When mometasone furoate is sprayed into the nose, it can help to relieve inflammation (swelling and irritation of the nose), sneezing, itching and a blocked up or runny nose.
Description
HIVATE NASAL SPRAY 60 1'S
Generics
Mometasone Furoate
Requires Prescription (YES/NO)
Yes
Indication
It is used to treat the symptoms of hay fever (also called seasonal allergic rhinitis) and perennial rhinitis .
Side Effects
Headache , sneezing , nose bleeds [occurred very commonly (may affect more than 1 in 10 people) in people with nasal polyps receiving Nasonex two sprays in each nostril twice a day] , sore nose or throat , ulcers in the nose , respiratory tract infection , increase in pressure in the eye (glaucoma) and/or cataracts causing visual disturbances, damage to the partition in the nose which separates the nostrils , changes in taste and smell , difficulty in breathing and/or wheezing , blurred vision.
When not to Use
Do not use Mometasone Furoate : • If you are allergic (hypersensitive) to mometasone furoate or any of the other ingredients of this medicine .• If you have an untreated infection in your nose. Use of nasal spray during an untreated infection in your nose, such as herpes, can worsen the infection. You should wait until the infection is resolved before you start using the nasal spray.
Dosage
The usual dose is two sprays into each nostril once a day. Or As directed by your physician.
Storage yes or /no
Store this medicine at room temperature, away from direct light and heat.
Precautions
When corticosteroid nasal sprays are used at high doses for long periods of time, side effects may occur due to the drug being absorbed in the body.
Warning 1
Talk to your doctor or pharmacist before using if you have or have ever had tuberculosis or if you have any other infection.
Warning 2
Talk to your doctor if your immune system is not functioning well (if you have difficulty in fighting infection) and you come into contact with anyone with measles or chickenpox. You should avoid coming into contact with anyone who has these infections.
Warning 3
Patients receiving corticosteroids who are potentially immunosuppressed should be warned of the risk of exposure to certain infections (e.g., chickenpox, measles) and of the importance of obtaining medical advice if such exposure occurs.
Pregnancy category
Always consult your physician before using any medicine.
Drug Interactions
Tell your doctor or pharmacist if you are using, have recently used or might use any other medicines. Pregnancy, breast-feeding and fertility.
Suggestions