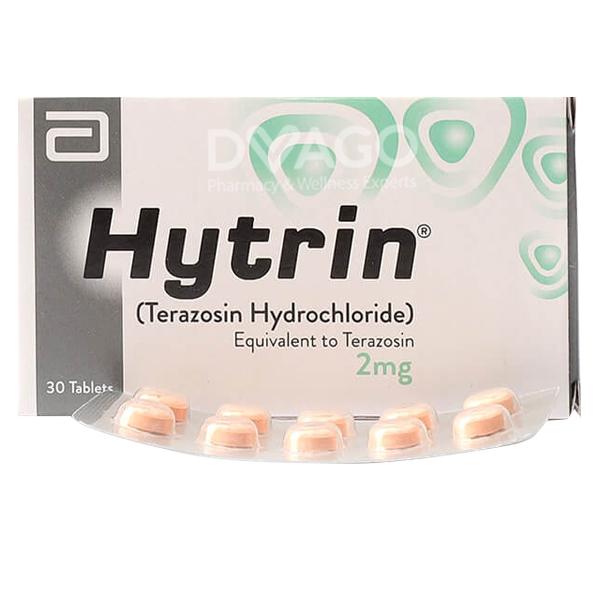 Hytrin 2Mg Tablets 30S (Pack Size 3 X 10S)
How it works
Terazosin hydrochloride causes a decrease in blood pressure by decreasing total peripheral vascular resistance. The vasodilatory hypotensive action of terazosin hydrochloride appears to be produced mainly by blockade of alpha-1-adrenoceptors.
Description
HYTRIN TAB 2 MG 3X10'S
Generics
Terazosin Hydrochloride
used for
Benign Prostatic Hyperplasia
Requires Prescription (YES/NO)
Yes
Indication
Terazosin hydrochloride single therapy is also used to relieve the signs and symptoms of benign prostatic hyperplasia (BPH). Terazosin hydrochloride used alone or in combination with other antihypertensive agents is indicated for the treatment of hypertension.
Side Effects
Syncope with initial dose . Dizziness , postural hypotension , peripheral oedema , asthenia , nausea , palpitations , somnolence , nasal congestion , blurred vision.
When not to Use
Terazosin hydrochloride is contraindicated in patients known to be hypersensitive to terazosin HCl.
Dosage
The recommended starting dose for all patients is 1 mg at bedtime. This dose should not be exceeded. Benign Prostatic Hyperplasia (BPH) : The usual recommended dose range is 5 to 10 mg administered once a day. Urine flow rate measured approximately 24 hours after the last dose has shown the beneficial effect in BPH persists for the recommended dosing interval. Hypertension: The usual recommended dose range is 1 to 5 mg administered once a day; however, some patients may benefit from doses as high as 20 mg per day. Doses over 20 mg do not appear to provide further blood pressure effect and doses over 40 mg have not been studied. Always consult your doctor or pharmacist for dose adjustment.
Storage yes or /no
Store this medicine at room temperature, away from direct light and heat.
Precautions
Terazosin hydrochloride, like other alpha-adrenergic blocking agents, can cause marked lowering of blood pressure, especially postural hypotension, and syncope in association with the first dose or first few doses of therapy. A similar effect can be anticipated if therapy is interrupted for more than a few doses and then re-started.
Warning 1
Syncope has also been reported with other alpha-adrenergic blocking agents in association with rapid dosage increases or the introduction of another antihypertensive drug. Syncope is believed to be due to an excessive postural hypotensive effect, although occasionally the syncopal episode has been preceded by a bout of severe supraventricular tachycardia with heart rates of 120 to 160 beats per minute.
Warning 2
To decrease the likelihood of syncope or excessive hypotension, treatment should always be initiated with a 1 mg dose of terazosin hydrochloride, given at bedtime.
Warning 3
If syncope occurs, the patient should be placed in a recumbent position and treated supportively as necessary. There is evidence that the orthostatic effect of terazosin hydrochloride is greater, even in chronic use, shortly after dosing.
Pregnancy category
Always consult your physician before using any medicine.
Drug Interactions
Caution should be observed when terazosin hydrochloride is administered concomitantly with other antihypertensive agents (e.g., calcium antagonists) to avoid the possibility of significant hypotension. When adding a diuretic or other antihypertensive agent, dosage reduction and retitration may be necessary.
Suggestions