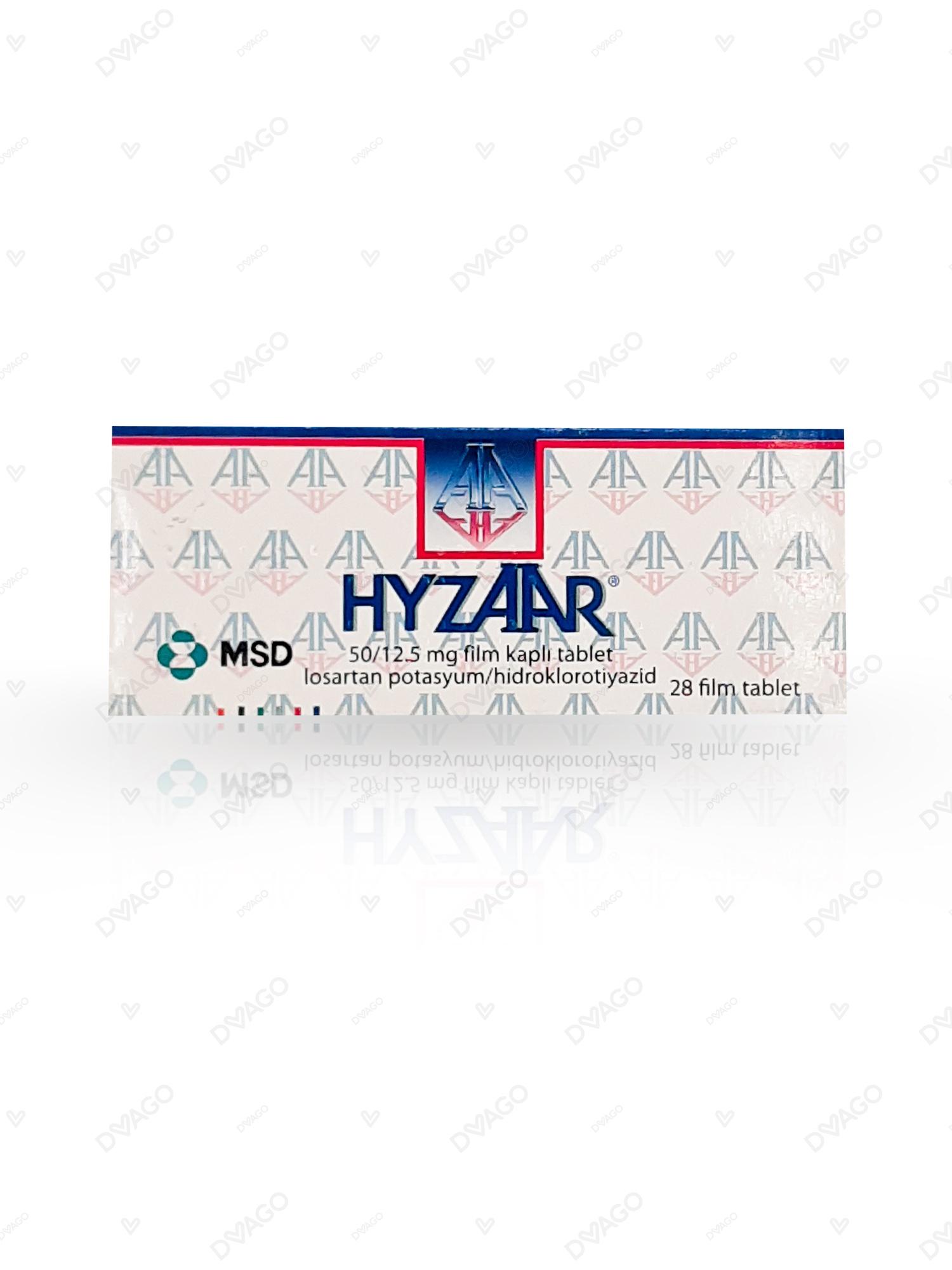 Hyzaar 50/12.5Mg Tablets 28S (Pack Size 2 X 14S)
How it works
It is a combination of an angiotensin II receptor antagonist (losartan) and a diuretic (hydrochlorothiazide). Angiotensin II is a substance produced in the body which binds to receptors in blood vessels, causing them to tighten. This results in an increase in blood pressure. Losartan prevents the binding of angiotensin II to these receptors, causing the blood vessels to relax which in turn lowers the blood pressure. Hydrochlorothiazide works by making the kidneys pass more water and salt. This also helps to reduce blood pressure.
Description
HYZAAR TAB 50/12.5 MG 28'S
Generics
Losartan Potassium , Hydrochlorothiazide
Requires Prescription (YES/NO)
Yes
Indication
It is indicated for the treatment of Hypertension.
Side Effects
Cough, upper airway infection, congestion in the nose, sinusitis, sinus disorder , Diarrhoea, abdominal pain, nausea, indigestion , Muscle pain or cramps, leg pain, back pain , Insomnia, headache, dizziness , Weakness, tiredness, chest pain , Increased potassium levels (which can cause an abnormal heart rhythm), decreased haemoglobin levels , Changes in kidney function including kidney failure , Low blood sugar (hypoglycaemia) , Loss of appetite, increased uric acid levels or frank gout, increased blood sugar levels, abnormal blood electrolyte levels , Anxiety, nervousness, panic disorder (recurring panic attacks), confusion, depression, abnormal dreams, sleep disorders, sleepiness, memory impairment.
When not to Use
Do not take Losartan HCT if you are allergic to losartan, hydrochlorothiazide or to any of the other ingredients of this medicine , are allergic (hypersensitive) to other sulfonamide-derived substances (e. g. other thiazides, some antibacterial drugs such as co-trimoxazole, ask your doctor if you are not sure) or have severely impaired liver function.
Dosage
Adults : The recommended usual dose 1 tablet per day to control blood pressure over the 24-hour period. This can be increased to 2 tablets once daily of film-coated tablets or changed to 1 tablet daily of 100mg/25mg film-coated tablets (a stronger strength) per day. The maximum daily dose is 2 tablets per day of 50mg/12.5mg film-coated tablets or 1 tablet daily of 100mg/25mg film-coated tablets. Children : Not recommended . Check with your doctor or pharmacist if you are not sure.
Storage yes or /no
Store this medicine at room temperature, away from direct light and heat.
Precautions
When you begin treatment with this medication, you should not perform tasks which may require special attention (for example, driving a car or operating dangerous machinery) until you know how you tolerate your medicine.
Warning 1
Your doctor may check your kidney function, blood pressure and the amount of electrolytes (e.g. potassium) in your blood at regular intervals.
Warning 2
There is no experience with the use of Losartan HCT in children. Therefore Losartan HCT tablets should not be given to children.
Warning 3
Special precautionary measures (e.g. blood tests) may be appropriate if you take other diuretics ("water tablets"), some laxatives, glycyrrhizin (found in liquorice), medicines for the treatment of gout, medicines to control heart rhythm or for diabetes (oral agents or insulins).
Pregnancy category
Always consult your physician before using any medicine.
Drug Interactions
Trimethoprim , Diuretic agents , other medicines to reduce your blood pressure , steroids , medicines to treat cancer , painkillers , drugs for treatment of infections, including fungal infections , arthritis medicines , resins used for high cholesterol, such as colestyramine , medicines which relax your muscles , sleeping tablets , opioid medicines such as morphine , "pressor amines" such as adrenaline or other drugs from the same group , oral agents for diabetes or insulins , anticholinergic agents (e.g. atropine, biperiden) , antipsychotics , antidepressants , carbamazepine.
Suggestions