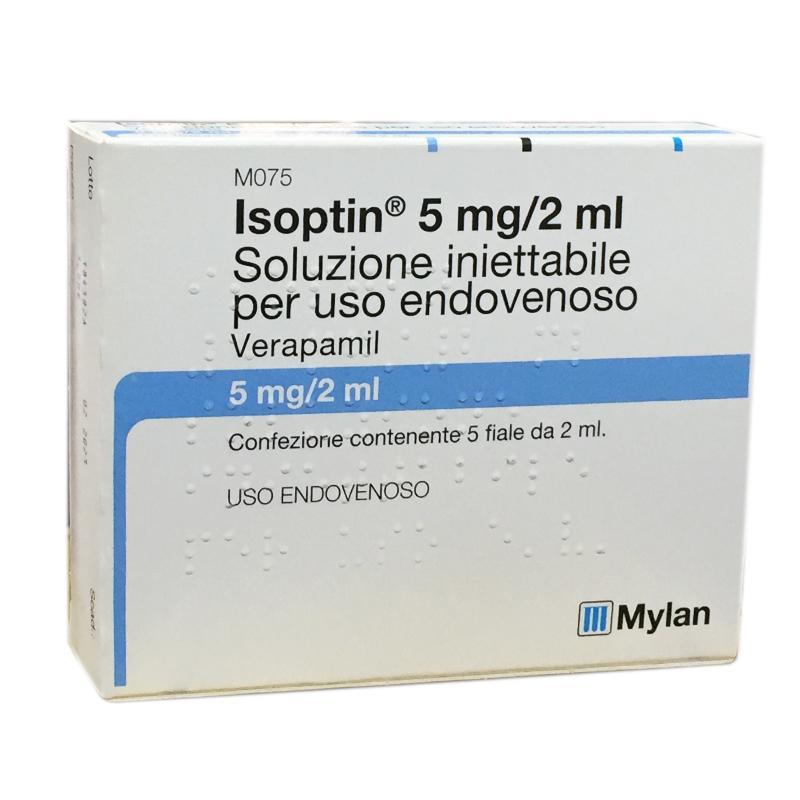 Isoptin Injection 5 Ampx2 Ml
How it works
Verapamil is in a class of medications called calcium-channel blockers. It works by relaxing the blood vessels so the heart does not have to pump as hard. It also increases the supply of blood and oxygen to the heart and slows electrical activity in the heart to control the heart rate.
Description
ISOPTIN INJ 5 AMPX2 ML
Generics
Verapamil Hydrochloride
Requires Prescription (YES/NO)
Yes
Indication
It is indicated for the treatment of hypertension.
Side Effects
Constipation , Dyspnea , Dizziness , Bradycardia , Nausea , Hypotension , AV block , Headache , Edema , CHF, Rash , Edema , Flushing , Fatigue , angina pectoris, atrioventricular dissociation, chest pain, claudication,myocardial infarction, palpitations, purpura (vasculitis), syncope, diarrhea, dry mouth, gastrointestinal distress, gingival hyperplasia , blurred vision, tinnitus.
When not to Use
Verapamil HCl is contraindicated in:1. Severe left ventricular dysfunction 2. Hypotension (systolic pressure less than 90 mm Hg) or cardiogenic shock 3. Sick sinus syndrome (except in patients with functioning artificial ventricular pacemaker).
Dosage
Adults : 2.5-5mg (over 2 min); 2nd dose of 5-10mg may be given 15-30 min after the initial dose if patient tolerates but does not respond to initial dose, max. dose is 20mg or as directed by your physician.
Storage yes or /no
Store this medicine at room temperature, away from direct light and heat.
Precautions
Since verapamil is highly metabolized by the liver, it should be administered cautiously to patients with impaired hepatic function.
Warning 1
Occasionally, the pharmacologic action of verapamil may produce a decrease in blood pressure below normal levels, which may result in dizziness or symptomatic hypotension.
Warning 2
Verapamil has a negative inotropic effect, which in most patients is compensated by its afterload reduction (decreased systemic vascular resistance) properties without a net impairment of ventricular performance.
Warning 3
Elevations of transaminases with and without concomitant elevations in alkaline phosphatase and bilirubin have been reported.
Pregnancy category
Always consult your physician before using any medicine.
Drug Interactions
HMG-CoA reductase inhibitors , Ivabradine , Beta-blockers , Digitalis , Disopyramide , Flecainide , Quinidine , Alcohol , Nitrates , Cimetidine , Lithium , Carbamazepine , Rifampin , Phenobarbital , Cyclosporin , Theophylline , Telithromycin , Clonidine.
Suggestions