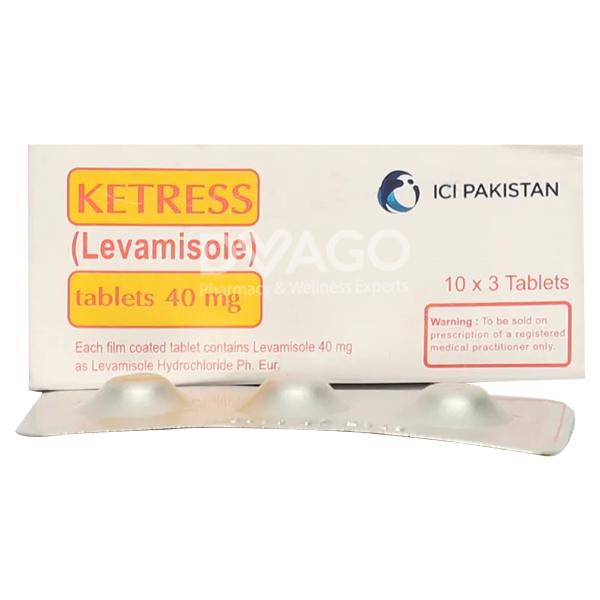 Ketress 40Mg Tablets 30S (Pack Size 10 X 3S)
How it works
The mechanism of action of levamisole as an antiparasitic agent appears to be tied to its agnositic activity towards the L-subtype nicotinic acetylcholine receptors in nematode muscles. This agonistic action reduces the capacity of the males to control their reproductive muscles and limits their ability to copulate. The mechanism of action of Levamisole as an anticancer drug in combination with fluorouracil is unknown. The effects of levamisole on the immune system are complex. The drug appears to restore depressed immune function rather than to stimulate response to above-normal levels. Levamisole can stimulate formation of antibodies to various antigens, enhance T-cell responses by stimulating T-cell activation and proliferation, potentiate monocyte and macrophage functions including phagocytosis and chemotaxis, and increase neutrophil mobility, adherence, and chemotaxis.
Description
KETRESS TAB 40 MG 30'S
used for
Parasitic Infection
Requires Prescription (YES/NO)
Yes
Indication
Levamisole is an antihelminthic drug that was commonly used for the treatment of parasitic, viral, and bacterial infections.
Side Effects
It can cause Fever or chills, Black, tarry stools, Sores in mouth and on lips, Blurred vision, Diarrhea, Anxiety.
When not to Use
It is contraindicated in patients with known hypersensitivity to the drug.
Dosage
Single dose after meal . In severe hookworm infection , sec dose after 1 or 7 days is suggested . Adult: 120mg, Children: (1-4yr) 40mg, (5-15 yr) 80mg single dose after meal or as directed by your physician.
Storage yes or /no
Store this medicine at room temperature, away from direct light and heat.
Precautions
In case of microfilaraemia, transient fever may occur.
Warning 1
This medicine is contraindicated during lactation.
Warning 2
Avoid taking alcohol with this medicine.
Warning 3
Taking alcohol along with this medicine may aggravate the side effects.
Pregnancy category
Always consult your physician before using any medicine.
Drug Interactions
This drug may interact with blood pressure medicines , loratadine, sucralfate, levothyroxin , acetaminophen.
Suggestions