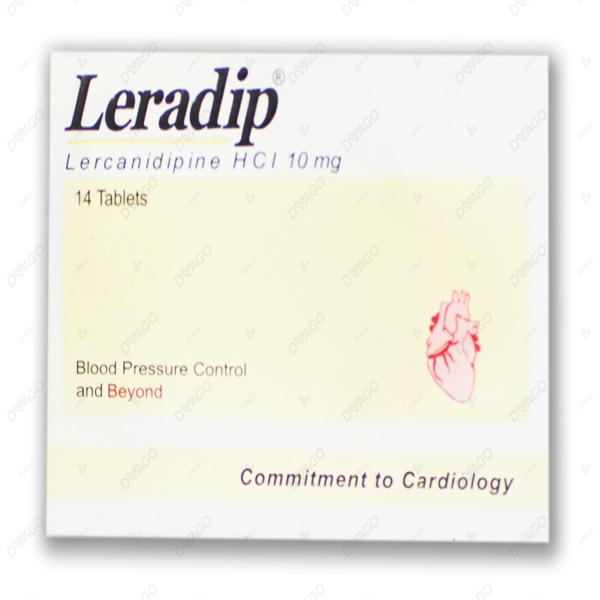 Leradip 10Mg Tablets 14S (Pack Size 1 X 14S)
SPECIFICATION
Requires Prescription (YES/NO)
Yes
Generics
Lercanidipine HCl
How it works
Lercanidipine is a calcium antagonist of the dihydropyridine group and inhibits the transmembrane influx of calcium into cardiac and smooth muscle. The mechanism of its antihypertensive action is due to a direct relaxant effect on vascular smooth muscle thus lowering total peripheral resistance.
USAGE AND SAFETY
Side Effects
Uncommon (affecting fewer than 1 in 100 patients): Headache, dizziness, faster heart beats, palpitations (heart pounding or racing), sudden reddening of the face, neck or upper chest, ankle swelling. Rare (affecting fewer than 1 in 1000 patients): Sleepiness, feeling sick, vomiting, heartburn, stomach pain, diarrhoea; skin rash, muscle pain, passage of large amounts of urine, tiredness. Very rare (affecting fewer than 1 in 10,000 patients): Swelling of the gums, changes in liver function (detected by blood tests), increase in the usual number of times one urinates .
Drug Interactions
Phenytoin, phenobarbital or carbamazepine , rifampicin , astemizole or terfenadine , amiodarone, quinidine or sotalol , midazolam , digoxin , metoprolol , cimetidine , simvastatin .
Indication
It helps to lower blood pressure ( Hypertension ) .
When not to Use
Do not take • If you are allergic to lercanidipine hydrochloride or any of the other ingredients • If you have severe liver problems • If you have severe kidney problems or you are undergoing dialysis .
PRECAUTIONS
Precaution
The antihypertensive effect may be enhanced in patients with moderate hepatic impairment and consequently an adjustment of the dosage should be considered.
WARNINGS
Warning 1
It has been suggested that some short-acting dihydropyridines may be associated with increased cardiovascular risk in patients with ischaemic heart disease. Although lercanidipine is long-acting, caution is required in such patients. Some dihydropyridines may rarely lead to precordial pain or angina pectoris. Very rarely patients with pre-existing angina pectoris may experience increased frequency, duration or severity of these attacks. Isolated cases of myocardial infarction may be observed .
Warning 2
Inducers of CYP3A4 like anticonvulsants (e.g. phenytoin, carbamazepine) and rifampicin may reduce lercanidipine plasma levels and therefore the efficacy of lercanidipine may be less than expected .
Warning 3
Lercanidipine has been associated with the development of cloudy peritoneal effluent in patients on peritoneal dialysis. The turbidity is due to an increased triglyceride concentration in the peritoneal effluent. Whilst the mechanism is unknown, the turbidity tends to resolve soon after withdrawal of lercanidipine. This is an important association to recognise as cloudy peritoneal effluent can be mistaken for infective peritonitis with consequential unnecessary hospitalisation and empiric antibiotic administration.
ADDITIONAL INFORMATION
Pregnancy category
Always consult your physician before using any medicine.
Storage (YES/NO)
Store this medicine at room temperature, away from direct light and heat.
Related Products