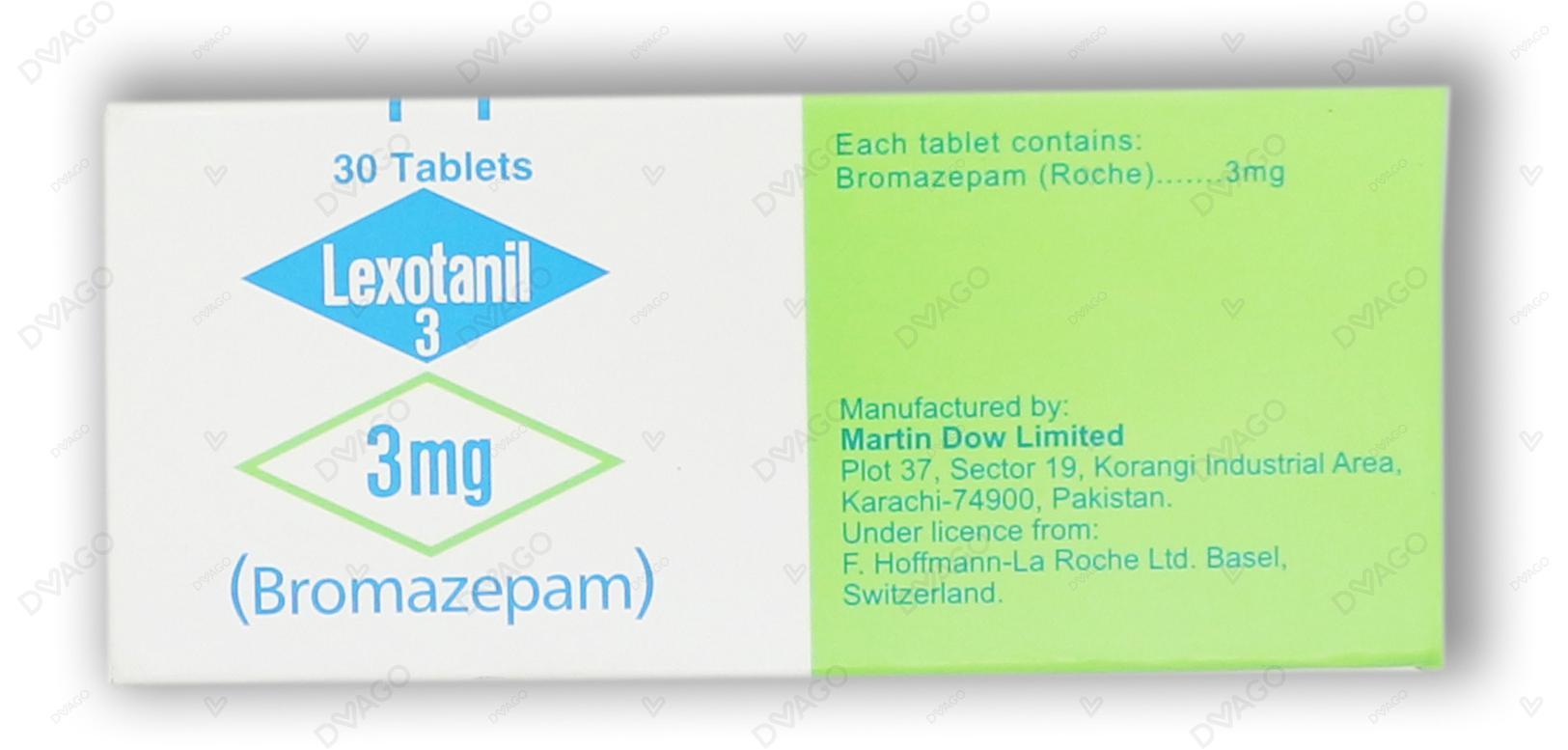 Lexotanil 3Mg Tablets 30S (Pack Size 3 X 10S)
How it works
Bromazepam binds to the GABA-A receptor producing a conformational change and potentiating its inhibitory effects. Other neurotransmitters are not influenced.
Description
LEXOTANIL 3MG TAB 30'S
Requires Prescription (YES/NO)
Yes
Indication
Bromazepam is used for severe anxiety (very strong fear or deep worry that can affect feelings, mood, behaviour and thinking patterns).
Side Effects
• Heart problems including heart failure (may be seen as breathlessness, swelling of the ankles, cough, tiredness and a racing heart) and cardiac arrest. • Breathing problems (respiratory depression). Early signs include suddenly noisy, difficult and uneven breathing. Your skin may become blue.• Being restless, aggressive, angry, irritable or agitated.• Nightmares and seeing or possibly hearing things that are not really there (hallucinations).• Mental problems such as, delusions (believing in things that are not real) or losing contact with reality. • A change in your behaviour that is out of character • Feeling drowsy, sleepy and tired.• Feeling emotional and mood disturbances. • Being less alert. • Feeling confused or disorientated. • Headache. • Feeling dizzy. • Feeling sick or being sick (nausea and vomiting).• Weak muscles.
When not to Use
Do not take if: • You have severe breathing problems or lung disease.• You have severe liver problems.• You have a condition called 'myasthenia gravis' (where your muscles become weak and get tired easily). • You have a condition called 'sleep apnoea syndrome' (where your breathing stops when you are asleep), so you may be closely monitored.
Dosage
Adults : 1.5-9mg daily , 3-18mg daily . Both in divided doses. Children : Not recommended. Or As directed by your physician.
Storage yes or /no
Store this medicine at room temperature, away from direct light and heat.
Precautions
If you are going to have an anaesthetic for an operation or for dental treatment, it is important to tell your doctor or dentist that you are taking Bromazepam.
Warning 1
Talk to your doctor or pharmacist before taking bromazepam if You have liver, kidney or lung problems .
Warning 2
Talk to your doctor or pharmacist before taking bromazepam if You are being treated for depression.
Warning 3
Talk to your doctor or pharmacist before taking bromazepam if You take recreational drugs.
Pregnancy category
Always consult your physician before using any medicine.
Drug Interactions
Diazepam , zolpidem , diphenhydramine , clozapine , Cimetidine , Propranolol , Fluvoxamine , morphine , protease inhibitors
Suggestions