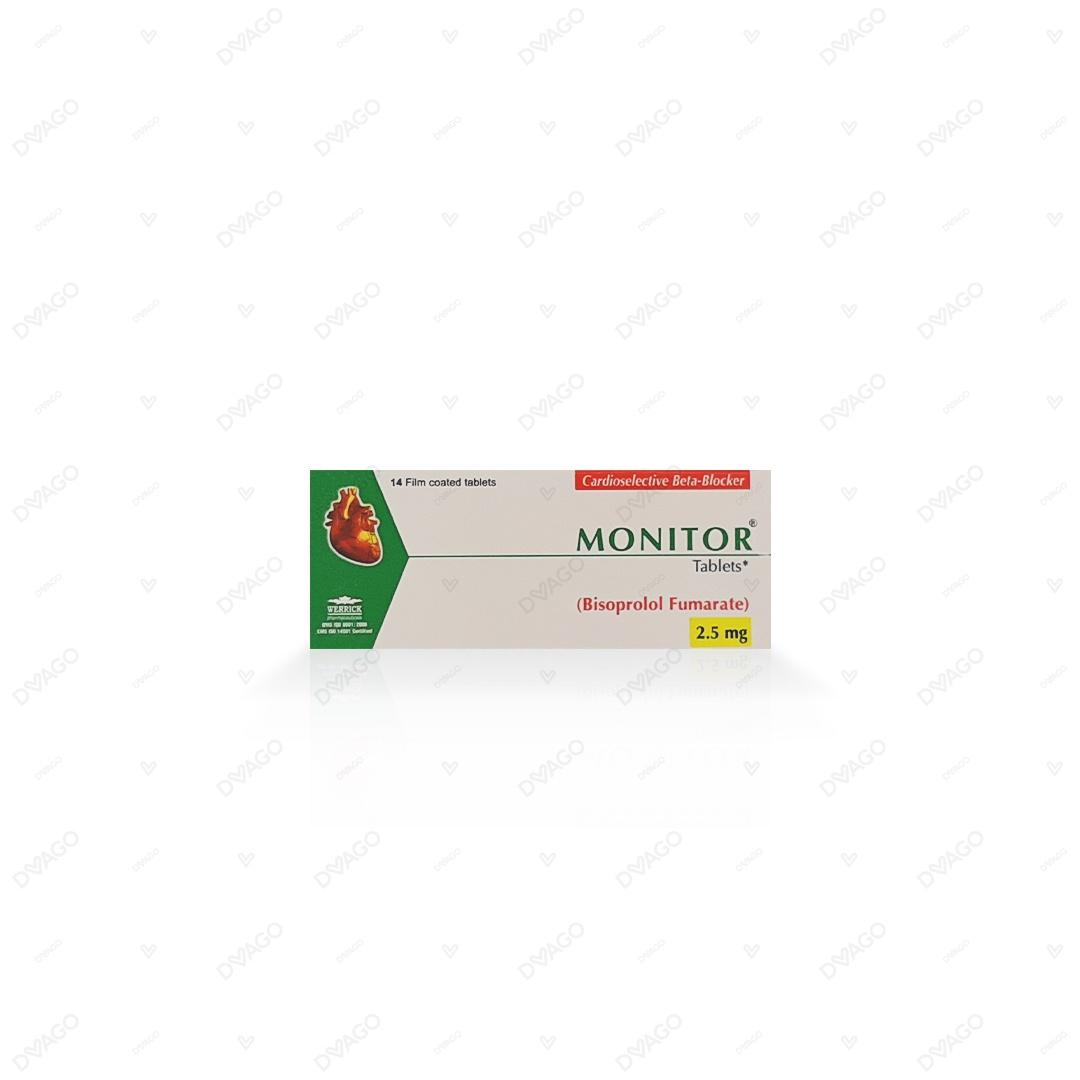 Monitor 2.5Mg Tablets 14S (Pack Size 1 X 14S)
How it works
Bisoprolol fumarate belongs to group of medicines called beta-blockers. Beta-blocker protects heart from too much activity. This medicine works by affecting the body's response to some nerve impulses, especially in the heart. As a result, Bisoprolol fumarate slows down the heart rate and makes the heart more efficient at pumping blood around the body.
Description
MONITOR TAB 2.5 MG 14'S
Generics
Bisoprolol Fumarate
Requires Prescription (YES/NO)
Yes
Indication
Bisoprolol are also used to treat high blood pressure (Hypertension) and angina pectoris .
Side Effects
Tiredness , feeling weak (In patient with chronic heart failure) , dizziness, headache , Feeling of coldness or numbness in hands or feet , Low blood pressure, especially in patient with heart failure , Stomach or intestine problem such as nausea, vomiting, diarrhea or constipation , Sleep disturbances , Depression , Breathing problems in patients with asthma or chronic lung disease , Muscle weakness, muscle cramps. , feeling weak (In patient with hypertension or angina pectoris )
When not to Use
Do not take if:- You are allergic to Bisoprolol fumarate or any of the other ingredients of this medicine .- You have severe asthma or sever chronic lung disease.- You have severe blood circulation problem in limbs (such as Raynaud's syndrome), which may cause your fingers and toes to tingle or turn pale or blue.
Dosage
Hypertension & Angina - Adults : Usually 10mg once daily , max 20mg daily. Children : Not recommended. Always consult your doctor or pharmacist for dose adjustment.
Storage yes or /no
Store this medicine at room temperature, away from direct light and heat.
Precautions
This medicine may cause changes in your blood sugar levels. Also, this medicine may cover up signs of low blood sugar, such as a rapid pulse rate. Check with your doctor if you have these problems or if you notice a change in the results of your blood or urine sugar tests .
Warning 1
Bisoprolol may cause heart failure in some patients. Check with your doctor right away if you are having chest pain or discomfort; dilated neck veins; extreme fatigue; irregular breathing; an irregular heartbeat; shortness of breath; swelling of the face, fingers, feet, or lower legs; weight gain; or wheezing .
Warning 2
Make sure any doctor or dentist who treats you knows that you are using this medicine. You may need to stop using this medicine several days before having surgery .
Warning 3
This medicine may cause some people to become less alert than they are normally. If this side effect occurs, do not drive, use machines, or do anything else that could be dangerous if you are not alert while taking bisoprolol .
Pregnancy category
Always consult your physician before using any medicine.
Drug Interactions
Amiodarone, amlodipine, clonidine, digitalis glycosides, diltiazem, disopyramide, felodipine, flecainide, lidocaine, methyldopa, moxonidine, phenytoin, propafenone, quinidine, rilmenidine, verapamil , imipramine, amitriptyline, moclobemide , phenothiazines , acetyl salicylic acid, diclofenac, indomethacin, ibuprofen, naproxen , adrenaline, dobutamine, noradrenaline , mefloquine , ergotamine derivatives
Suggestions