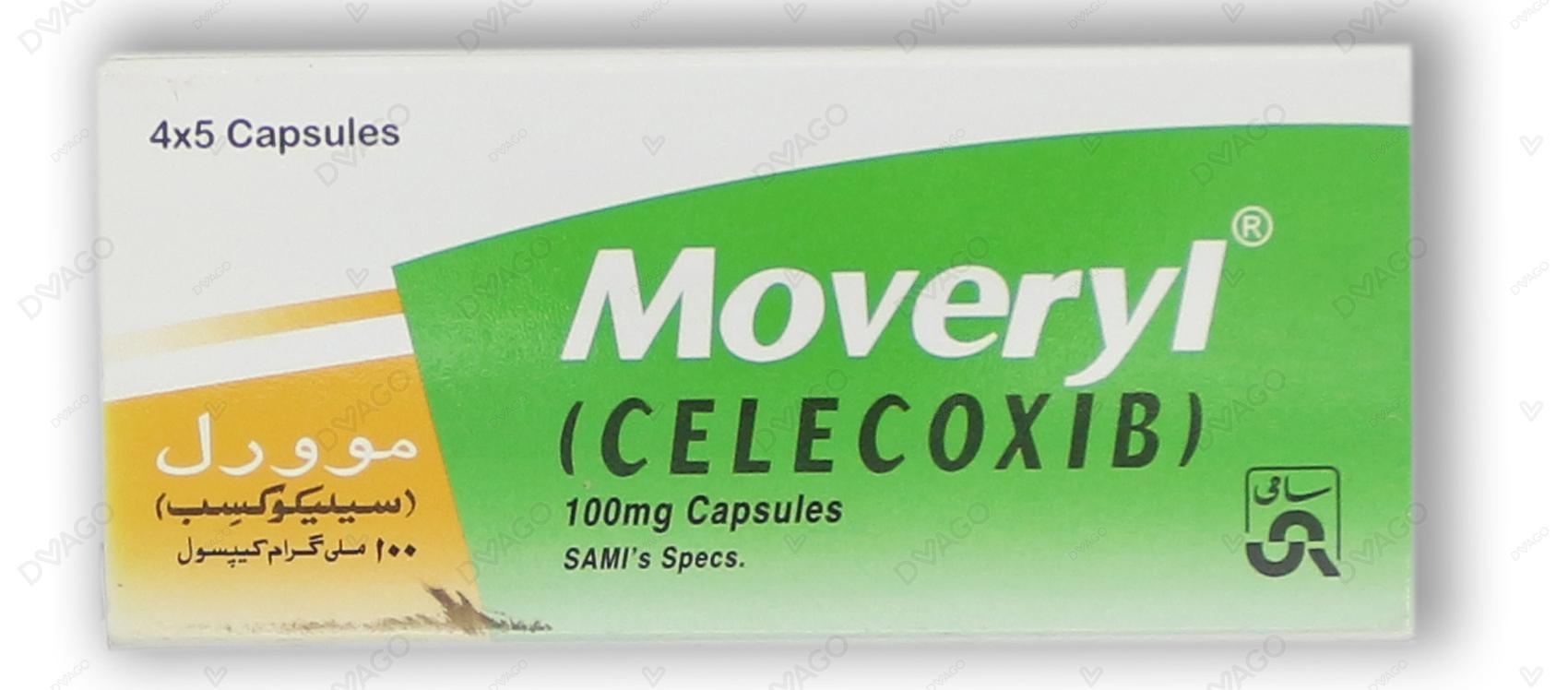 Moveryl 100Mg Capsules 20S (Pack Size 2 X 10S)
SPECIFICATION
Requires Prescription (YES/NO)
Yes
Used For
Pain & Inflammation
How it works
Celecoxib is a nonsteroidal anti-inflammatory drug that exhibits anti-inflam matory, analgesic, and antipyretic activities. The mechanism of action of celecoxib is believed to be due to inhibition of prostaglandin synthesis, primarily via inhibition of cyclooxygenase2 (COX-2), and at therapeutic concentrations in humans, celecoxib does not inhibit the cyclooxygenase-1 (COX-1) isoenzyme.
USAGE AND SAFETY
Side Effects
Most common : Gastrointestinal: Abdominal pain, diarrhea, dyspepsia, flatulence, nausea. Central and peripheral nervous system: Dizziness, headache, hypertonia. Respiratory: Pharyngitis, rhinitis, sinusitis, upper respiratory tract infection. Others: Back pain, insomnia, rash. Less common : Gastrointestinal: Constipation, dysphagia, esophagitis, gastritis, gastroenteritis, gastroesophag eal reflux , hemorrhoids, melena, dry mouth, stomatitis, vomiting. Cardiovascular: Aggravated hypertension, angina pectoris, coronary artery disorder, myocardial infarction, palpitation, tachycardia. Respiratory: Bronchitis, bronchospasm, bronchospasm aggravated, coughing, dyspnea, laryngitis, pneumonia.Central, peripheral nervous system: Leg cramps, hypertonia, hypoesthesia, migraine, neuralgia, neuropathy, paresthesia, vertigo. Psychiatric: Anorexia, anxiety, appetite increased, depression, nervousness, somnolence, tiredness. Very rare: Congestive heart failure, pulmonary embolism, vasculitis cerebrovascular accident, gastrointest inal bleeding, colitis with bleeding, esophageal perforation, pancreatitis, hepatitis, thrombocytopenia, agranulocytosis, aplastic anemia, pancytopenia, leukopenia, hypoglycemia, hyponatremia, aseptic meningitis, ataxia, acute renal failure, interstitial nephritis, erythema multiforme, exfoliative dermatitis, Stevens-Johnson syndrome, toxic epidermal necrolysis, anaphylactoid reaction, angioedema.
Drug Interactions
ACE inhibitor and angiotens in II antagonists, furosemide and thiazides , Aspirin , Fluconazole , Lithium ,Warfarin , Antacid , Glucocorticoids .
Indication
Celecoxib is indicated:1. For relief of the signs and symptoms of osteoarthritis.2. For relief of the signs and symptoms of rheumatoid arthritis in adults.3. For the symptomatic relief in the treatment of ankylosing spondylitis.4. For relief of the signs and symptoms of juvenile rheumatoid arthritis (JRA) in patients2 years and older.5. For the management of acute pain in adults especially in post operative pain.
When not to Use
Celecoxib is contraindicated in: - Patients with known hypersensitivity to celecoxib.- Patients who have demonstrated allergic-type reactions to sulfonamides.- Patients who have experienced asthma, urticaria, or allergic -type reactions after taking acetyl salicylic acid (ASA) or other NSAIDs including other COX-2 specific inhibitors. Severe, rarely fatal, anaphylactic-like reactions to NSAIDs have been reported in such patients.- Patients with renal impairment associated with creatinine clearance of <30mL/min.- Patients with severe hepatic impairment (Child-Pugh Class C).- Patients who have previously had a myocardial infarction or stroke.- Patients for the treatment of peri-operativ e pain in the setting of coronary artery bypass graft (CABG) surgery.- Patients with active pep tic ulceration or gastrointestinal bleeding and inflammatory bowel disease.- Patients with established ischemic heart disease (congestive heart failure), peripheral arterial disease and/or cerebrovascular disease.
PRECAUTIONS
Precaution
Celecoxib cannot be expected to substitute for corticosteroids or to treat corticosteroid insufficiency. Abrupt discontinuation of corticosteroids may lead to exacerbation of corticosteroid-responsive illness. Patients on prolonged corticosteroid therapy should have their therapy tapered slowly if a decision is made to discontinue corticosteroids.
WARNINGS
Warning 1
Fluid retention and edema have been observed in some patients taking celecoxib. Therefore, celecoxib should be used with caution in patients with fluid retention, hypertension or heart failure.
Warning 2
As with all NSAIDs, celecoxib can lead to the onset of new hypertension or worsening of pre-existing hypertension, either of which may contribute to the increased incidence of cardiovascular events .
Warning 3
A patient with symptoms and/or signs suggesting liver dysfunction, or in whom an abnormal liver test has occurred, should be monitored carefully for evidence of the development of a more severe hepatic reaction while on therapy with celecoxib. If clinical signs and symptoms consistent with liver disease develop, or if systemic manifestations occur (e.g., eosinophilia, rash, etc.), celecoxib should be discontinued.
ADDITIONAL INFORMATION
Pregnancy category
Always consult your physician before using any medicine.
Storage (YES/NO)
Store this medicine at room temperature, away from direct light and heat.
Related Products