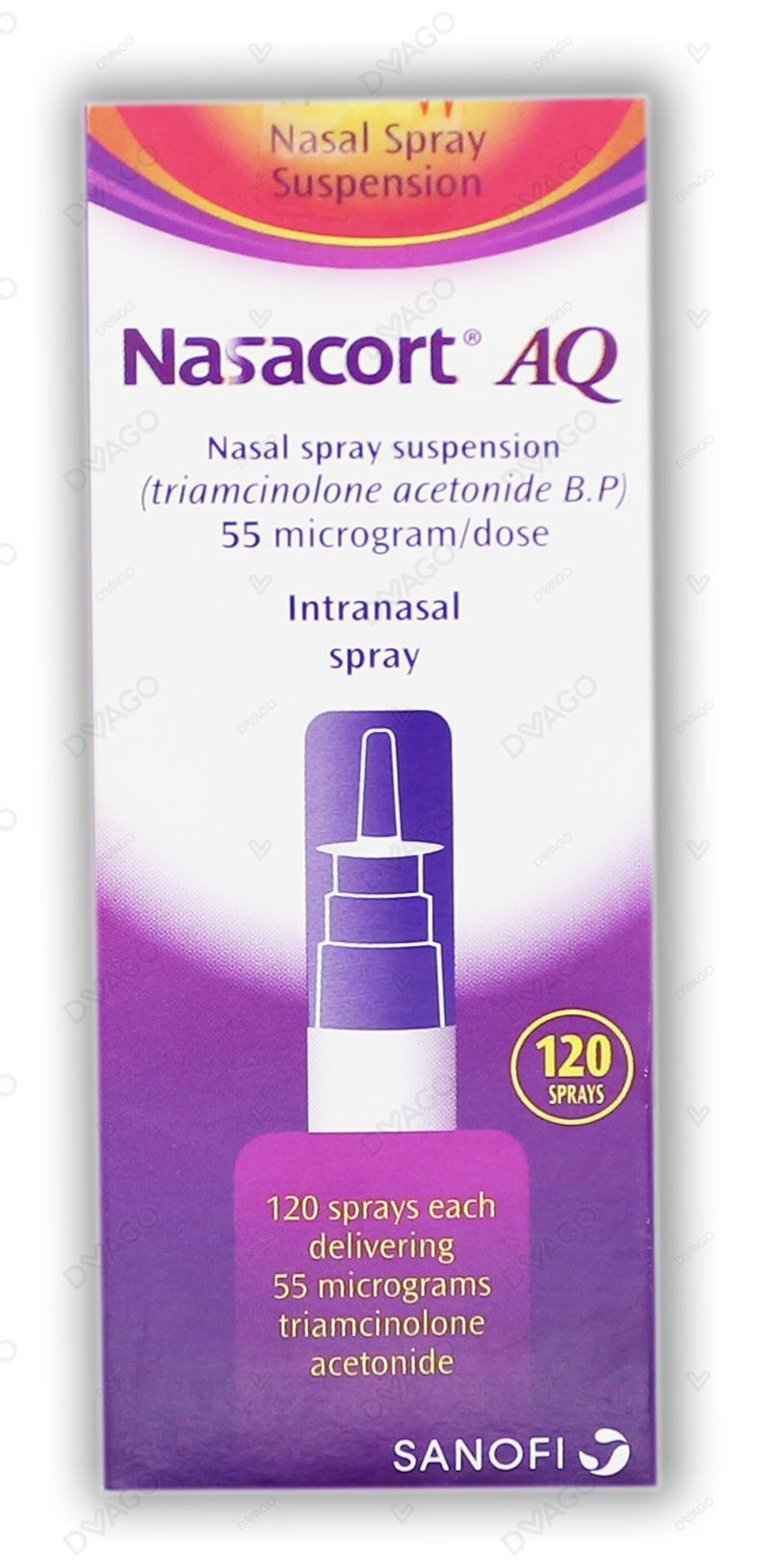 Nasacort Aq 15 Mcg/Dose Nasal Spray
How it works
Triamcinolone acetonide is a more potent derivative of triamcinolone and is approximately 8 times more potent than prednisone. Although the precise mechanism of corticosteroid antiallergic action is unknown, corticosteroids are very effective in the treatment of allergic diseases in man.
Description
NASACORT AQ NASAL SPRAY 15MG
Generics
Triamcinolone Acetonide
Requires Prescription (YES/NO)
Yes
Indication
It is given as a spray in the nose to treat the nasal symptoms of allergic rhinitis.
Side Effects
Headache , nasal irritation , dry mucous membranes , naso-sinus congestion, throat discomfort , sneezing and epistaxis.
When not to Use
Do not use if: You are allergic (hypersensitive) to triamcinolone acetonide or any of the other ingredients. Signs of an allergic reaction include: a rash (hives), itching, swallowing or breathing problems, swelling of your lips, face, throat or tongue.
Dosage
Adults (18 years and over) ? The usual starting dose is 2 sprays in each nostril each day ? Once the symptoms of allergy are under control, the dose may be lowered to 1 spray in each nostril each day ? If the symptoms do not go away after 14 days, check with your doctor or pharmacist ? You should not use the spray every day for longer than three months without consulting your doctor. Children or adolescents under 18 years: This medicine is not recommended for children or adolecents under 18 years of age or as directed by your physician.
Storage yes or /no
Store this medicine at room temperature, away from direct light and heat.
Precautions
If there is any reason to suppose that adrenal function is impaired, care must be taken while transferring patients from systemic steroid treatment to this spray.
Warning 1
In clinical studies , it is administered intranasally, the development of localised infections of the nose and pharynx with Candida albicans has rarely occurred. When such an infection develops it may require treatment with appropriate local therapy and temporary discontinuation of treatment with this medicine.
Warning 2
Because of the inhibitory effect of corticosteroids on wound healing in patients who have experienced recent nasal septal ulcers, nasal surgery or trauma, it should be used with caution until healing has occurred.
Warning 3
Glaucoma and/or cataracts have been reported in patients receiving nasal corticosteroids. Therefore, close monitoring is warranted in patients with a change in vision or with a history of increased intraocular pressure, glaucoma and/or cataracts.
Pregnancy category
Always consult your physician before using any medicine.
Drug Interactions
Some medicines may increase the effects and your doctor may wish to monitor you carefully if you are taking these medicines (including some medicines for HIV: ritonavir, cobicistat) .
Suggestions