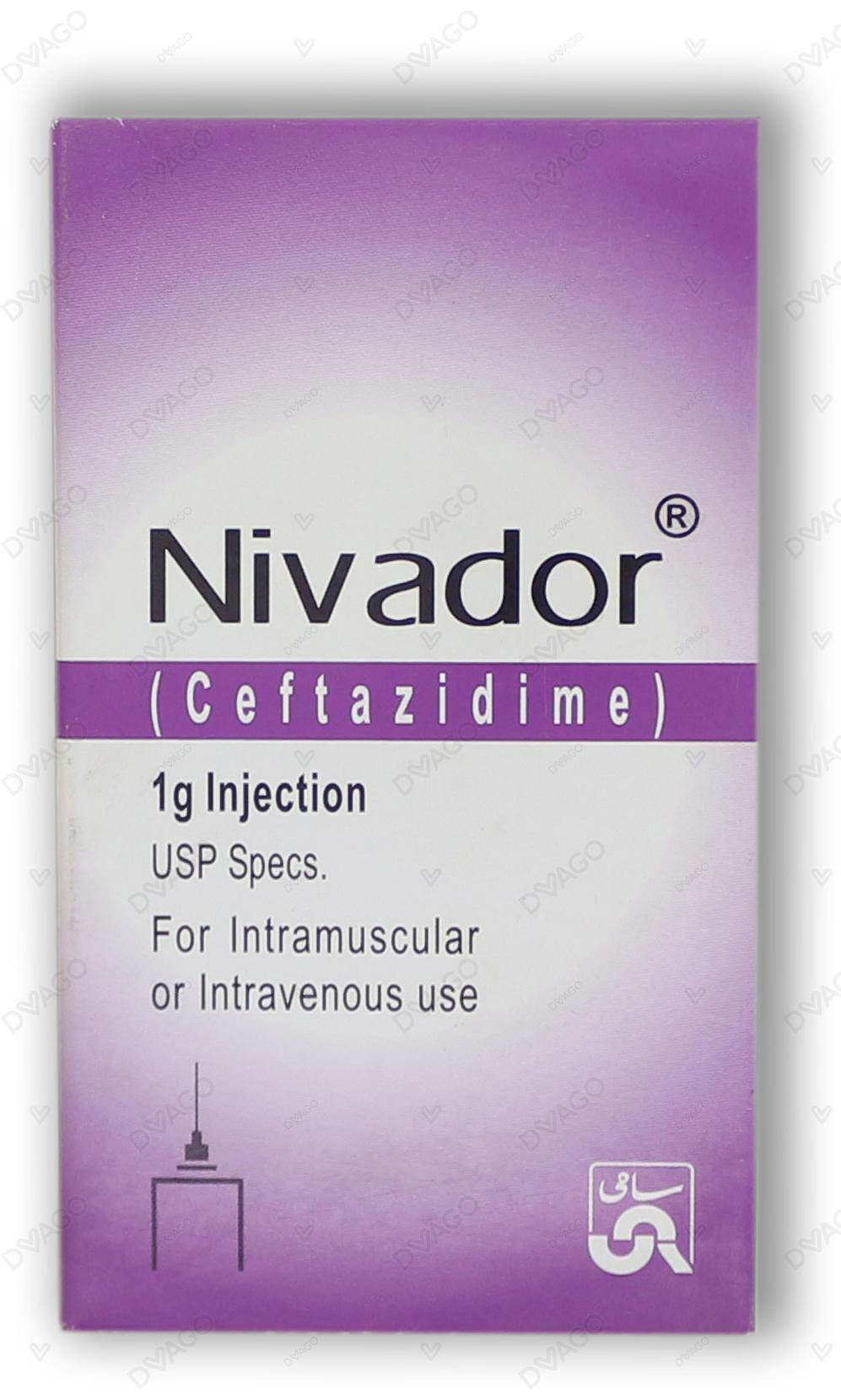 Nivador Injection 1 Grams 1 Vial
How it works
Ceftazidime is bactericidal in action. It acts by inhibiting bacterial cell wall synthesis
Description
NIVADOR INJ 1 GM 1 VIAL
used for
Bacterial Infection
Requires Prescription (YES/NO)
Yes
Indication
It is used to treat severe bacterial infections of: • The lungs or chest • The lungs and bronchi in patients suffering from cystic fibrosis • The brain (meningitis) • The ear • The urinary tract • The skin and soft tissues • The abdomen and abdominal wall (peritonitis) • The bones and joints .
Side Effects
Common side effects These may affect up to 1 in 10 people: • diarrhoea • swelling and redness along a vein • red raised skin rash which may be itchy • pain, burning, swelling or inflammation at the injection site Uncommon side effects These may affect up to 1 in 100 people: • inflammation of the gut which can cause pain, or diarrhoea which may contain blood • thrush (fungal infections in the mouth or vagina) • headache • dizziness • stomach ache • feeling sick or being sick • fever and chills.
When not to Use
You must not be given •If you are allergic (hypersensitive) to ceftazidime, or any of the other ingredients of this medicine .• If you have had a severe allergic reaction to any other antibiotic (penicillins, monobactams and carbapenems) as you may also be allergic to ceftazidime.
Dosage
Adults : 1-6gm/day in 2 or 3 divided doses by IV or IM inj. Children : Above 2 mnth, 30-100mg/kg/day in 2 or 3 divided doses ; under 2 mnth , 25-60mg/kg/day in 2 divided doses. Meningitis : IV : Adults : 2gm every 8hr. Children : 1 mnth-12yr : 30-50mg/kg every 8hr, upto 6gm/day. 0-4wk : 30mg/kg every 12hr. Septicaemia : IV : Adults : 2gm every 8hr. Children : 1mnth-12yr : 30-50mg/kg every 8 hr, upto 6gm/day. 0-4wk /; 30mg/kg every 12hr. Always consult with your doctor or pharmacist for dose adjustments.
Storage yes or /no
Store this medicine at room temperature, away from direct light and heat.
Precautions
Special caution is required to determine any other type of previous hypersensitivity reactions to penicillin or to other beta-lactam medicinal products because patients hypersensitive to these medicines may be hypersensitive to (ceftazidime pentahydrate) as well (cross- allergy). If an allergic reaction to ceftazidime occurs discontinue the drug .
Warning 1
Concurrent treatment with high doses of cephalosporins and nephrotoxic drugs such as aminoglycosides or potent diuretics (e.g. furosemide) may adversely affect renal function.
Warning 2
Ceftazidime is eliminated via the kidneys, therefore the dosage should be reduced according to the degree of renal impairment. Neurological sequelae have occasionally been reported when the dose has not been reduced in patients with renal impairment .
Warning 3
Pseudomembranous colitis has been reported with the use of antibiotics and may range in severity from mild to life-threatening. Therefore, it is important to consider its diagnosis in patients who develop diarrhoea during or after antibiotic use.
Pregnancy category
Always consult your physician before using any medicine.
Drug Interactions
Chlorampenicol , gentamicin, tobramycin , furosemide
Suggestions