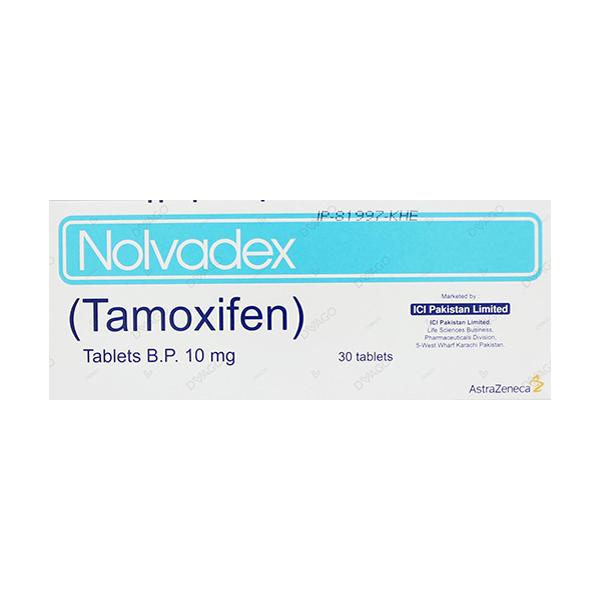 Nolvadex 10Mg Tablets 30S (Pack Size 3 X 10S)
How it works
It contains the active ingredient tamoxifen. Tamoxifen is an anti-oestrogen which blocks the effect of oestrogen. Oestrogen is a natural female sex hormone. In some types of breast cancer, oestrogen can help cancer cells to grow. By blocking its effect Tamoxifen stops or slows the growth of cancer cells.
Description
NOLVADEX TAB 10 MG 30'S
Requires Prescription (YES/NO)
Yes
Indication
It is used to either treat breast cancer or reduce the risk of breast cancer occurring if you are at increased risk of breast cancer.
Side Effects
• Nausea and vomiting • hot flushes • distorted sense of taste • itching around the genital area • diarrhoea or constipation • headache, dizziness and lightheadedness • fluid retention • hair thinning or hair loss • leg cramps • fatigue • sudden onset of weakness or paralysis of the arms or legs, sudden difficulty with speaking, walking, difficulty in holding things or difficulty in thinking, any of which may occur because the bloody supply in the blood vessels of the brain is reduced. These symptoms could be signs of a stroke.
When not to Use
Do not use Tamoxifen if you are allergic to tamoxifen or any of the other ingredients in Tamoxifen.
Dosage
Adults : The usual recommended dose for adults is 20 mg once daily . Doses may be increased to 40 mg daily. Children : Not Recommended. OR As directed by your physician.
Storage yes or /no
Store this medicine at room temperature, away from direct light and heat.
Precautions
The use of tamoxifen for reduction of breast cancer risk has been associated with reduced bone density in premenopausal women. Whether this may result in an increased risk of fracture is not known. Pre-menopausal women taking tamoxifen for this reason should be advised regarding measures to maintain bone health.
Warning 1
Severe cutaneous adverse reactions (SCARs) including Stevens-Johnson syndrome (SJS) and toxic epidermal necrolysis (TEN), which can be life-threatening or fatal, have been reported in association with tamoxifen treatment. At the time of prescription patients should be advised of the signs and symptoms and monitored closely for skin reactions. If signs and symptoms suggestive of these reactions appear, tamoxifen should be withdrawn immediately and an alternative treatment considered (as appropriate).
Warning 2
In patients with hereditary angioedema, tamoxifen may induce or exacerbate symptoms of angioedema.
Warning 3
If any patient presents with VTE, tamoxifen should be stopped immediately and appropriate anti-thrombosis measures initiated. In patients being treated for infertility, tamoxifen should not be re-started unless there is a compelling alternative explanation for their thrombotic event. In patients receiving tamoxifen for breast cancer, the decision to re-start tamoxifen should be made with respect to the overall risk for the patient. In selected patients with breast cancer, the continued use of tamoxifen with prophylactic anticoagulation may be justified.
Pregnancy category
Always consult your physician before using any medicine.
Drug Interactions
• Oral contraceptives ('the pill') • Hormone replacement therapy •Warfarin • Rifampicin • Chemotherapy • Aromatase inhibitors such as anastrozole, letrozole or exemestane.
Suggestions