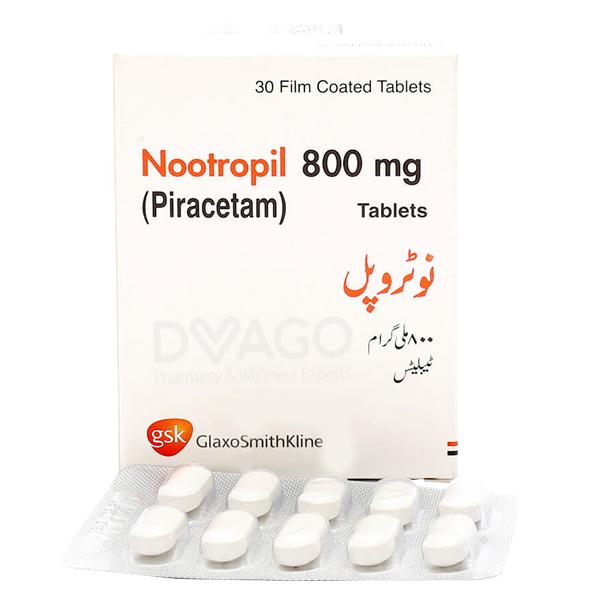 Nootropil 800Mg Tablets 30S (Pack Size 3 X 10S)
SPECIFICATION
Requires Prescription (YES/NO)
Yes
Used For
Cognitive Function
How it works
It contains the active ingredient Piracetam. It acts on the brain and nervous system and is thought to protect it against a shortness of oxygen.
USAGE AND SAFETY
Side Effects
• An allergic reaction and experience difficulty breathing, swelling, fever • Spontaneous bleeding caused by defects in your blood clotting mechanism • Worse fits • Hallucinations • Difficulty balancing and unsteadiness when standing • Anxiety and agitation • Confusion • Restlessness • Nervousness • Sleepiness • Depression • Weakness • Vertigo • Weight increase • Stomach pain • Diarrhoea.
Drug Interactions
Thyroid extract or thyroxine , Anticoagulants such as warfarin , Low dose aspirin , any other medicines, including medicines obtained without a prescription.
Indication
Chronic indication : Brain aging , psycho-organic syndrome , cerebral atherosclerosis , cerebral circulatory insufficiencies , brain ischaemia . Subacute indications : Psychic, motor and sensory rehabilitation ion ( hemiplegia , aphasia ) . Acute indications : Comas , cerebral vascular accidents , head injuries , brain intoxications , intensive care and resuscitation.
When not to Use
Do not take • If you are allergic to piracetam or any of the other ingredients of this medicine . • If you have ever had serious kidney problems •If you suffer from Huntington's Disease (also known as Huntington's Chorea) • If you have ever experienced a brain haemorrhage .
PRECAUTIONS
Precaution
Due to the effect of piracetam on platelet aggregation , caution is recommended in patients with severe haemorrhage, patients at risk of bleeding such as gastrointestinal ulcer, patients with underlying disorders of haemostasis, patients with history of haemorrhagic cerebro-vascular accident (CVA), patients undergoing major surgery including dental surgery, and patients using anticoagulants or platelet antiaggregant drugs including low dose acetylsalicylic acid.
WARNINGS
Warning 1
Piracetam is eliminated via the kidneys and care should thus be taken in cases of renal insufficiency .
Warning 2
For long-term treatment in the elderly, regular evaluation of the creatinine clearance is required to allow dosage adaptation if needed .
Warning 3
Abrupt discontinuation of treatment should be avoided as this may induce myoclonic or generalised seizures in some myoclonic patients.
ADDITIONAL INFORMATION
Pregnancy category
Always consult your physician before using any medicine.
Storage (YES/NO)
Store this medicine at room temperature, away from direct light and heat.
Related Products