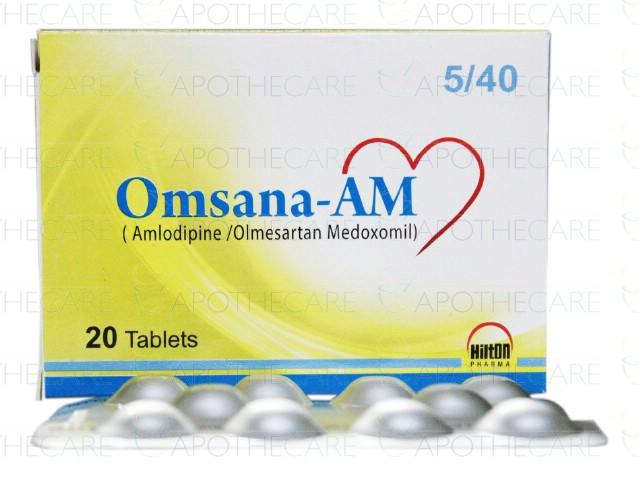 Omsana Am 5/40Mg Tablets 20S (Pack Size 2 X 10S)
How it works
Olmesartan medoxomil belongs to a group of medicines called "angiotensin-II receptor antagonists" which lower blood pressure by relaxing the blood vessels. Amlodipine belongs to a group of substances called "calcium channel blockers". Amlodipine stops calcium from moving into the blood vessel wall which stops the blood vessels from tightening thereby also reducing blood pressure. The actions of both these substances contribute to stopping the tightening of blood vessels, so that blood vessels relax and blood pressure decreases.
Description
OMSANA AM TAB 5/40 MG 20'S
Generics
Olmesartan Medoxomil , Amlodipine
Requires Prescription (YES/NO)
Yes
Indication
It helps to control high blood pressure.
Side Effects
Dizziness , headache , swelling of ankles, feet, legs, hands, or arms , tiredness , lack of energy , tingling or numbness of hands or feet , vertigo , awareness heart beat , fast heart beat , low blood pressure with symptoms such as dizziness, light-headedness , difficult breathing , cough , nausea , vomiting , indigestion , diarrhoea , constipation , dry mouth.
When not to Use
Do not take Olmesartan medoxomil/amlodipine : If you are allergic to olmesartan medoxomil or to amlodipine or a special group of calcium channel blockers, the dihydropyridines, or to any of the other ingredients of this medicine . If you think you may be allergic, talk to your doctor before taking Olmesartan medoxomil/amlodipine .
Dosage
Adults : 1 tab daily using the strength as clinically appropriate. Children : Not recommended. OR As directed by your physician.
Storage yes or /no
Store this medicine at room temperature, away from direct light and heat.
Precautions
Grapefruit juice and grapefruit should not be consumed by people who are taking Olmesartan/Amlodipine . This is because grapefruit and grapefruit juice can lead to an increase in the blood levels of the active ingredient amlodipine, which can cause an unpredictable increase in the blood pressure lowering effect of Olmesartan/Amlodipine .
Warning 1
Contact your doctor if you experience diarrhoea that is severe, persistent and causes substantial weight loss. Your doctor may evaluate your symptoms and decide on how to continue your blood pressure medication.
Warning 2
As with any medicine which reduces blood pressure, an excessive drop in blood pressure in patients with blood flow disturbances of the heart or brain could lead to a heart attack or stroke. Your doctor will therefore check your blood pressure carefully.
Warning 3
Olmesartan/Amlodipine is not recommended for children and adolescents under the age of 18 .
Pregnancy category
Always consult your physician before using any medicine.
Drug Interactions
ACE-inhibitor or aliskiren , potassium supplements, salt substitutes containing potassium, "water tablets" (diuretics) or heparin , lithium , Non-Steroidal Anti-Inflammatory Drugs (NSAIDs) , antacids , ritonavir, indinavir, nelfinavir , ketoconazole, itraconazole , diltiazem, verapamil , rifampicin, erythromycin, clarithromycin , dantrolene , simvastatin , tacrolimus, cyclosporine .
Suggestions