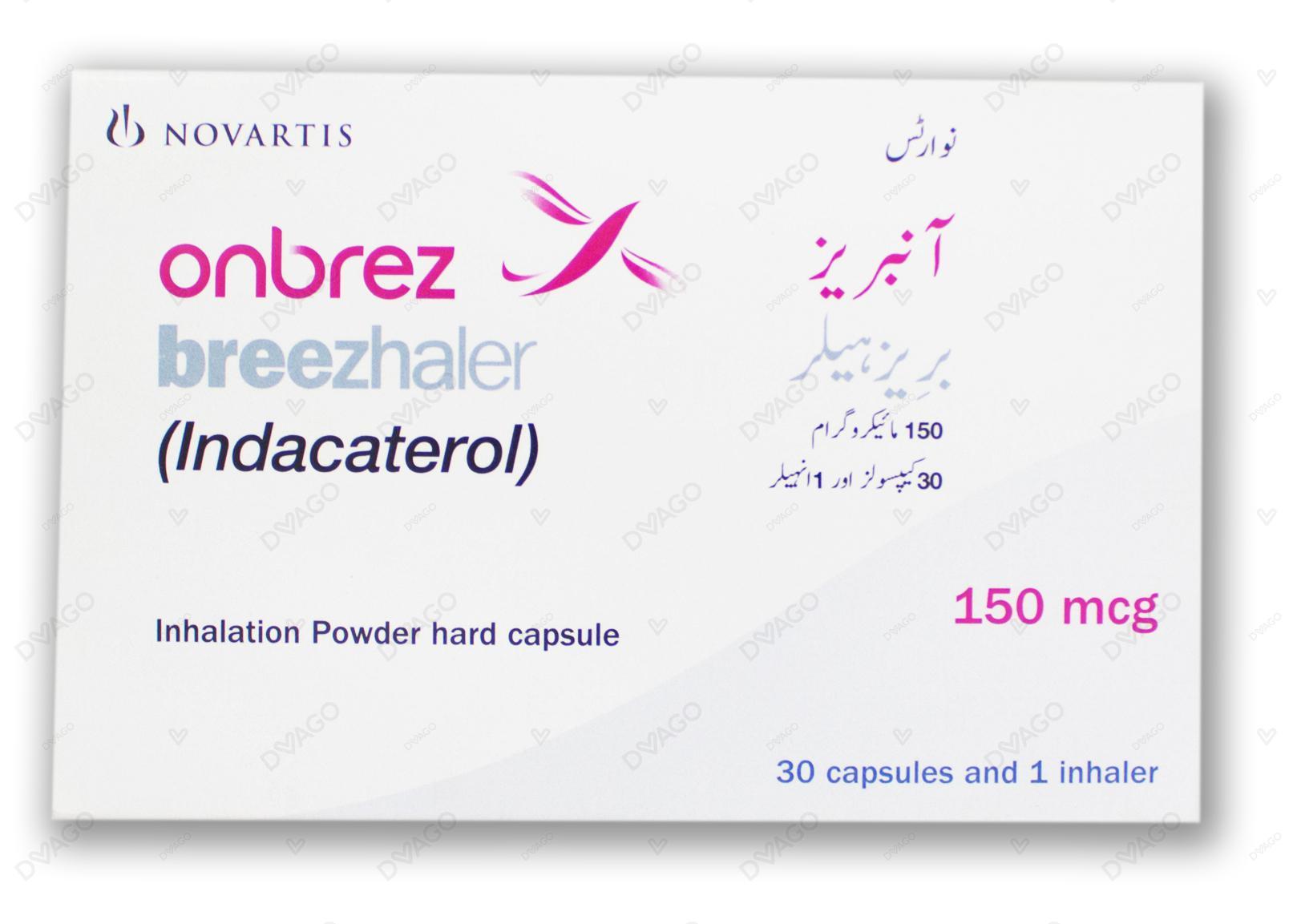 Onbrez 150Mcg Capsules + 1 Inhaler 30S (Pack Size 3 X 10S)
SPECIFICATION
Requires Prescription (YES/NO)
Yes
Generics
Indacaterol maleate
Used For
Chronic Obstructive Pulmonary Disease
How it works
Indacaterol is a long-acting beta2-adrenergic agonist for once-daily administration. When inhaled, indacaterol acts locally in the lung as a bronchodilator. Indacaterol is a nearly full agonist at the human beta2-adrenergic receptor with nanomolar potency. In isolated human bronchus, indacaterol has a rapid onset of action and a long duration of action. The pharmacological effects of beta2-adrenoceptor agonists, including indacaterol, are at least in part attributable to stimulation of intracellular adenyl cyclase, the enzyme that catalyzes the conversion of adenosine triphosphate (ATP) to cyclic-3', 5'-adenosine monophosphate (cyclic monophosphate). Increased cyclic AMP levels cause relaxation of bronchial smooth muscle. In vitro studies have shown that indacaterol has more than 24-fold greater potency at beta2- receptors compared to beta1-receptors and 20-fold greater potency compared to beta3-receptors. This selectivity profile is similar to formoterol. The clinical significance of this finding is unknown.
USAGE AND SAFETY
Dosage
Indacaterol maleate
Side Effects
RT , inflammation and congestion , diabetes , headache , dizziness , chest pain , ischaemic heart disease , cough , pharyngeo-laryngeal pain , rhinorrhoea , muscle spasm , peripheral oedema . Reports of hypersensitivity .
Drug Interactions
Sympathomimetics , beta-blockers , xanthines , steroids , diuretics .
Indication
It is used for the maintenance treatment of COPD .
When not to Use
It (indacaterol maleate) is contraindicated in patients with hypersensitivity to indacaterol maleate .
PRECAUTIONS
Precaution
When prescribing ONBREZ , the healthcare professional should also provide the patient with an inhaled, short-acting bronchodilator for treatment of COPD symptoms that occur acutely, despite regular once-daily use of ONBREZ .
WARNINGS
Warning 1
ONBREZ is only indicated for COPD. ONBREZ should not be used in asthma due to the absence of long-term safety and efficacy data in asthma with ONBREZ .
Warning 2
When beginning treatment with ONBREZ , patients who have been taking inhaled, short-acting bronchodilators on a regular basis (e.g., four times a day) should be instructed to discontinue the regular use of these drugs and use them only for symptomatic relief of acute respiratory symptoms.
Warning 3
As with other inhalation therapy, administration of ONBREZ may result in paradoxical bronchospasm that may be life-threatening. If paradoxical bronchospasm occurs, ONBREZ should be discontinued immediately and alternative therapy instituted.
ADDITIONAL INFORMATION
Pregnancy category
Always consult your physician before using any medicine.
Storage (YES/NO)
Store this medicine at room temperature, away from direct light and heat.
Related Products