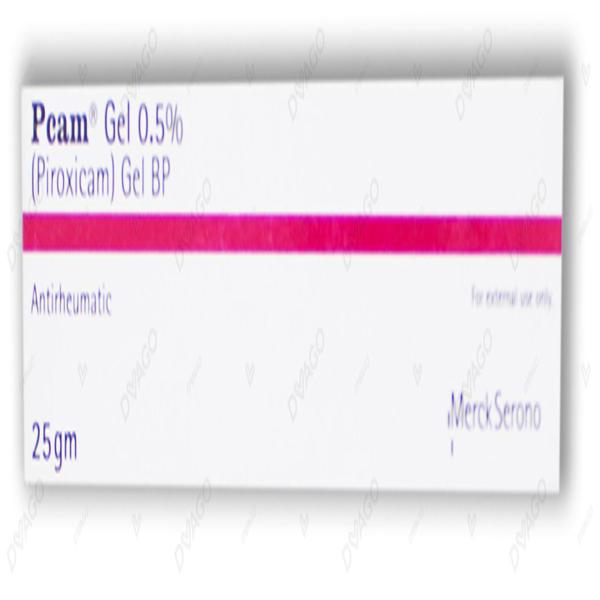 Pcam 0.5% Gel 25G
How it works
Piroxicam an NSAID complex with cyclodextrin, possess analgesic and antipyretic properties, the complex allows single molecule of NSAID to be released adjacent to the gastrointestinal mucosa, instead of crystals. Since the time contact with gastric mucosa is reduced, the risk of direct contact gastric irritation is also reduced.
Description
PCAM GEL 0.5% 25 GMS 1'S
used for
Pain & Inflammation
Requires Prescription (YES/NO)
Yes
Indication
It is indicated for a variety of acute painful conditions requiring anti-inflammatory and analgesic activity, including rheumatoid arthritis, osteo-arthritis (arthrosis, degenerative joint disease), ankylosing spondylitis, musculoskeletal and joint disorders, gout, in soft-tissue disorders and in post-operative pain.
Side Effects
Local erythema , pruritis , dermatitis
When not to Use
Piroxicam should not be used in the following: Known hypersensitivity to the drug. Gastroduodenal ulcer, gastritis, dyspepsia, severe hepatic or renal disturbances, severe heart failure, severe hypertension, severe blood alterations or hemorrhagic diathesis. Piroxicam must not be administered to patients in whom acetylsalicylic acid or other NSAIDs induce the symptoms of asthma, rhinitis or urticaria. Ascertained or suspected pregnancy, during lactation and in children.
Dosage
Apply 3-4 times to the affected area or As directed by your physician.
Storage yes or /no
Store this medicine at room temperature, away from direct light and heat.
Precautions
Piroxicam should be used with caution in patients with asthma because bronchial smooth muscle spasm may be aggravated by prostaglandin inhibition.
Warning 1
NSAIDs inhibit the synthesis of renal prostaglandin which plays a supportive role in the maintenance of renal perfusion in patients whose renal blood flow and blood volume are decreased.
Warning 2
Serious gastrointestinal toxicity such as bleeding, ulceration and perforation can occur anytime with or without warning symptoms, in patients treated chronically with NSAID therapy. Piroxicam must be used under strict medical control in patients with a medical history of disturbances in the upper gastrointestinal tract.
Warning 3
As with other NSAIDs, piroxicam should be given under close supervision to patients with hypertension as the antihypertensive effect of thiazide diuretics and -blocking agents is antagonized by NSAIDs.
Pregnancy category
Always consult your physician before using any medicine.
Drug Interactions
Warfarin , Protein bound drugs , Methotrexate , Aspirin and other NSAIDs , Plasma lithium concentrations , Diuretics , Anti-hypertensives , Cardiac Glycosides , Quinolone Antibiotics , Mifepristone , Cyclosporine , Aminoglycosides , Oral Hypoglycemic Agents.
Suggestions