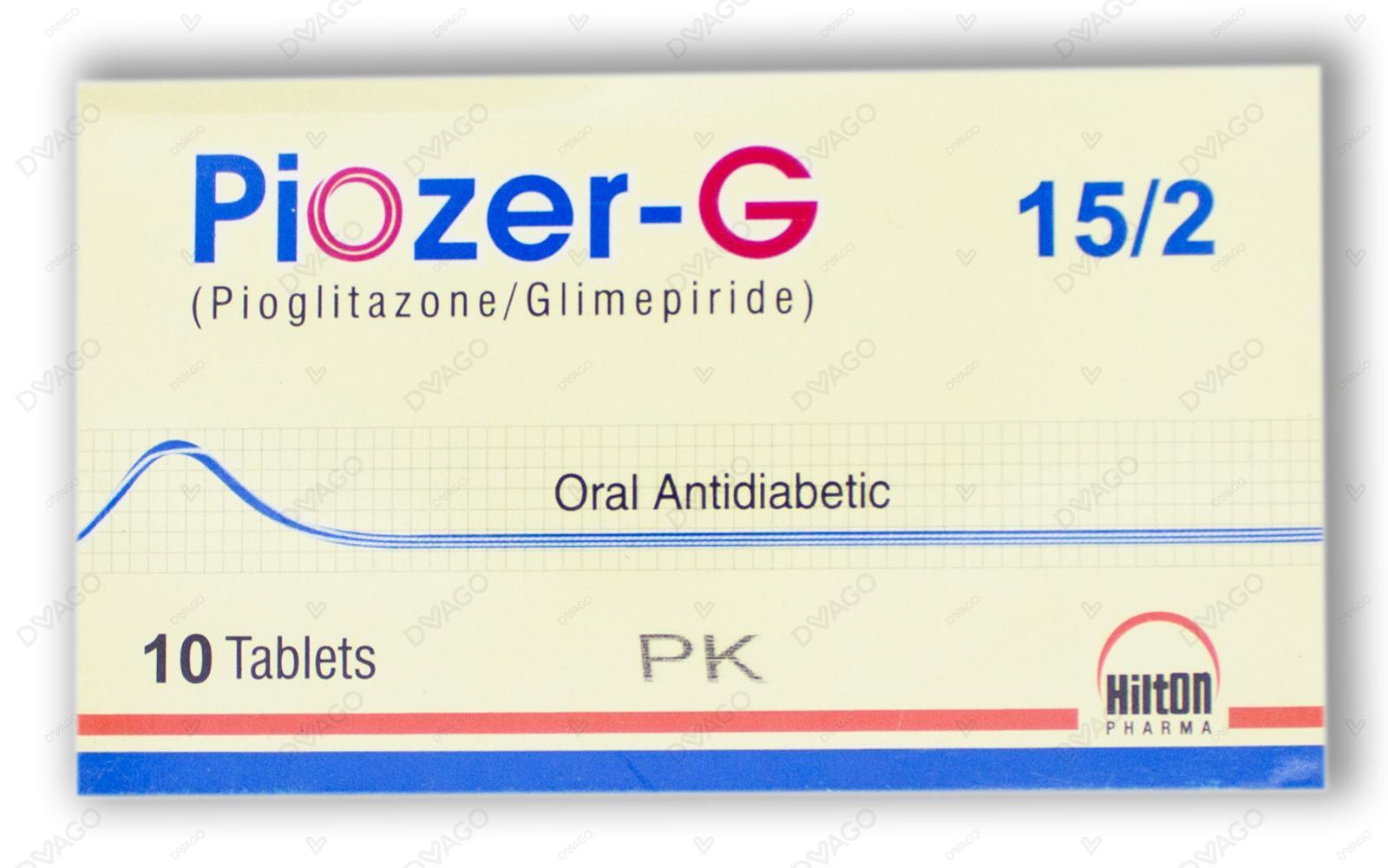 Piozer G 15/2Mg Tablets 10S (Pack Size 1 X 10S)
How it works
Pioglitazone: Pioglitazone is a thiazolidinedione antidiabetic agent that depends on the presence of insulin for its mechanism of action. Pioglitazone decreases insulin resistance in the periphery and in the liver resulting in increased insulin-dependent glucose disposal and decreased hepatic glucose output. Unlike sulfonylurea, pioglitazone is not an insulin secretagogue. Pioglitazone is a potent and highly selective agonist for peroxisome proliferator-activated receptor-gamma (PPAR ). PPAR receptors are found in tissues important for insulin action such as adipose tissue, skeletal muscle and liver. Activation of PPAR nuclear receptors modulates the transcription of a number of insulin responsive genes involved in the control of glucose and lipid metabolism. Glimepiride: The primary mechanism of action of glimepiride appears to be dependent on stimulating the release of insulin from functioning pancreatic beta cells. In addition, extrapancreatic effects (e.g., reduction of basal hepatic glucose production and increased peripheral tissue sensitivity to insulin and glucose uptake) may also play a role in the activity of glimepiride. However, as with other sulfonylurea, the mechanism by which glimepiride lowers blood glucose during long-term administration has not been clearly established.
Description
PIOZER G TAB 15/2 MG 10'S
Generics
Glimepiride , Pioglitazone
Requires Prescription (YES/NO)
Yes
Indication
It is indicated as an adjunct to diet and exercise to improve glycemic control in patients with type 2 diabetes who are already treated with a combination of pioglitazone and a sulfonylurea or whose diabetes is not adequately controlled with glimepiride alone, or for those patients who have initially responded to pioglitazone alone and require additional glycemic control.
Side Effects
The more common side effects for the combination are anxiety, bladder pain, bloody or cloudy urine, blurred vision, chills, cold sweats, coma, confusion, cool pale skin, depression, difficult/burning or painful urination, fast heartbeat, frequent urge to urinate, headache, increased hunger, increased weight, lower back or side pain, nausea, nervousness, nightmares, seizures, shakiness, slurred speech, swelling of feet or lower legs, unusual tiredness or weakness, cough, ear congestion, hoarseness, joint pain, loss of voice, nasal congestion, tooth disorder, voice changes. The less common side effects for the combination include accidental injury, loss of appetite, pain or swelling in arms or legs without any injury, pale skin, stomach pain, troubled breathing with exertion, unusual bleeding or bruising, vomiting, weight loss, yellow eyes or skin, allergic skin reactions. Other side effects include upper respiratory tract infection, myalgia, diabetes aggravated, asthenia. In isolated cases, impairment of liver function (e.g., with cholestasis and jaundice) as well as hepatitis, which may also lead to liver failure have been reported. Cases of hyponatremia have been reported most often in patients who are on other medications or have medical conditions known to cause hyponatremia or increase release of antidiuretic hormone. The hematologic adverse reactions include leukopenia, agranulocytosis, thrombocytopenia, hemolytic anemia, aplastic anemia and pancytopenia.
When not to Use
Pioglitazone+Glimepiride combination is contraindicated in patients: - With known hypersensitivity to pioglitazone, glimepiride or any other component of the product. - With diabetic ketoacidosis, with or without coma. This condition should be treated with insulin. - With antihypertensive effect in the presence of insulin; therefore this drug should not be used in patients of type 1 diabetes or for the treatment of diabetic ketoacidosis. - With moderate to severe heart failure or liver problems. - This medication is not recommended for use in pregnancy, nursing mothers and in pediatric patients.
Dosage
Adults: It is recommended that a single dose of Pioglitazone+Glimepiride be administered once daily with the first main meal. Starting Dose for Patients Currently on Pioglitazone Monotherapy : Therapy should be started with 15mg+2mg & 30mg+2mg tablet once daily followed by titration to reach the required dose. Starting Dose for Patients Currently on Glimepiride Monotherapy : Therapy should be started with 15mg+2mg, 30mg+2mg & 30mg+4mg tablet once daily followed by titration to reach the required dose. Children : Not Recommended. OR As directed by your physician.
Storage yes or /no
Store this medicine at room temperature, away from direct light and heat.
Precautions
Pioglitazone, like other thiazolidinediones, can cause fluid retention when used alone or in combination with other antidiabetic agents, including insulin. Fluid retention may lead to or exacerbate heart failure. Patients should be observed for signs and symptoms of heart failure. If these signs and symptoms develop, the heart failure should be managed according to current standards of care. Furthermore, discontinuation or dose reduction of pioglitazone must be considered .
Warning 1
In patients with type 2 diabetes (mean duration of diabetes 9.5 years), an increased incidence of bone fracture in female patients taking pioglitazone is observed. The risk of fracture should be considered in the care of patients, especially female patients, treated with pioglitazone and attention should be given to assessing and maintaining bone health according to current standards of care .
Warning 2
The patient's fasting blood glucose and HbA1c must be measured periodically to determine the minimum effective dose of pioglitazone+glimepiride combination for the patient.
Warning 3
Liver enzyme monitoring is recommended prior to initiation of therapy with pioglitazone+glimepiride combination in all patients and periodically thereafter as per the clinical judgment of the health care professional .
Pregnancy category
Always consult your physician before using any medicine.
Drug Interactions
Pioglitazone hydrochloride : Midazolam , Ketoconazole , Atorvastatin Calcium , Gemfibrozil & Rifampin . Glimepiride: Salicylates, sulfonamides , chloramphenicol, coumarins, probenecid, monoamine oxidase inhibitors and beta-adrenergic blocking agents , diuretics, corticosteroids, phenothiazines, thyroid products, estrogens, oral contraceptives, phenytoin, nicotinic acid, sympathomimetics and isoniazid , Aspirin , Propanolol , Miconazole
Suggestions