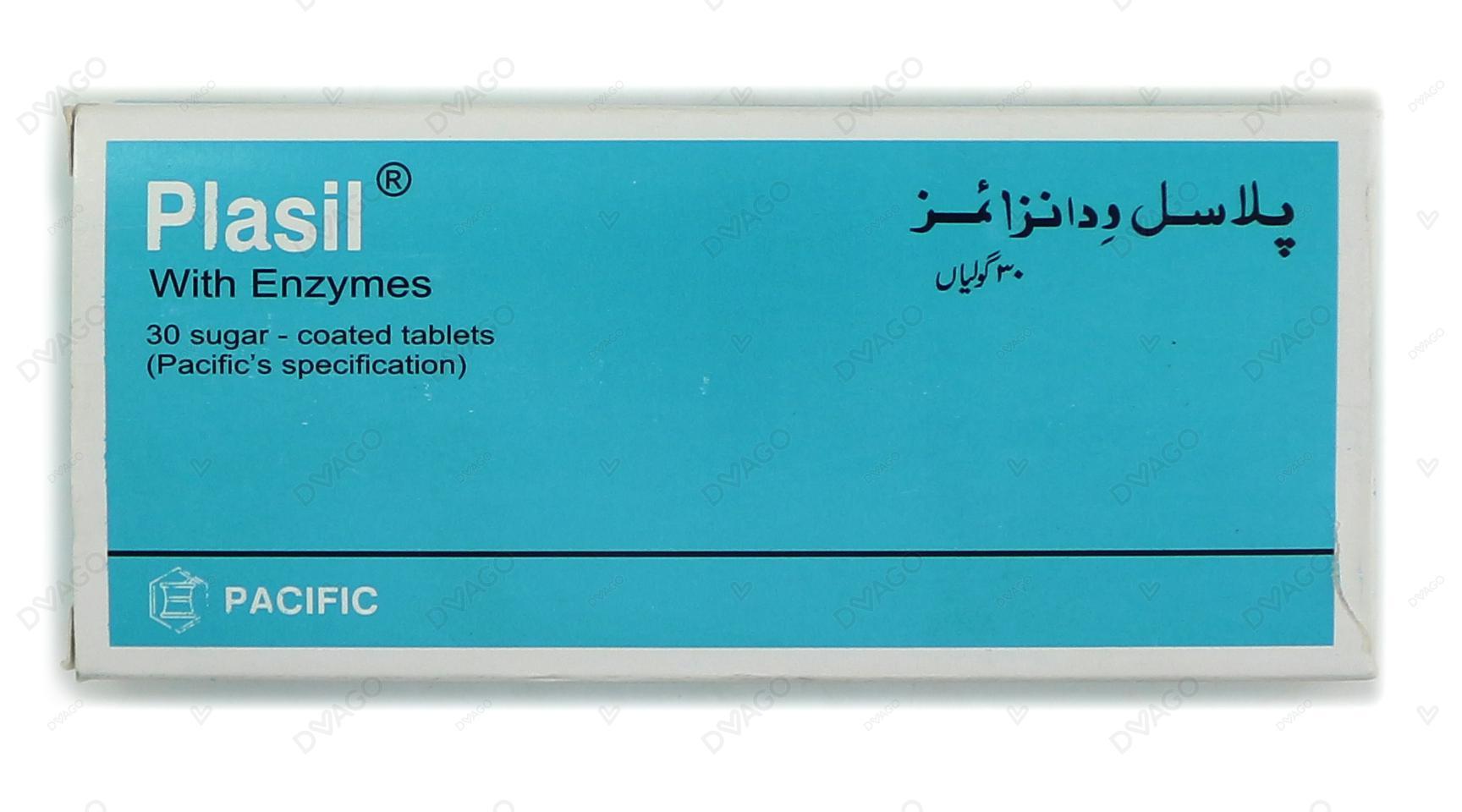 Plasil With Enzyme Tablets 30S (Pack Size 3 X 10S)
SPECIFICATION
Requires Prescription (YES/NO)
Yes
Generics
Metoclopramide, Bromelain, Simethicone, Pancreatin & Sodium Dehydrocholrate
Used For
Digestive Enzymes
How it works
Metoclopramide – speeds up emptying of the stomach by enhancing the peristaltic movement of the digestive tract. It also controls nausea.Bromelain – helps in protein degradation and prevents pain & inflammation.Simethicone – reduces abdominal distension and bloating by absorbing the gases from stomach and intestines and decreasing the surface tension of gas bubbles.Pancreatin – enhances digestion of nutrients in the food.Sodium Dehydrocholrate – stimulates the bile flow from gall bladder into the duodenum and reduces the chances of bile stone formation.
USAGE AND SAFETY
Dosage
Metoclopramide, Bromelain, Simethicone, Pancreatin & Sodium Dehydrocholrate
Side Effects
General feeling of tiredness or weakness , headache (severe or continuing), inability to move the eyes , increase in blood pressure , increased sweating ,itching , skin rash .
Drug Interactions
Ask your physician or pharmacist for any drug interactions.
Indication
It is used in conditions, such as post-gastrointestinal bypass surgery, cancer, chronic pancreatitis etc., where digestion is slow and the pancreas/gall bladder cannot make or release enough digestive enzymes into the small intestines to digest the food.
When not to Use
Hypersensitive to any of the ingredients.
PRECAUTIONS
Precaution
It is very important that your doctor check your progress at regular visits to make sure that this medicine is working properly. Blood tests may be needed to check for unwanted effects.
WARNINGS
Warning 1
This medicine may make you dizzy, drowsy, or have trouble with thinking or controlling body movements. Do not drive or do anything else that could be dangerous until you know how this medicine affects you.
Warning 2
Metoclopramide may cause some people to be agitated, irritable, or display other abnormal behaviors. It may also cause some people to have suicidal thoughts and tendencies or to become more depressed. Also tell your doctor if you have sudden or strong feelings, such as feeling nervous, angry, restless, violent, or scared. If you or your caregiver notice any of these side effects, tell your doctor right away.
Warning 3
Your blood pressure might get too high while you are using this medicine. This may cause headaches, dizziness, or blurred vision. You might need to measure your blood pressure at home. If you think your blood pressure is too high, call your doctor right away.
ADDITIONAL INFORMATION
Pregnancy category
Always consult your physician before using any medicine.
Storage (YES/NO)
Store this medicine at room temperature, away from direct light and heat.
Related Products