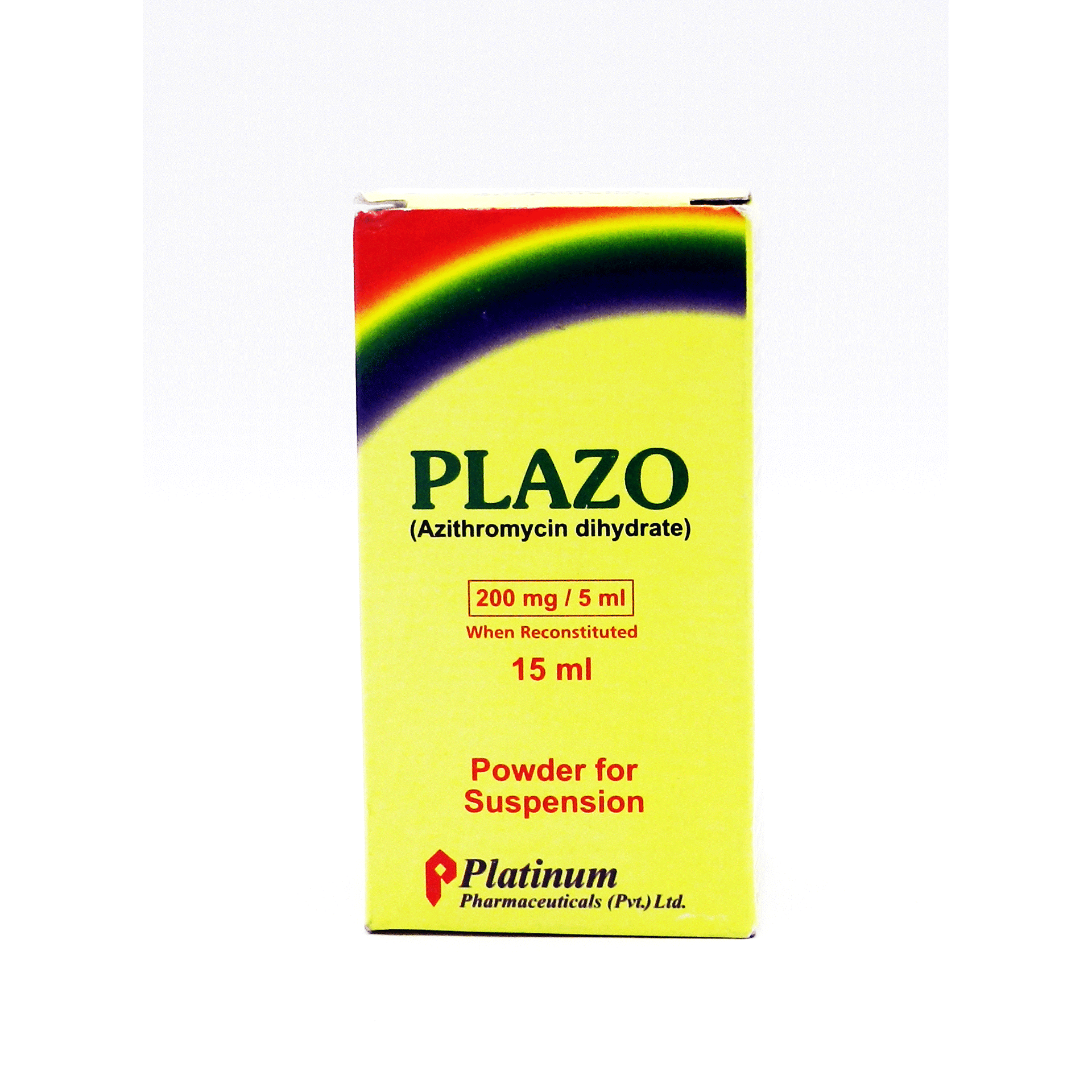 Plazo 200Mg/5Ml Suspension 15Ml
How it works
The mechanism of action of azithromycin is based on the suppression of bacterial protein synthesis, that is to say that it binds to the ribosomal 50s sub-unit and inhibits the translocation of peptides. Azithromycin acts bacteriostatic.
Description
PLAZO SUSP 200 MG 15 ML
used for
Bacterial Infection
Requires Prescription (YES/NO)
Yes
Indication
It is used to treat infections caused by certain bacteria and other micro-organisms.
Side Effects
Sudden wheeziness, difficulty in breathing, swelling of eyelids, face or lips, rash or itching (especially affecting the whole body) , severe or prolonged diarrhoea, which may have blood or mucus in it, during or after treatment with Zithromax as this may be a sign of serious bowel inflammation , severe skin rash causing redness and flaking , rapid or irregular heartbeat , low blood pressure , Serious skin reactions: blistering of the skin, mouth, eyes and genitals (Stevens-Johnson Syndrome (SJS)) , blistering of the skin, severe skin reaction.
When not to Use
Do not take Azithromycin: If you are allergic to azithromycin or any other macrolide antibiotic such as erythromycin or clarithromycin or any of the ingredients of this medicine . An allergic reaction may cause skin rash or wheezing.
Dosage
Adults : 500mg once daily for 3 days taken atleast 1 hr before or 2hr after food . Children : Under 3yr (upto 15kg) , 10mg/kg , 3-7yr : 125mg , 8-11yr : 188mg , 12-14yr : 250mg . All as a single daily dose for 3 days , taken atleast 1 hr before or 2hr after food. INJ : IV : Adults : Community -acquired pneumonia : 500 mg as a single dose for atleast 2 days , followed by oral single daily dose of 500mg for 7-10 days . Consult your doctor or Pharmacist for dose adjustment.
Storage yes or /no
Store this medicine at room temperature, away from direct light and heat.
Precautions
Tell your doctor immediately if you feel your heart beating in your chest or have an abnormal heartbeat, or get dizzy or faint or suffer from any muscle weakness when taking Azithromycin.
Warning 1
If you develop diarrhoea or loose stools during or after treatment, tell your doctor at once. Do not take any medicine to treat your diarrhoea without first checking with your doctor. If your diarrhoea continues, please inform your doctor.
Warning 2
You should take Azithromycin either 1 hour before a meal or 2 hours after a meal.
Warning 3
Azithromycin medicine contain lactose, a type of sugar. If you have been told by your doctor that you have an intolerance to some sugars contact your doctor before taking this medicine.
Pregnancy category
Always consult your physician before using any medicine.
Drug Interactions
Ergot or ergotamine , Warfarin , Ciclosporin , Antacids , Digoxin , Colchicine (used for gout and familial Mediterranean fever) , Terfenadine .
Suggestions