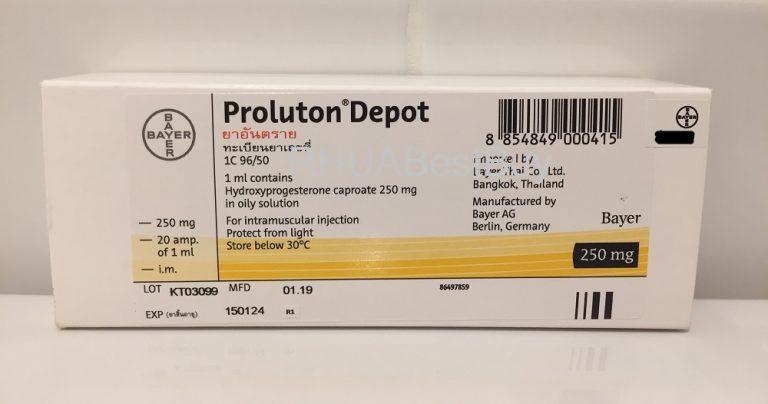 Proluton Depot 250Mg Injection 3Ampx1ml
How it works
Hydroxyprogesterone is a potent, long-acting, progestational steroid ester which transforms proliferative endothelium into secretory endothelium, induces mammary gland duct development, and inhibits the production and/or release of gonadotropic hormone; it also shows slight estrogenic, androgenic, or corticoid effects as well, but should not be relied upon for these effects.
Description
PROLUTON DEPOT 250MG 1ML
Generics
Hydroxyprogesterone Caproate
Requires Prescription (YES/NO)
Yes
Indication
Habitual and threatened abortion , infertility due to corpus-luteum insufficiency .
Side Effects
A. Serious arterial thrombotic and venous thromboembolic events, including cases of pulmonary emboli (some fatal), deep vein thrombosis, myocardial infarction, and strokes, have been reported in women using progestins. B. neuroocular lesions (e.g., retinal thrombosis and optic neuritis); nausea; vomiting; gastrointestinal symptoms (such as abdominal cramps or bloating); edema; breakthrough bleeding, spotting, or withdrawal bleeding; breast tenderness; changes in body weight (increase or decrease); headache; increase in cervical mucus; allergic rash; abscess; pain at the injection site; migraine headaches. C. chloasma or melasma, cholestatic jaundice, rise in blood pressure, mental depression, and amenorrhea during or after treatment.
When not to Use
Do not use if : Current or history of thrombosis or thromboembolic disorders , Known or suspected breast cancer, other hormone-sensitive cancer, or history of these conditions , Undiagnosed abnormal vaginal bleeding unrelated to pregnancy , Cholestatic jaundice of pregnancy , Liver tumors, benign or malignant, or active liver disease , Uncontrolled hypertension .
Dosage
Adults : Harbitual abortion : 250-500mg IM ay weekly intervals. Imminent abortion : 500mg IM 2-3 times wkly until bleeding ceases . Treatment must be continued with 250mg IM twice wkly for several wk . Infertility due to corpus leteum insufficiency : 250mg IM about 3 days after rise in basal body temp . Children : Not recommended . OR As directed by your physician .
Storage yes or /no
Store this medicine at room temperature, away from direct light and heat.
Precautions
Discontinue this medicine if an arterial or deep venous thrombotic or thromboembolic event occurs.
Warning 1
Allergic reactions, including urticaria, pruritus and angioedema, have been reported with use of this medicine or with other products containing castor oil. Consider discontinuing the drug if such reactions occur.
Warning 2
A decrease in glucose tolerance has been observed in some patients on progestin treatment. The mechanism of this decrease is not known. Carefully monitor prediabetic and diabetic women while they are receiving Makena.
Warning 3
Progestogens should be used with caution in conditions that may worsen with fluid retention e.g. epilepy , hypertension , migraine , asthma or cardiac dysfunction and in those susceptible to thromoembolism ( particular caution with high dose , history of depression . Progestogens can decrease glucose tolerance and patients with diabetes should be monitored closely .
Pregnancy category
Always consult your physician before using any medicine.
Drug Interactions
Rfamycin , anticoagulants , antidepressants , antidiabetics , anti-epileptics , antifungals , antivirals , aprepitant , barbiturates , bosentan , cyclosporin , diuretics , dopaminergics , lipid-regulating drugs , muscle relaxants .
Suggestions